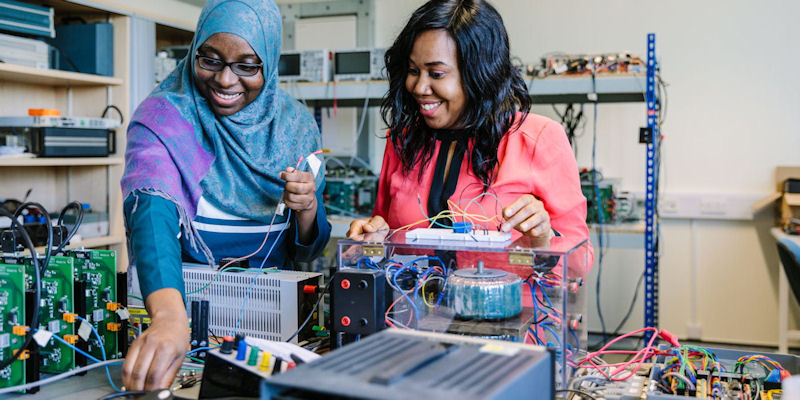 We have a strong commitment to supporting women in STEM and this is reflected in the number of female academics and students working and studying within the Faculty of Engineering and Physical Sciences. Find out more about our diverse student community from example profiles of our current students and alumni.
Athena SWAN Charter
We successfully received the prestigious Athena SWAN Silver Award in September 2021 from the Equality Challenge Unit, the national body that promotes equality in the higher education sector, which recognises our strong and continued commitment to gender equality.
We are also proud of Footsteps: Celebrating The Diversity of our Staff, a brochure presenting profiles of a selection of colleagues working in the Faculty. The Footsteps initiative is a result from actions within our joint equality, inclusion and diversity strategy, stemmed from Athena SWAN.
Women of Achievement
The Women of Achievement awards recognise the significant contribution and impact that women – both our staff and students – have made across the University and beyond.
The awards began in 2012 and are now a regular feature in the University's calendar. They are a key part of the University's commitment to further promote gender equality and support the career development of talented women in all areas of the organisation..
Margaret Steel Innovation Award
The Margaret Steel Innovation Award is awarded to female students who show a particular aptitude for innovation, and initiative to develop an idea or invention with funding support. The award is open to all female undergraduate, postgraduate and postgraduate research students in the Faculty of Engineering and Physical Sciences. Find out more.
Women at Leeds Network (WaLN)
As part of the University's support for women there is an active network, WaLN for all female staff and postgraduate students. The network runs monthly lunchtime meetings, evening events and supports an annual conference to bring together female colleagues from across disciplines.
Meetings cover a range of topics including invited speakers who share their experiences, career development such as fellowships and promotions, maternity leave and work-life balance and personal development such as confidence, mindfulness, unconscious bias.
Equality and Inclusion
We have a range of family friendly policies including generous maternity and paternity leave and offer policies to support work life balance. Find out more.
Useful links
Listed below are some organisations, which have been set up specifically to offer advice and guidance to women considering a future career in engineering: