Project work
Year one and two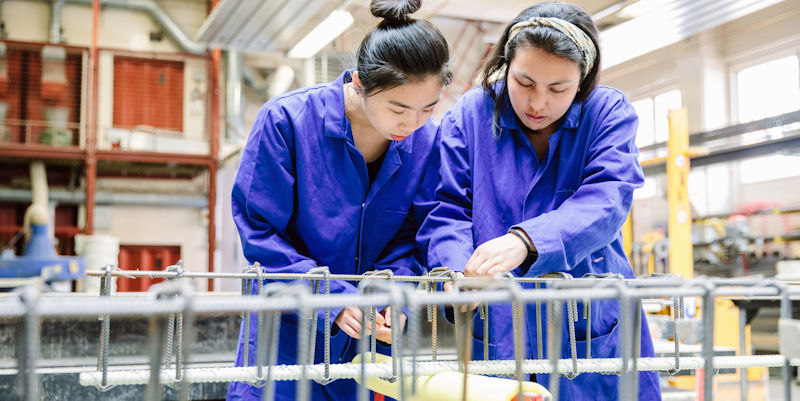 Civil Engineers work on projects that combine skills and knowledge to deliver a solution to a client. That's why we place a strong emphasis on project work throughout your degree. Our current students regularly say that project work is one of the most satisfying and challenging aspects of their course.
Integrated design projects run in each year of the programmes and you'll be able to apply your knowledge to diverse project briefs spanning a range of Civil Engineering scenarios. Sometimes working alone and at other times in groups, these projects will help you to see Civil Engineering from a broader perspective, piecing together the information gained throughout your course while developing your design and communication skills.
Year one - Integrated design project
From the start of your degree you'll be introduced to our integrated design projects. These projects will give you the opportunity to work as part of a team to create a solution to a real engineering problem. The year is characterised by a series of short creative design projects which allow students to engage with small-scale, real world design issues, including the practical understanding of form, materials and structural behaviour. These designs are located on a site within the campus so that students can develop site analysis and observational skills, and typically include a boundary structure, a pedestrian route including a footbridge, and a small pavilion. A parallel investigative project explores social, technical and environmental issues in a wider context.
This project will help you to develop key skills in:
computer aided design
critical analysis
communication
teamwork.
<iframe width="560" height="315" src="https://www.youtube.com/embed/dBzC3ySwK38" frameborder="0" allow="accelerometer; autoplay; clipboard-write; encrypted-media; gyroscope; picture-in-picture" allowfullscreen></iframe>
Year two - Integrated design project
In your second integrated design project, you'll design a steel-framed and reinforced concrete-framed building structure. You'll be given the brief of a theoretical site plan of a certain shape and size and it's your job to design a building to fit on the site. You'll scheme up your design which will be vetted by firms of local consulting engineers, and once approved you'll use current codes of practice to undertake the detailed structural design of the buildings.
You'll also produce a design review report on the buildings that you've designed before creating a virtual 3D model of your design using computer aided design. This project will help you to understand the engineering design process, including an appreciation of factors such as: practicality; constructability; stability; robustness; durability; health and safety; and sustainability.
Amy Black
Civil and Environmental Engineering MEng
The projects we worked on in my first year were largely team based which was good, as within those small teams we got to know each other's strengths (and weaknesses) which helped us to deliver the different elements of the projects. One project I particularly enjoyed was an environment based project for which we had to assess the sustainability of a development proposal for a car park and office building near the university.
View Profile