Research spotlight: The 'SFD'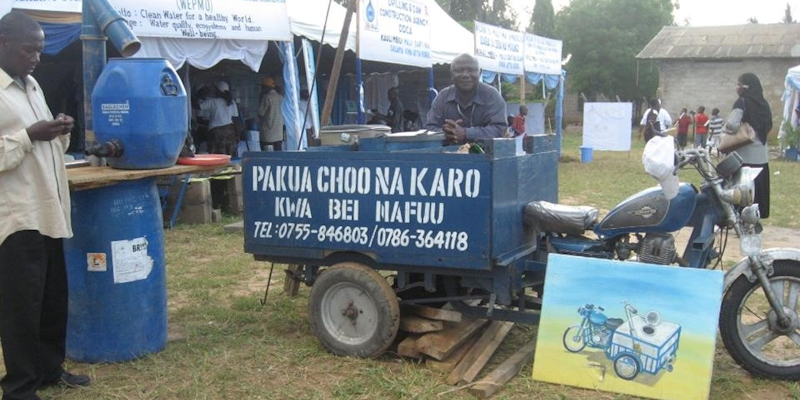 Barbara Evans and the SFD
Professor Barbara Evans holds the chair in Public Health Engineering in the School of Civil Engineering. The focus of her current work is on sanitation and faecal sludge matter. She has a particular interest in effective strategies for the management and disposal of faecal sludge, including design and lifecycle costing of sanitation options for on-site and sewered management of sludge in dense and informal urban settlements. She's also interested in the link between local service provision and overall city planning, health risks in urban environments and the valorisation of urban faecal wastes.
Professor Evans has been instrumental in the development of the Shit Flow Diagram (SFD) an innovative solution to show how faecal matter is managed in towns and cities across the globe. With over half the world's population living in urban areas, her work on the SFD Promotion Initiative is vitally important because the provision of safe and effective sanitation is the Millennium Development Goal that is most off course.
Why do we Need SFDs?
Worldwide, around 2 billion people don't have access to a toilet. A further 2 billion people only have access to an inadequate toilet. It's estimated that by 2030 we will need to provide safely managed urban sanitation to 3.5 billion people. What we do with our faecal matter is a public health and environmental issue. However, it's extremely difficult to establish what happens between 'toileting' and treatment across the globe. There are big problems around containment, emptying, transport, treatment and safe disposal.
A further complication is that safe and effective sanitation isn't something individuals can achieve by themselves. Communities need to work as a whole to safely dispose of their excrement. The story of what's happening and what's actually happening often don't match.
'Affordable and achievable solutions, rather than fancy engineering and infrastructure, are often needed to avoid a global health crisis.'
What is a SFD?
Given that the flow and fate of excreta produced in towns and cities is so poorly understood, the SFD is a simple tool with an immediate visual impact. It shows the physical flow of excreta through a town or city. It shows how it's contained from defecation to disposal and end use. It also shows what happens to all faecal matter. An additional report accompanies the diagram describing the service delivery context.
What's the Point?
'People don't like talking about shit. There are lots of barriers to overcome and it's difficult to get political support.'
Given the adverse public health consequences of ineffective sanitation, we need to get people talking. The SFD tells it like it is. It's a tool to inform urban sanitation programming and is an innovative way of getting political leaders, sanitation experts and other organisations talking in a coordinated way about excreta management. The SFD is also great for advocacy.
'An SFD presents a clear picture of how wastewater and faecal sludge management services are delivered in a city and the resulting challenges; these can then be linked to aspects of service delivery where improvements are needed. Primarily it provides technical and non-technical stakeholders with an easy-understood advocacy tool that can be used to support decision-making on urban sanitation planning and programming.
Importantly, an SFD does not provide a "shortcut" around integrated sanitation planning, promotion, investment, design, construction, operation and maintenance; these remain as very necessary components for implementing successful urban sanitation.' SFD Promotion Initiative
Where?
The SFDs have been tested in 50 cities in Africa, Asia and Latin America.
How?
The SFD Initiative is managed by GIZ under the Sustainable Sanitation Alliance (SuSanA). GIZ is supported by the Bill and Melinda Gates Foundation.
As well as the University of Leeds, other partners include:
• World Bank Group
• Water and Sanitation Program
• EAWAG
• Water Engineering and Development Centre at Loughborough University
• Centre for Science and Environment.
Impact on teaching
The research feeds directly into the MSc Water, Sanitation and Health Engineering. The MSc in WASH is focused on training African and Asian WASH professionals to equip them to address complex transdisciplinary challenges. Our research working with cities to improve sanitation planning and delivery feeds directly into the curriculum and teaching methods on the masters course.
Want to find out more? Visit sfd.susana.org/about/the-sfd-promotion-initiative