Healthy buildings: air quality and airborne infection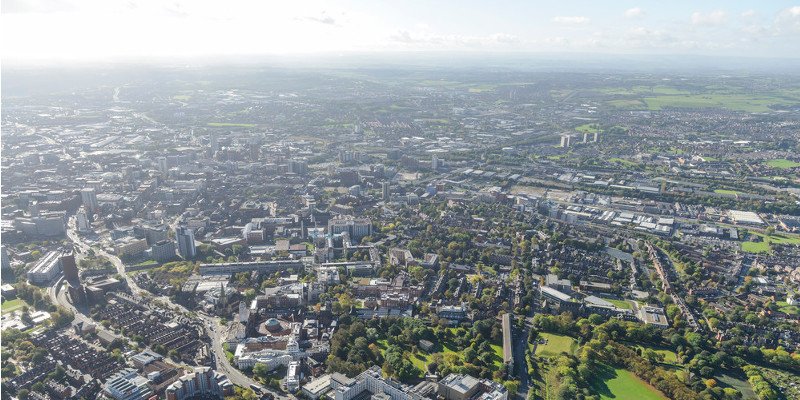 People typically spend around 90% of their time in indoor environments, hence the air quality and thermal environment in buildings is an important determinant of human health, wellbeing and productivity. Our research focuses on understanding the relationships between building design, ventilation, human behaviour and environmental sources on the risk of exposure to airborne contaminants. We are interested in identifying management and engineering solutions to reduce risk while at the same time minimising building energy use. We have particular interests in microbial contaminants, including engineering interventions to manage risk of airborne disease transmission.
Our research brings together a wide range of techniques including Computational Fluid Dynamics, ventilation models, controlled lab, chamber and pilot scale experiments, field data from real environments and risk modelling. We use these approaches to both understand the fundamental behaviour of airborne contaminants and to design, test and optimise solutions.
We have worked extensively on airborne infection risks in hospital environments and bioaerosol exposure risks at waste management sites. Our research is collaborative with a wide range of partners including architects, chemists, microbiologists, clinicians and engineers. This includes academic partners, the NHS, Public Health England, the Environment Agency, and a range of industry partners. We work closely with the Leeds Institute for Fluid Dynamics, and we co-lead a national network on Low Energy Ventilation supported by the UK Fluids Network.
PhD projects
We have opportunities for prospective prospective postgraduate researchers. Find out more.
View our current postgraduate researchers, projects, and completed projects.
Current postgraduate researchers
Bioaerosols emissions from MSW open dumpsites: Godwin Akpeimeh
This project uses bioaerosol sampling, particle sampling and quantitative microbial risk assessment methodologies to evaluate exposure to pathogenic bioaerosols at open dumpsites in Nigeria

Mechanisms for aerosolisation of microbial particles from liquid surfaces – understanding fluid mediated transmission pathways of infectious diseases: Jessica Proctor
This project is funded through the EPSRC CDT in Fluid Dynamics in collaboration with Dr Ian Clifton, consultant in respiratory medicine at Leeds Teaching Hospitals NHS Trust. The project aims to characterise the survival of pathogens of relevance to people with cystic fibrosis through laboratory aerosol experiments, droplet modelling and samples from a hospital environment.

Modelling Bioaerosol Dispersion due to Shower Heads: Amber Brennan
This project is funded through the EPSRC CDT in Fluid Dynamics in collaboration with Public Health England. The project aims to characterise the mechanisms by which microorganisms such as non-tuberculosis mycobacteria can be released in aerosol form from showers.

Environmental microorganisms and infection transmission in healthcare buildings: Waseem Hiwar
This PhD is funded by EPSRC DTP and linked to the HECOIRA project. The project aims to assess the relationships between microorganisms in the air and on surfaces in controlled lab and hospital environments.
Current projects
Excising Infection in the Surgical Environment [ExISE] 2017-2019, AHRC
This project aims to understand the development of operating theatre design and ventilation strategies, and assess the evidence for this to influence the risk of infection. This is an interdisciplinary project in collaboration with the University of Cambridge (PI Prof Alan Short) and Kings College London.
Influence of ventilation design on the prevalence of anti-microbial bacteria in homes 2017-2019, AHRC
We aim to understand how contemporary housing design affects the indoor microbiome and the prevalence of AMR. We are applying occupant surveys, building audits, microbial sampling and environmental sampling to homes in the Glasgow area. The project is in collaboration with Glasgow School of Art (PI Prof Tim Sharpe) and Hairmyres Hospital, and was an outcome of the HEMAC network

HECOIRA: Healthcare Environment Control, Optimisation and Infection Risk Assessment 2017-2021, EPSRC
This EPSRC Healthcare Impact Partnership is in collaboration with two NHS trusts and two industry partners. We aim to develop and test novel computational based tools to assess, monitor and control real patient environments in hospitals for infection control, comort and well-being. We will develop and couple models of physical, environmental, microbial and human parameters together with environmental sensor data to build new tools to dynamically model hospital environments.

Targeting airborne bacterial infection: Studies on patient- and laboratory-generated mycobacterium tuberculosis aerosols 2017-2019, MRC

We aim to characterise the CASS patient cough sampling approach to understand the sampling and survival of TB aerosol. We wish to understand whether the aerosol is related to sputum, how the survival and gene expression of Mtb changes with time and ambient conditions and the effectiveness of the sampling approach for capturing patient aerosols. The project is a collaboration with , Leicester University (PI Prof Mike Barer), Public Health England and researchers in Pretoria.
Completed projects
A Framework for Assessing the Effect of Indoor Residential Thermal Environment on Occupant Health and Comfort in Nigeria 2017-2018, MRF, AREF fellowship Dr Femi Akande
EMIT: Evaluating Modes of Influenza Transmission using a Human Challenge Model 2011-2013, CDC
ntegrated hospital ward design for a safe and sustainable patient environment 2009-2014, EPSRC Challenging Engineering award.
Understanding Biofilter Performance and Determining Emission Concentrations under Operational Conditions, 2012-2014, Sniffer
Design and Delivery of Robust Hospitals Environments in a Changing Climate 2009-2013, EPSRC
Development of Computational Models to Design Upper Room Ultraviolet Germicidal Irradiation Air Disinfection Systems in Hospital Environments 2009-2012, EPSRC
Design and Performance of Isolation rooms 2008-2011, Department of Health