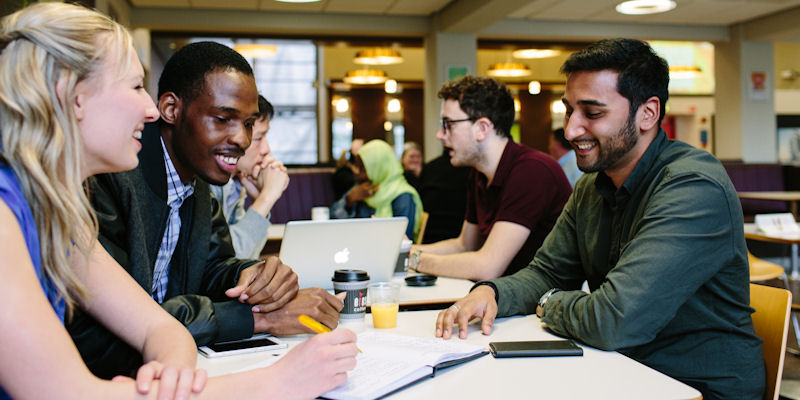 The University community is made up of a wide range of people with diverse backgrounds and circumstances, which we value and regard as a great asset.
As an international, research-intensive university with a strong commitment to student education we will create an inclusive environment that attracts, develops and retains the best students and staff from all backgrounds from across the world and supports them in delivering their ambitions, contributing to our institutional strategic aims. Find out more about our diverse student community from example profiles of our current students and alumni.
You can find out more about our new Equality and Inclusion Framework (2020-25), Race Equality Framework and University statement on Black Lives Matter on our Equality & Inclusion Unit website.
Faculty Equality and Inclusion Committee
As a part of our commitment to fairness and respect, our Equality and Inclusion Committee meet every term to discuss progress, identify issues and shape new policies.
Athena SWAN Charter Silver award
The Faculty of Engineering and Physical Sciences is a member of the Athena SWAN Charter and we have accepted its key principles to improve equality. We successfully received the prestigious Athena SWAN Silver Award in September 2021 from the Equality Challenge Unit, the national body that promotes equality in the higher education sector, which recognises our strong and continued commitment to gender equality. Find out more.
We are also proud of Footsteps: Celebrating The Diversity of our Staff, a brochure presenting profiles of a selection of colleagues working in the Faculty. The Footsteps initiative is a result from actions within our joint equality, inclusion and diversity strategy, stemmed from Athena SWAN.
Institute of Physics Project Juno
The School of Physics and Astronomy has been awarded 'Juno Practitioner' status. The aim of Project Juno is to recognise and reward physics departments, schools, institutes and organisations that can demonstrate they have taken action to address gender equality in physics and to encourage better practice for all staff.
London Mathematical Society Good Practice Scheme
The School of Mathematics is a London Mathematical Society Good Practice supporter.
Working lives policies
We aim to allow all staff to manage a good work-life balance and we are flexible and responsive to support personal circumstances. In many roles we offer flexible working and part-time working, and we have a range of services to help support staff through work and personal challenges.
The University has a range of policies to support colleagues at key stages in their lives.
We have a wellbeing room to support nursing mothers and staff with health conditions, and we have an onsite nursery, Bright Beginnings and holiday playschemes.
Equality related support and resources for staff
We provide practical support and information for all staff working at the university. For example, you can find out about the support services available to ensure equal access for disabled staff, find information about services available for staff who are also carers, and learn about the prayer spaces available on campus.
Staff networks
The University has a number of networks that staff can join. They bring together employees from across the University, providing peer support, networking opportunities and social activities.
Our networks include:
Get in touch
To learn more about equality and inclusion within our Faculty, please contact Professor Louise M Jennings, our Lead for Equity, Diversity & Inclusion, at l.m.jennings@leeds.ac.uk.