Freya Segar
Course: Mechanical Engineering MEng, BEng
Year of graduation: 2022
Choosing Leeds
Coming from a very rural countryside, Freya Segar was keen to move to a city. The University of Leeds is located on the edge of the city centre but is also a campus university, which, when Freya came to visit at an Open Day, seemed like a great but rare combination. She said "I knew previous students who had discussed how good the student life was in the city, with its lively nightlife and the iconic Hyde Park. This was important to me as during sixth form I gained an appreciation of how balancing the academic and social sides of my life boosted productivity. Visiting the university and the city for the open day confirmed the opinions of others and I knew it would be the best university for me."
Freya chose to study an integrated master's in Mechanical Engineering (MEng, BEng) with a year in industry. Her favourite part of studying engineering is the combination of theoretical and practical work. She commented "I am a kinaesthetic learner so having the ability to go to labs or the workshop and implement the theory taught is very beneficial, and unique to a lot of other courses offered by the university.
I have also particularly enjoyed the large amount of assigned group work throughout the course, which enabled me to meet a wide range of people who have broadened my knowledge and interest in engineering."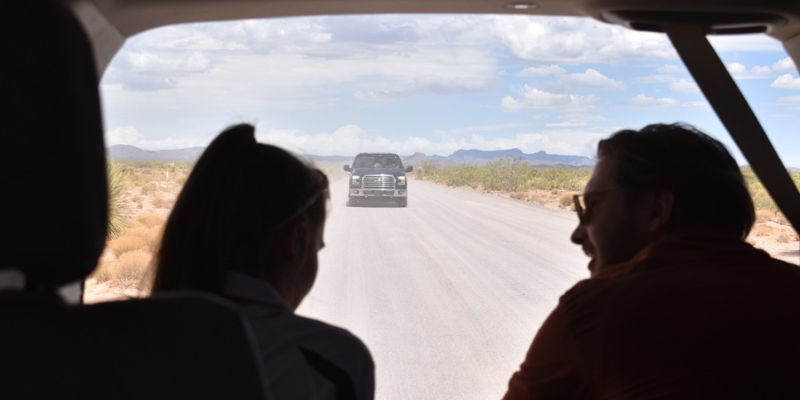 Overcoming fears
Starting university can be daunting for anyone, Freya said "Entering a male-dominated course was quite intimidating, with an overriding worry that I would not be taken seriously, or as actively included as my male counterparts. Despite encouragement from my family, the lack of gender diversity did also make me question my own place on the course, which subsequently caused me to join university lacking any real confidence in my own ability.
The large amount of group work throughout the course made me directly confront any worries I had regarding the significant gender ratio. Through this, I realised that it was much less of an issue than I had imagined. It made me recognise that, instead, increasing my self-confidence was a personal battle.
In my final year, I joined the brand-new team LURA (Leeds University Rocketry Association) as Head of Recovery and helped formed the team while learning an entirely new set of skills that would enable us to build a rocket. This intense role has played a massive factor in proving my ability to myself and has helped shake some of the imposter syndrome I have carried with me throughout university."
Working in industry
Freya spent a year as an Industrial Placement Engineer at Collins Aerospace after her second year of study. There, she was given four-month rotations in different engineering disciplines, although her final one was sadly cut short due to Covid-19. She described her experience "I was initially put in a team working on the Airbus A350 nacelle actuators and was immediately inspired while working with a great team of engineers who fully supported and integrated me within the team, despite my complete lack of industrial experience. Being able to work on such big projects in a very dynamic industry confirmed my desire to be an engineer within the aerospace industry, and I learnt so many skills and pockets of knowledge that just couldn't be taught at university.
Being able to work on such big projects in a very dynamic industry confirmed my desire to be an engineer within the aerospace industry
Being able to explore different disciplines whilst at Collins also really helped me narrow down the type of engineering I enjoyed, and after focusing on computational work during my second rotation it motivated me to select a FEA based project for my third year individual project module."
Leeds University Rocket Association
In her third year, before joining Leeds University Rocketry Association (LURA), Freya joined Leeds Formula Student to continue working on real-life projects, similar to what she had worked on during her industrial placement. However, she felt it wasn't where she wanted her career to go, saying "I enjoyed working within a team on such a large project outside my studies, however, it was hard to fully commit without a real passion for the automotive industry.
In the summer of my final year, I saw an advert recruiting team leads for the new Leeds University Rocketry Association (LURA), which seemed like the perfect translation of Formula Student into the aerospace industry. Knowing my workload was due to increase as I entered my master's year, I was initially hesitant to apply for the team lead position. This hesitation did not last long, however, as the project objectives seemed increasingly exciting and I realised the potential this project could have in developing real skills that would benefit my future career.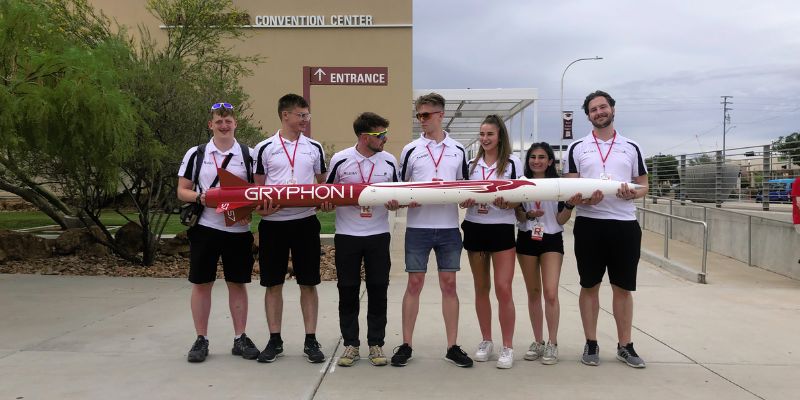 I was interviewed by Theo (LURA founder), and soon after recruited as the Head of Recovery. I initially applied for the recovery team under the expectation it would have the smallest workload. Ironically, the recovery system is one of the highest risk areas of the rocket which becomes very apparent as soon as you start any work within the field of high-power rocketry, resulting in plenty of unexpected stress and a lot of work throughout this year. There were four other appointed team leads in Aerostructures, Avionics, Payload and Propulsion, who worked with our Chief Engineer, Dom. Across the year, we recruited a team of ~30 students and successfully built and launched two high-power rockets which we launched in England, Scotland, and finally America at the world's largest rocketry competition."
It is very rare for a team to form and compete within the year, and this was made possible for them through the help of the staff at the university, especially Dr Greg de Boer, their sponsors, and an awful lot of hard work and commitment from the team. "Just getting to the competition was an achievement we thought impossible multiple times throughout the year, however, we managed to not only place 4th in our category but also be awarded 2nd place for the overall competition innovation award for our unique recovery system!"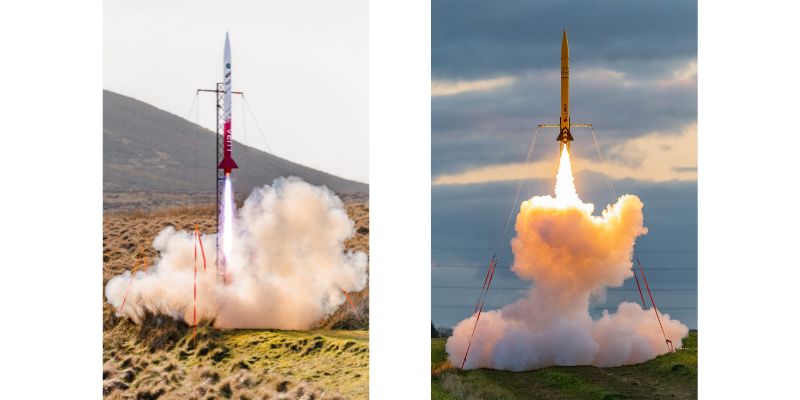 Ben Adams Photography
Developing skills
Every experience at university can help build skills vital for your future career, Freya commented "Participating in LURA has provided me with an incredible range of skills I will need in any future career. Tackling a leadership role in a new team which was required to prove itself at every point in its journey has not been easy, but as a result, that has taught me how to exercise resilience, patience and commitment to both my work within projects and also when working with others. I believe this was made slightly easier by the experience I gained during my placement year, where I was fortunate enough to work with a lot of motivating engineers who inspired my behaviour as a team lead."
Before LURA, Freya was heavily involved with numerous societies, as well as working for the university as a STEM Ambassador and tutoring maths in her own time. She said "This kept me incredibly busy for the past five years, and through this, my (previously terrible) time management skills have been developed and refined. Aspiring to enter into the space industry, I think this is an invaluable skill and I am glad I have had the time to develop it during university where work was less critical."
Life outside the classroom
Aside from an engineering-based LURA and Formula Student, Freya was also an active member of Leeds University Amnesty International Society in her first and second years, before being elected treasurer in her third year. "While on the committee, we promoted various Amnesty campaigns and ran various events to help support the community. This included organising talks, a university-wide food bank collection, and an online music event which raised over £1000 for Amnesty and a local domestic abuse charity. I have always been very aware of the ethical implications of my work, and it was really enjoyable to be able to give back to the community through this society, as well as perform work very different to that taught in my degree. It was also great to have the opportunity to mix with non-engineering students with similar interests."
I have always been very aware of the ethical implications of my work, and it was really enjoyable to be able to give back to the community through this society
After graduation
Since graduating Freya has started a new role as Graduate Mechanical Engineer at Airbus Space. She said "I am really excited about this role as for the past few years it has been my dream to work within the UK space industry, let alone at the site leading it. I am excited to further explore different types of engineering during the graduate scheme, however in the future, I would eventually like to also take on a project manager role within this industry, and, if the opportunity ever arises, hopefully, one day I will work in space!"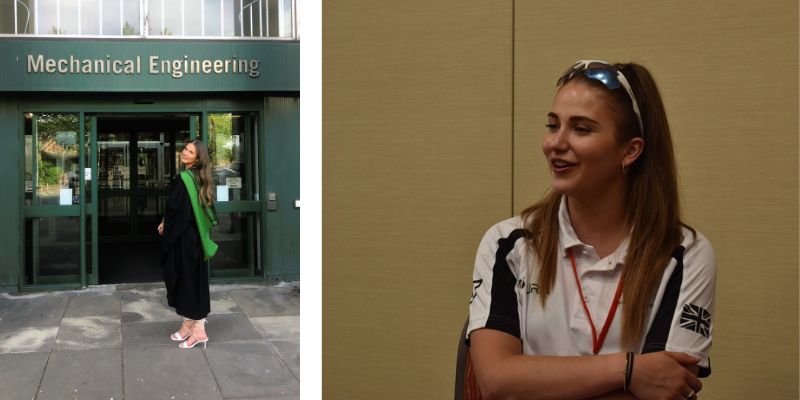 Words of wisdom
"Dream big. If someone had told me six years ago, after failing my maths AS-Level, that I would be launching my own rocket in the New Mexico desert, I would have burst out laughing. No matter what setbacks you face, from my experience I have learnt that when you put enough effort in, things have a way of working themselves out. The only thing that can stop you from achieving your goals is a lack of self-belief."
Join us
Want to know more about student life at Leeds? Chat to one of our current students to find out what it's like to be part of our welcoming community.