You will study in the School of Mechanical Engineering, situated on the edge of campus and home to a friendly, supportive and diverse community of students and researchers who come from all over the world. Whether studying with us at undergraduate or postgraduate level you will have access to specialist labs and facilities relevant to your degree.
Our teaching facilities cover the different themes of mechanical engineering, reflecting our degree offerings. These include a range of laboratories, workshops, testing facilities, computer suites and teaching spaces.
We are continually investing in the best facilities for you, and you will find everything you need for your studies right here on campus.
Laboratories
Our thermofluids mezzanine is a key teaching facility within the School and houses experimental apparatus including wind tunnels and engine testbeds to explore fluid dynamics and thermodynamics concepts.
The thermofluids mezzanine is also home to Leeds Gryphon Racing workshop, the University's Formula Student team. Students from across the faculty come together to build a racing car to pit against other universities. Find out more about Leeds Gryphon Racing.
Our prototyping workshops are equipped with materials and tools to enable you to put together working prototypes as part of your project work – including four-wheeled buggies and 'bio-arms'.

We also have specialist equipment including a suite of tensile testing machines, 3D printers, CNC machinery and apparatus for solid mechanics and control and dynamics.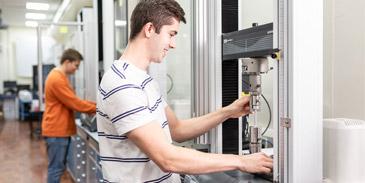 Our computer suites are kitted out with CAD software and are used by both our mechanical engineers and product designers. Alongside this our level 5 design studio, dedicated to those studying our product design degree, has a suite of computers with industry-standard software packages such as the Adobe Creative Suite. As a product design student you will also have access to model making facilities including forming, laser cutting, foam model sculpting and CNC routing in our prototyping workshop.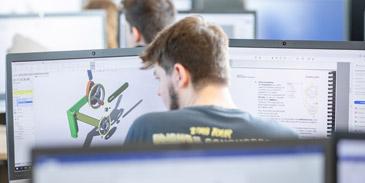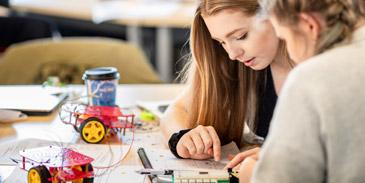 Our shared facilities
Lecture theatres and seminar rooms containing the latest audio-visual technology and professional presentation equipment. Find out more.
Study areas and dedicated computer clusters including a 24 hour cluster.
Social spaces and Fuse café make great places to relax or meet and work with friends and colleagues.
Our dedicated employability hub gives you access to industrial placements, internships, employability sessions, presentations and workshops delivered by employers and graduate opportunities.

University facilities
<iframe width="560" height="315" src="https://www.youtube.com/embed/u4GTHjXbM_Y" frameborder="0" allow="accelerometer; autoplay; clipboard-write; encrypted-media; gyroscope; picture-in-picture" allowfullscreen></iframe>
<iframe width="560" height="315" src="https://www.youtube.com/embed/6hAUrjUXmGQ" frameborder="0" allow="accelerometer; autoplay; clipboard-write; encrypted-media; gyroscope; picture-in-picture" allowfullscreen></iframe>