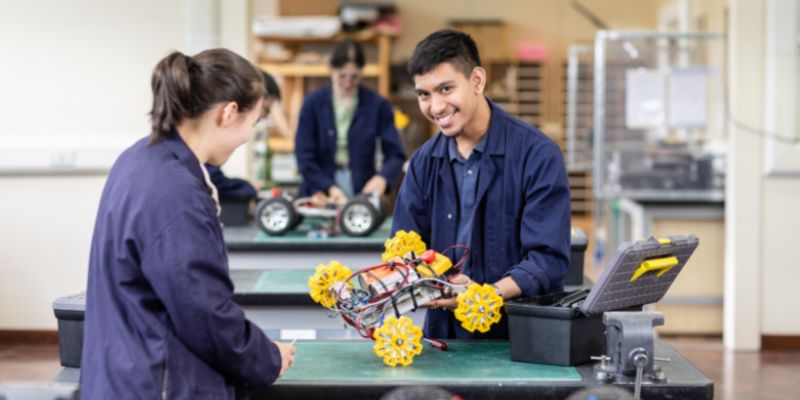 Our current students regularly say that project work is one of the most satisfying and challenging aspects of their course. In applying theory to practice, your project work will give you an effective way of learning in-depth and give you the chance to understand and explore the different subjects within mechanical engineering.
You'll be able to focus on aspects of the subject that you find most interesting while developing key transferable skills such as problem-solving, communication, teamwork, and time and project management.
Year 1 – Design and Build Project
In year one, you'll design, manufacture and assemble 3D parts for a gearbox using computer software and our manufacturing workshop. You'll also work with your team to build a cardboard bridge and use knowledge from modules on materials, mechanics, design and manufacture, maths and computer analysis to predict when and where it will break.
As part of the design and manufacture module, you'll work in a team to design and make an elastic-powered device to transport a box of accelerometers (e.g. a Nintendo Wii remote) over a given distance. The devices are then raced or tested against each other in our industry-sponsored competition. The device that you build varies in line with the course that you study:
Mechanical and Automotive Engineering
You'll create four-wheel buggies within a specific set of dimensions and to a specific weight. You can expect to see a wide range of designs and ideas as each of you will hope that your buggy will travel the furthest in the final competition.
Aeronautical and Aerospace Engineering
You'll build gliders focusing on both the design and manufacture of the glider and its wings.
Medical Engineering
You'll construct a 'bio-arm' to throw a ball containing accelerometers into a movable target.
Year 2 – The Daring Dash
In year two, you'll take part in 'The Daring Dash', a competition typically sponsored by National Instruments and Jaguar Land Rover. The challenge is to build an autonomous, electric-powered buggy to travel over an uneven course and stop on a bull's-eye.
You'll programme a high-specification embedded controller, design a suspension and chassis, and select motors/ drive-train components, to compete against your peers for a winning time and prize.
Aeronautical and Aerospace Engineering students will undertake 'The Martian Mile'. Rather than developing an earthbound buggy, you'll design, build and test a planetary rover which is suitable for deployment on Mars. This project is also sponsored by the National Instruments and Exo-Mars (a subsidiary of Airbus), who will be the judges of the final design.
Students from all courses will also be challenged to develop and build a microhydroelectricity device to generate electricity from flowing water and test your device in our water flume.
Year 3 – Individual research project
In year three, you'll undertake a large individual research project, where you can get involved in an area of current research. Supporting this is a Professional Skills module, which will develop your project planning and management skills, as well as your understanding of ethics. There's a wide selection of projects to choose from, as well as the opportunity to suggest your own project idea. You'll have an academic supervisor who'll meet you every week to provide guidance and support.

Examples of projects include:
Biomechanics of the human spine
Design of Electric Formula Student race car

Clothing performance in sports and hospitals

Engineering beyond the smartphone and tablet

Aerodynamic analysis for Formula One and aircraft wings
Design of unmanned aerial vehicle systems (UAVs).

Control of Autonomous Systems (UAVs, UGVs, Specialised Robots)
Year 4 (Integrated Masters) – Major team project
If you decide to undertake the MEng year, you will participate in a major team project, where you'll work closely with one of our industrial partners to deliver real engineering solutions. These collaborations ensure that, in addition to developing your technical capabilities, you'll be well-prepared for an exciting career in industry.
Examples of year four team projects include:
Design optimisation of cooling channels for gas turbine blades with Rolls-Royce

Multidisciplinary optimisation of hydrogen powered commercial aircraft with Airbus

Boat-tail and power-on effects on base-drag for non-cylindrical rockets with MBDA

Design and optimisation of Electric Motorbike – SPARK

Autonomous aircraft landing control.