Leeds Rocketry Association
Leeds University Rocketry Association (LURA), are a student-led, multi-discipline engineering team capable of designing, building and flying sub-orbital rockets. Their mission is to prepare the Mars Generation: the engineers, astronauts and technicians that will start the first human colony beyond Earth.
Since their founding in March 2021, the team have made significant progress, with numerous test launches, gaining sponsors and competing in the Spaceport America Cup 2022 June.
What's next? Learning lessons from their first year as a team, LURA will evolve their design to create a larger, heavy-lift rocket, the Gryphon II. The process, which may last for nearly two years, will include several launches of scaled-down test vehicles. The aim of this is to enter the Spaceport America Cup again. In the build-up to this, the team will conduct the first Gryphon II launch from the UK to test its performance and verify its safety ahead of the competition.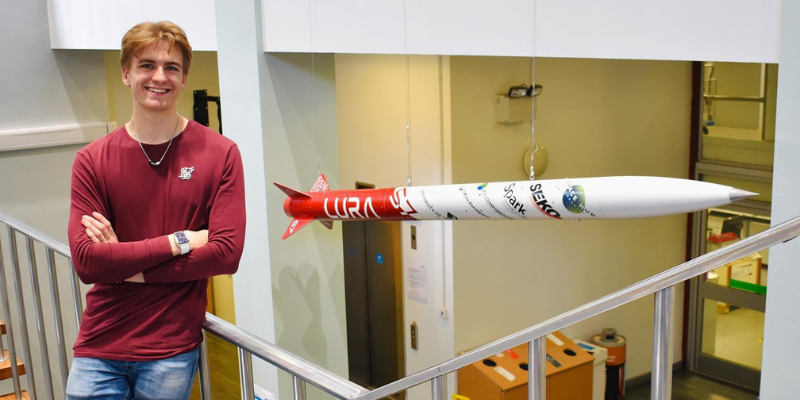 Theo Youds, Founder of Leeds University Rocketry Association with the Gryphon 1 hung in the School of Mechanical Engineering foyer.
The Gryphon II will allow LURA to commence the UK's first-ever University regular experiment launch program. Students from across the campus will fuel their research with experiments flown aboard our sounding rockets.
LURA are looking to connect with sponsors, research companies and alumni within the aerospace sector. Email launch@leedsrocketry.co.uk to speak to the team.