Our facilities in the School of Mechanical Engineering will equip you with hands-on experience and a solid understanding of how to use industry-recognised facilities. This means you can confidently take the next steps in industry or further study when you graduate.
Industry-grade engineering teaching laboratories
Our purpose-built labs are accessible throughout your degree and link theoretical learning content in the classroom to practical, hands-on learning.
The Thermofluids Lab is a key teaching facility and houses experimental apparatus including wind tunnels and engine testbeds to explore fluid dynamics and thermodynamics concepts.
The Physics Deck Workshop is home to Leeds Gryphon Racing, the University's Formula Student team. Students from across the faculty come together to build electric and autonomous racing cars to compete against other universities. Find out more about Leeds Gryphon Racing.
Our prototyping workshops are equipped with materials and tools to enable you to put together working prototypes as part of your project work – including four-wheeled buggies and 'bio-arms'.
We also have specialist equipment including a suite of tensile testing machines, 3D printers, CNC machinery and apparatus for solid mechanics and control and dynamics.
Take a virtual 360 tour of our Engineering Study Zone, Mechanical Engineering Lecture Theatre B, Mechanical Engineering Prototyping Workshop, and Thermofluids lab.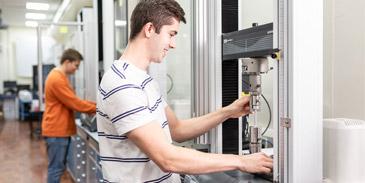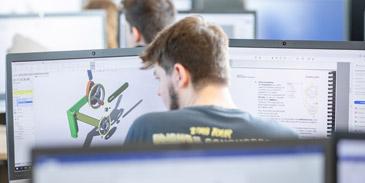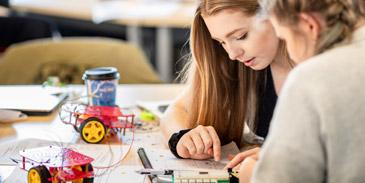 Design software
Our computer suites are kitted out with CAD software such as SolidWorks, as well as a broad range of analysis software which covers computer programming (Matlab) and fluid and solid mechanics (Ansys, Abaqus, Comsol).
Product Design
Alongside we have dedicated studio space for product design students, which has a suite of computers with industry-standard software packages such as the Adobe Creative Suite.
As a Product Design student, you will also have access to model-making facilities including forming, laser cutting, foam model sculpting and CNC routing in our prototyping workshop.
Lecture theatres that optimise your learning
You'll learn through a combination of taught and practical sessions, with access to the following facilities:
Two large and accessible modern lecture theatres

Multiple seminar rooms for teaching smaller classes and undertaking group meetings

Latest audio-visual technology and presentation equipment

Open-plan lecture theatres where seating can be rearranged for different activities like problem-based tutorials, working in teams and design space

Lecture capture recording that enables you to watch presentations back after they have happened.
World-leading research laboratories
If you decide to undertake an MEng, you may have the opportunity to work in our research institutes, Institute of Design, Robotics and Optimisation, Institute of Thermofluids, Institute of Functional Surfaces and the Institute of Medical and Biological Engineering.
Whilst working on your independent research project in Level 4, you'll be trained to use cutting edge research equipment, which may include:
Dowson tribology laboratory containing tribometers and specialised simulation rigs for the study of lubrication, friction and wear in real systems

Bradley combustion laboratory: underpins fundamental and applied research in various aspects of combustion to improve fuels and enhance control of combustion in engines and turbines, with safety features to prevent explosions and detonations

An erosion and corrosion laboratory with rigs for oil and gas applications, mineral scaling research and bioengineering systems.

RealRobotics lab - experts in mechanical design, 3D modelling, rapid manufacturing, UGV design, UGV autonomous navigation, UAV payload design, Computer Vision, Object detection, Robotics manipulator design, prototyping, 3d printing and UAV autonomous navigation.

There are also many other labs which cover; fluid characterisation, strength of materials, and tissue engineering.

Study facilities that support your work
From 24-hour computer clusters, libraries and silent study areas when you need to finish an assignment without interruptions to interactive spaces, cafes and group rooms for collaborative project work — there's always somewhere to go on campus to suit your study preference.