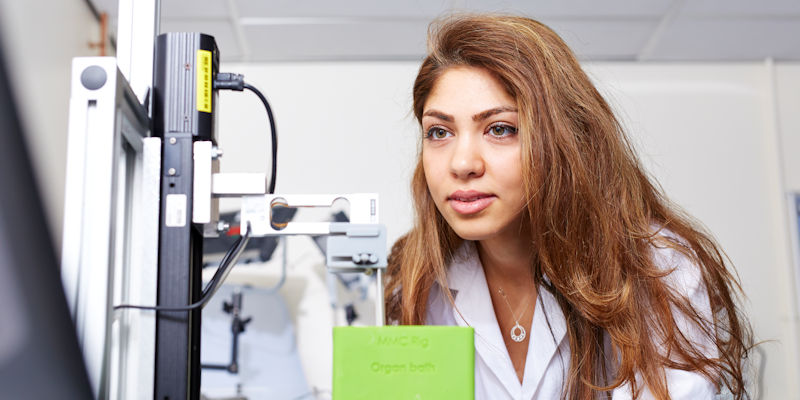 Tribology is the science of interacting surfaces in relative motion, and it studies friction, wear and lubrication. Many devices and systems are limited by their surfaces and interfaces. We focus on studying the interface processes that define friction and wear performance of engineering systems such as pistons and cylinder liner contacts in car engines, between the turbine blade and the casing in an aircraft engine, brakes, bearings, artificial hip joints, surfaces between the tool and workpiece in metal grinding and forming.
Our aim is to improve the understanding of surface-surface interactions to reduce friction and wear and from this develop mechanistic and numerical tribology models. With our research, we provide the knowledge basis for developing novel, low friction and durable tribological systems (lubricants, coatings, machine elements, medical devices).
We collaborate closely with a number of research groups in UK, USA, Europe, China and Japan through joint research projects, which also includes exchanging research staff members and co-organising research events. We have strong partnerships with lubricant industry, OEMs, surface engineering and medical devices industries.
Applications
Machine elements: bearings, pumps, Continuous Variable Transmission systems, automatic and manual gearing systems
Automotive: journal bearings, valve train, powertrain system, transmission system, components for electric vehicle transmission
Energy: wind turbine gearboxes, components in power plant
Manufacturing: metalworking fluids, surfaces in grinding and tool wear
Biomedical: medical implants and soft tissue interfaces
Aerospace and space: solid lubrication and high temperature erosion/abrasion
Every two years we host the Leeds-Lyon Symposium on Tribology, one of the premier events in the world tribology calendar.
Research highlights
Robust experimentation that advances understanding of surface-surface interactions in arduous conditions
Development of models that describe friction, wear and lubrication of non-ferrous materials such as DLCs, Al-Si alloys and other coatings
Development of a multiscale numerical models that couple mechanical and chemical effects
Experimental capability to test the hydrogen diffusion in steel from oil lubricated tribological systems
An enhanced understanding of the degradation mechanisms occurring on implantable metallic devices. This includes the development of novel tribocorrosion simulation models for bearing and modular interface found in total hip replacements
Novel gel coatings for enhanced lubricity and trauma for devices in contact with soft tissues. This includes synthesis and characterisation of surfaces.
Research team
PhD projects
We have opportunities for prospective postgraduate researchers. Find out more.
Contact us
If you are interested in collaborating with us or joining our research team, please get in touch with a relevent member of staff.