Corrosion and erosion-corrosion
Overview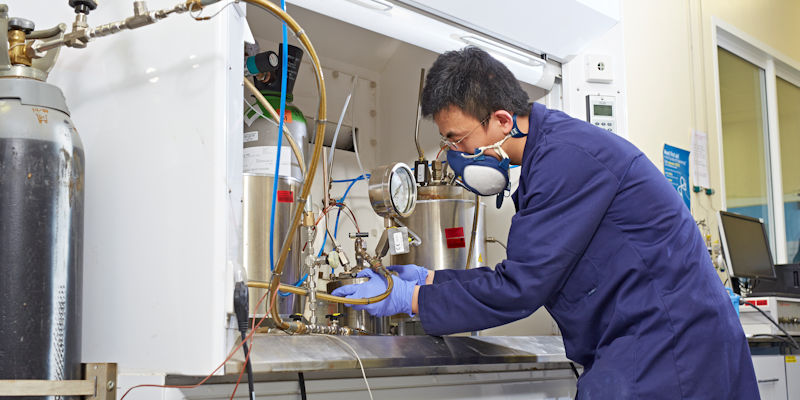 We work with the oil and gas sector to find effective solutions to the key problem of internal corrosion in oil wells and pipelines. Impurities, within the oil and gas, can cause pipeline failure which affects production and results in health and safety concerns.
Industry-driven collaborative research in our labs focuses on understanding the fundamental physics and chemistry of material degradation mechanisms. Our focus is on providing outputs which industry can utilise to ensure safer and more efficient hydrocarbon transport. We focus also on novel approaches for corrosion mitigation.
Current research
Localised corrosion in H2S containing environments
Combined numerical and experimental approaches to predict corrosion product formation kinetics in CO2 environments
In situ measurements of scale formation (XRD and optical)
Matrix acidizing
High temperature/High pressure corrosion
Top of line corrosion – modelling and experimental approaches
Erosion-corrosion in CO2 environments
Pit initiation and propagation in CO2 environments
Under-deposit corrosion
Understanding the precursors to localised corrosion in CO2 environments.
Our research philosophy revolves around 5 key areas:
Fundamental research to generate industrial impact – our research is industry driven. Despite focusing on fundamental aspects in some instances, the focus is always on generating impact with our collaborators/partners.
Custom designs and in situ techniques – we pride ourselves on developing novel methodologies/apparatus/techniques to understand mechanisms more clearly. There is a particular emphasis on in situ electrochemical/optical/synchrotron/acoustic methods.
Experimental – our research is largely experimental in nature, focusing on modelling or simulating oilfield processes/environments to understand material-electrolyte interactions.
Understanding processes at the material-electrolyte interface – identifying the characteristics of material surfaces after degradation using state of the art analysis techniques.
Numerical – experimental observations are complemented with numerical models/tools to help further understand mechanisms. Corrosion prediction models developed are also validated by experimental data.
Current and past collaborations
BG Group (now formally part of Shell)
Shell Global Solutions/Shell UK Limited
Baker Hughes
UFRJ
Schlumberger
Wood Group
BP
Statoil
Outokumpu
LBBC Technologies
Total
ConocoPhillips
Chevron
Croda
ADNOC
Research team
Professor Anne Neville
Dr Richard Barker
Dr Yong Hua
Dr Wassim Taleb
Dr Frederick Pessu
Dr Cayetano Espejo Conesa
Dr Adriana Matamoros Veloza
Dr Abdel Dorgham
Dr Farnaz Motamen Salehi
Dr Ali Ghanbarzadeh
Dr Thibaut Charpentier (School of Chemical and Process Engineering)
PhD projects
We have opportunities for prospective prospective postgraduate researchers. Find out more.
Contact us
If you are interested in collaborating with us or joining our research team, please get in touch.