Corrosion and flow assurance
Highlights and collaborations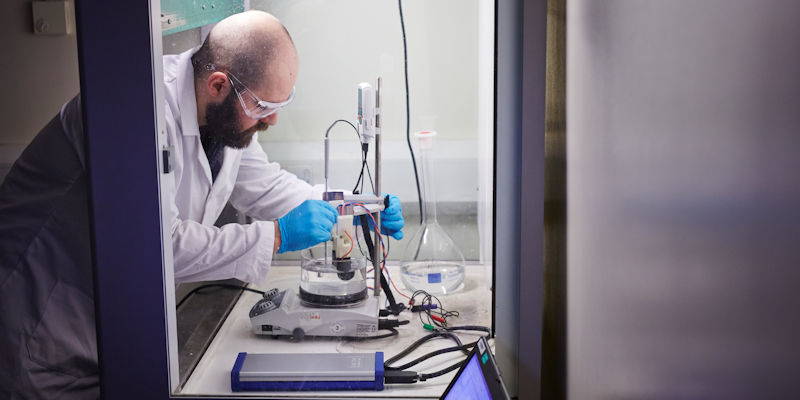 Our research philosophy revolves around 5 key areas:
Fundamental research to generate industrial impact – our research is industry driven. Despite focusing on fundamental aspects in some instances, the focus is always on generating impact with our collaborators/partners.
Custom designs and in situ techniques – we pride ourselves on developing novel methodologies/apparatus/techniques to understand mechanisms more clearly. There is a particular emphasis on in situ electrochemical/optical/synchrotron/acoustic methods.
Experimental – our research is largely experimental in nature, focusing on modelling or simulating oilfield processes/environments to understand material-electrolyte interactions.
Understanding processes at the material-electrolyte interface – identifying the characteristics of material surfaces after degradation using state of the art analysis techniques.
Numerical – experimental observations are complemented with numerical models/tools to help further understand mechanisms. Corrosion prediction models developed are also validated by experimental data.
Current research
Localised corrosion in H2S containing environments
Combined numerical and experimental approaches to predict corrosion product formation kinetics in CO2 environments
In situ measurements of scale formation (XRD and optical)
Matrix acidizing
High temperature/High pressure corrosion
Top of line corrosion – modelling and experimental approaches
Erosion-corrosion in CO2 environments
Pit initiation and propagation in CO2 environments
Under-deposit corrosion
Understanding the precursors to localised corrosion in CO2 environments.
Understanding the kinetics of organic and inorganic surface fouling
Development of in-situ techniques for the study of real time scaling processes
Understanding scale formation in multiphase flow conditions
Heat exchanger fouling for industrial and domestic applications
Surface coatings for mitigation of fouling
Developing bespoke surface solutions for scaling relying on liquid-infused surfaces
Assessing scale dissolution processes and rates.
The work in flow assurance is principally funded by industry; we have a number of one-to-one and joint industry projects.
Research highlights
Establishing the relationship between bulk and surface scaling kinetics
Development and assessment of new coatings for subsea safety control valves to control mineral fouling
Development of a nanotechnology-assisted squeeze treatment
In-situ visualisation for real-time assessment of scale kinetics
In-situ synchrotron XRD for the assessment of scale formation and inhibition.
Current and past collaborations
BG Group (now formally part of Shell)
Shell Global Solutions/Shell UK Limited
Baker Hughes
UFRJ
Schlumberger
Wood Group
BP
Statoil
Outokumpu
LBBC Technologies
Total
ConocoPhillips
Chevron
Croda
ADNOC