Research impact: Advancing pre-clinical simulation methods and setting new standards for joint replacements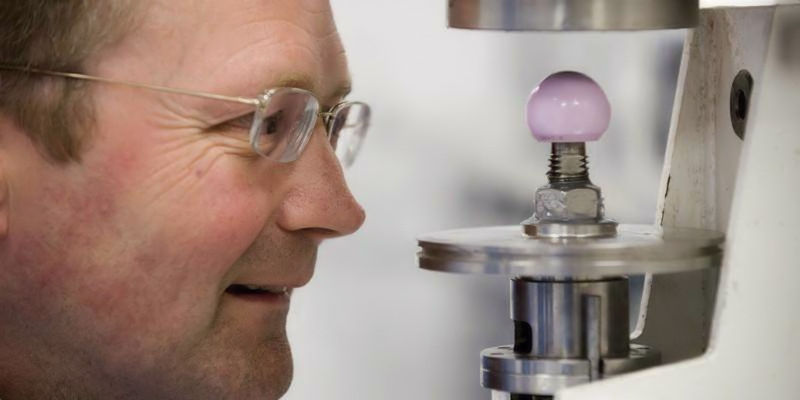 Advanced methods for testing joint replacements, developed at the University of Leeds, have helped to set new international standards, with over a million patients benefitting from better products developed as a result.

Professor John Fisher, in the University's Institute of Medical and Biological Engineering (iMBE) originally helped to develop the first standard for hip joint replacements over 20 years ago. These laid out the criteria for design and testing of joint replacements that focused on the needs of the average patient and to extend the lifetime of joint replacements.

For the majority of patients, hip replacement joints worked well, especially as new materials were developed to make them more hardwearing. But when Professor Fisher and his team looked at joint replacements that had been removed from patients, they could see that in some patients, the joints weren't wearing down in the way they'd expected, which would make them more likely to fail.

Professor Fisher explains: "Back in 2000, we'd developed a standard test for these joint replacements but the real-world conditions do not always fit the 'average' standard. Patients come in different shapes and sizes and surgeons don't conduct operations in exactly the same way. We had to understand the variables involved, so we could develop preclinical simulation tests that could take into account the variety of real-world conditions more accurately."

The team set about looking at how different positioning of the joint replacements during surgery affected how well the joints worked, and the impact of different patients' weight and activities. This helped them develop new simulation equipment and simulation methods that could mimic these real-world conditions, to improve the testing standards that all products must adhere to.
Through advanced pre-clinical testing, we can improve the function and performance of new implants being developed across a wider set of potential clinical conditions.
Professor Fisher says: "Through advanced pre-clinical testing, we can improve the function and performance of new implants being developed across a wider set of potential clinical conditions, reducing the variability in function found across the patient population."

Working in collaboration with the UK-based company, Simulation Solutions, the team developed testing equipment and protocols that, in 2018, were recognised as the new international standard for hip joint replacements. Advanced equipment and new testing methods were also collaboratively developed for artificial knee joints.

"Collaborating with industry on the new simulations was really important," explains Professor Fisher. "There was no point simply doing the research and having the equipment to do this kind of simulation in our labs. We had to ensure that similar equipment was commercially available for manufacturers of joint replacements to use as they developed new products."

The team have also worked directly with three global orthopaedics companies to help them develop new products based on the research. Access to iMBE's laboratory facilities, as well as to research expertise, is an attractive prospect for these companies. The laboratory is the largest academic, pre-clinical simulation facility for joint replacements in the world, with 70 stations to test hip and knee joint replacements.

The improved hip and knee replacements developed as a result of these collaborations are now used worldwide and already implanted into around 1 million people so far. By reducing the variability seen in the wear rates in patients under real world clinical conditions, these joints are less likely to cause pain or other problems and will last longer, avoiding the need for further operations.
Contact us
If you would like to know more about this area of research, please contact Professor John Fisher.