Jake Thomas Hollyman
Course: Mechanical Engineering (Industrial) MEng, BEng
Jake Hollyman is currently studying Mechanical Engineering (Industrial) MEng, BEng. Having completed his third year, Jake has just embarked on a year-long industrial placement in Project Management at Leonardo Aerospace and Defence, where he works in the Mission Systems Business Area.
Jake said, "As someone who has grown up in a small town in the North East, I did not know much about going to university, or the opportunities it opens for you." Being the first in his family to attend university it felt like something he would not be comfortable undertaking. "However, my Sixth Form offered a trip to the University of Leeds Open Day in Year 13, where I got to see the student life and facilities. Witnessing the freedom of campus life first-hand really inspired me to apply for a university in the first place."
After attending the open day Jake researched universities within the North, so he could be relatively close to his family. "I found out how fantastic Leeds's reputation was, being a top 5 university in the UK for Mechanical Engineering when I applied for my undergraduate. The university has amazing facilities, and staff who encourage you to ask questions and make the absolute most out of these facilities which really allows students to maximise their development while studying."
The university has amazing facilities, and staff who encourage you to ask questions and make the absolute most out of these facilities which really allows students to maximise their development while studying.
Most importantly to Jake, Leeds offers an integrated master's degree course, which helped him and his family in affording a master's level education – something he didn't believe he would've been able to financially achieve if he had gone down the postgraduate masters route.
Jake chose to study Mechanical Engineering with an Industrial variant. From sports equipment to high-tech operating theatres for hospitals, vehicles and public transport infrastructure, and industrial applications such as the structural design of oil platforms – mechanical engineers play a crucial part in shaping the way we live.
"The best aspect of the course, in my opinion, is the wide range of hands-on projects you get to undertake – my favourite ones being the design and manufacturing group projects, where you get the freedom to meet new people and collaborate towards producing real-life engineering solutions."
Despite the COVID-19 pandemic ruling out a lot of his first few years on campus, Jake still had to opportunity to gain hands-on engineering experience through several practical group projects; which were made possible by the hard-working staff at the University adapting the projects to be COVID safe.
Reaching for the sky
In March 2021 Jake saw a message from Theo Youds in his engineering group chat, saying he was thinking about founding a rocketry association – Leeds University Rocketry Association (LURA) - and whether anyone was interested. Due to his past experience with high-powered rockets, which he gained during his time at Sixth Form, Jake thought this would be a perfect opportunity for him to expand his learning, whilst contributing to an extremely interesting and ambitious project. He successfully applied to be the Head of Aerostructures.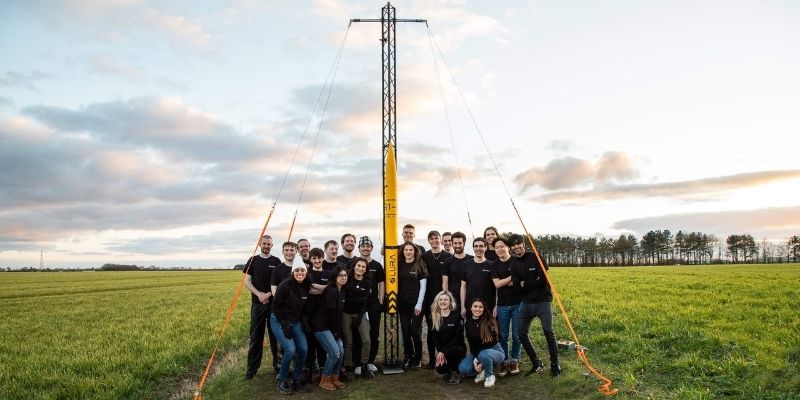 The association, LURA, are a student-led, multi-discipline engineering team capable of designing, building and flying sub-orbital rockets. Their mission is to prepare the Mars Generation: the engineers, astronauts and technicians that will start the first human colony beyond Earth.
For the first few months, Jake's role was mostly technical and involved developing the initial structural design and establishing the flight dynamics methodology for the Gryphon I rocket. During the following months, the development speed rapidly increased and his role transformed into more of a leadership position as he recruited members to specialise and work on detailed aspects of the rocket structure.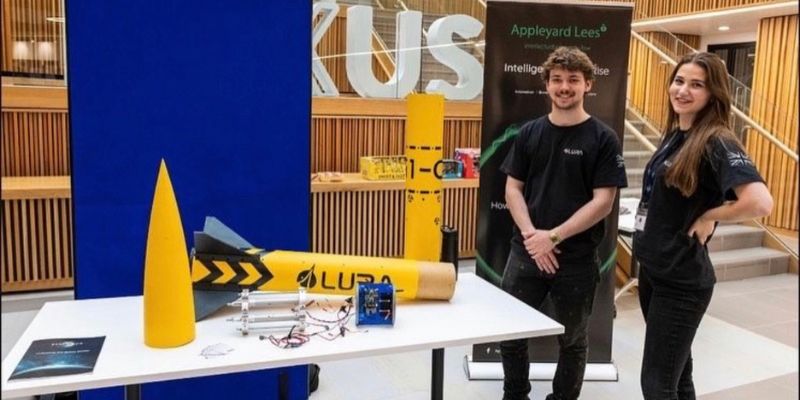 The Aerostructures division grew to a peak size of 10 members through the year, consisting of 5 sub-teams: Computer Aided Design, Computational Analysis, Flight Dynamics, Manufacturing, and Systems. Thanks to the hard work and dedication of his division, and the entire LURA team, they managed to finalise the G-1 design and raise the money, through sponsorships and fundraisers, to attend the world's most prestigious rocketry competition, the Spaceport America Cup 2022.
LURA were one of two UK teams to be accepted and compete, and the first university team in history to attend within their foundation year. The team achieved 2nd place in the Dr Gil Moore award for Innovation, a technical award only available to a team selected for the podium session - which they were selected for thanks to their unique recovery system. This system reduced black powder consumption by 100 times, from 5g to 50mg. Additionally, their technical report was the only one to receive 100% in the entire competition.
When the final results were released, the team placed 4th in their category, and 8th worldwide. The highest performing UK team to attend in the Spaceport America Cup's 15-year history, beating some of the most prestigious Ivy League universities such as Princeton, Duke, Cornell and UCLA. Jake commented, "This was an outstanding achievement for LURA and the University of Leeds, and I was extremely proud to be lucky enough to attend and represent the whole team in New Mexico, USA."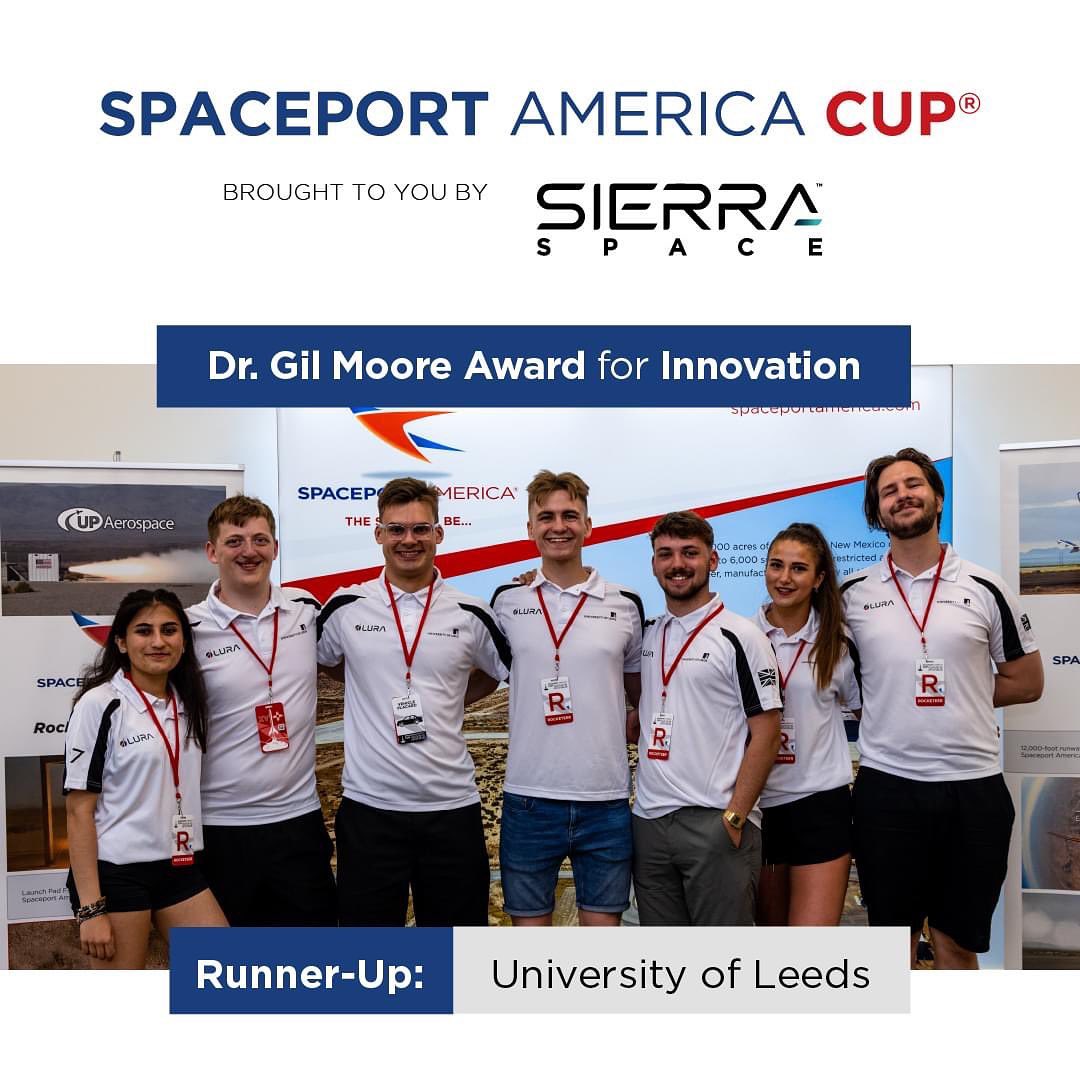 Jake continued, "I believe my time at LURA has definitely helped with my future career, due to the almost impossible goals we set – I found myself working 7 days a week through the entire year, trying to balance my degree and also achieve what we set out to do at LURA. This experience allowed me to hone my organisational skills in addition to my project management and leadership abilities; however, it also highlighted the importance of a work-life balance which I missed out on hugely during this time."
Having learnt these lessons around a work/life balance, going into his industrial placement, Jake is working very hard, but also maintaining a much healthier mental and physical lifestyle, introducing a balance to working and spending time with those around him.
Building a career in engineering
"So far it has been completely different to the university way of learning and living – for better and worse. Although, the experience is valuable as it gives me an insight in what an actual career life would be like – something you can only learn first-hand." Jake said as he described what it's like to have started his year-long industrial placement as a Mission Systems Project Manager at Leonardo, a global Aerospace and Defence Company.
With his work being specialised in complex weaponry, and surveillance and protection system development for land, naval and aerospace applications, most of the projects are classified so cannot discuss them in much depth. He commented "Although I can say it has been a challenge so far, the industry and profession I have chosen is not one which is discussed a lot within the University curriculum. Because of this, I really didn't know what to expect when I got here. However, I have enjoyed the transition from engineering to management, though I have to admit I do really miss the hands-on creative work associated with engineering and design.
I believe the most important thing I have learnt so far is that in industry you are massively more independent when working, there is a lot less guidance and you have to seek the learning yourself – even more so than university. There is no set class, textbook or course to allow you to do your job successfully, it involves adapting daily to the tasks that come along, seeking out the correct advice and putting your all into each job."
Overcoming fears
This whole experience has taught me to put myself out there, and do what makes you uncomfortable. If I had been too afraid to move, and begin university I would not be where I am now, with the fantastic memories and people I have surrounding me. It is a huge step, but one I can't encourage people enough to take!
Initially Jake was really worried about moving away from Middlesbrough as he had spent his whole life there and had not really travelled too much around the UK prior to attending university, in addition, he has no family anywhere else in the UK. He said "I was anxious about moving in with new people whom I hadn't met before, this was heightened when I didn't get into my selected accommodation…
However, my first year in accommodation would end up being one of the best in my life – I met some of my best friends, and made memories I will never forget.
Most importantly I met one of my closest friends, who studied at the University of Leeds as well, someone who made my time, and everyone else around him, the happiest of our lives. Sadly he passed in early 2022, however, he made everyone around him full of joy and importantly he made us feel welcome and comfortable in a new environment, he was a fantastic friend; and I, and the whole of the 'Lupton N block massive', will always be grateful for him.
This whole experience has taught me to put myself out there, and do what makes you uncomfortable. If I had been too afraid to move, and begin university I would not be where I am now, with the fantastic memories and people I have surrounding me. It is a huge step, but one I can't encourage people enough to take!"
Life after graduation
Deciding what to do after university can be hard, and not everyone has a set path, Jake commented, "I would be lying if I said I was 100% sure what I am going to do after my studies. However, after thoroughly enjoying my engineering management role in LURA, in addition to loving my current placement in project management, I am sure it will follow in this direction."
He continued, "One thing I really enjoy about engineering is that no project is the same, and I love having to adapt to new and exciting projects as they come through the door. For this reason, I believe a great path for me would be into consultancy. I am attracted to this sector because of the new scenery and cultures you get to experience when travelling to clients around the world. It would also allow me to experience new projects regularly and adapt my engineering problem solving mind-set for new goals specific to clients."
At the same time, Jake said he would like to keep his options open as he returns for his final year at university in October 2023. To continue learning what work really takes his interest, and makes him feel fulfilled. He said, "This way I can ensure I am passionate and find enjoyment in my work."
Advice for future students
Thinking about what he could say to students considering doing Mechanical Engineering at Leeds, Jake said, "The course is fantastic, and the staff are always here to help. Furthermore, the University offers a huge range of extra-curricular societies and associations which will allow you as a student to make new relationships, and really push yourself, making the most of your time at university.
I would love future students to know that if they're nervous, or afraid of making that next step they are not the only ones. Everyone who takes this step into university will be nervous, but I can promise you the people you meet and the memories you will make are worth it. I know I will look back on the people I met, and the experiences I had at the University of Leeds as some of the fondest in my life!"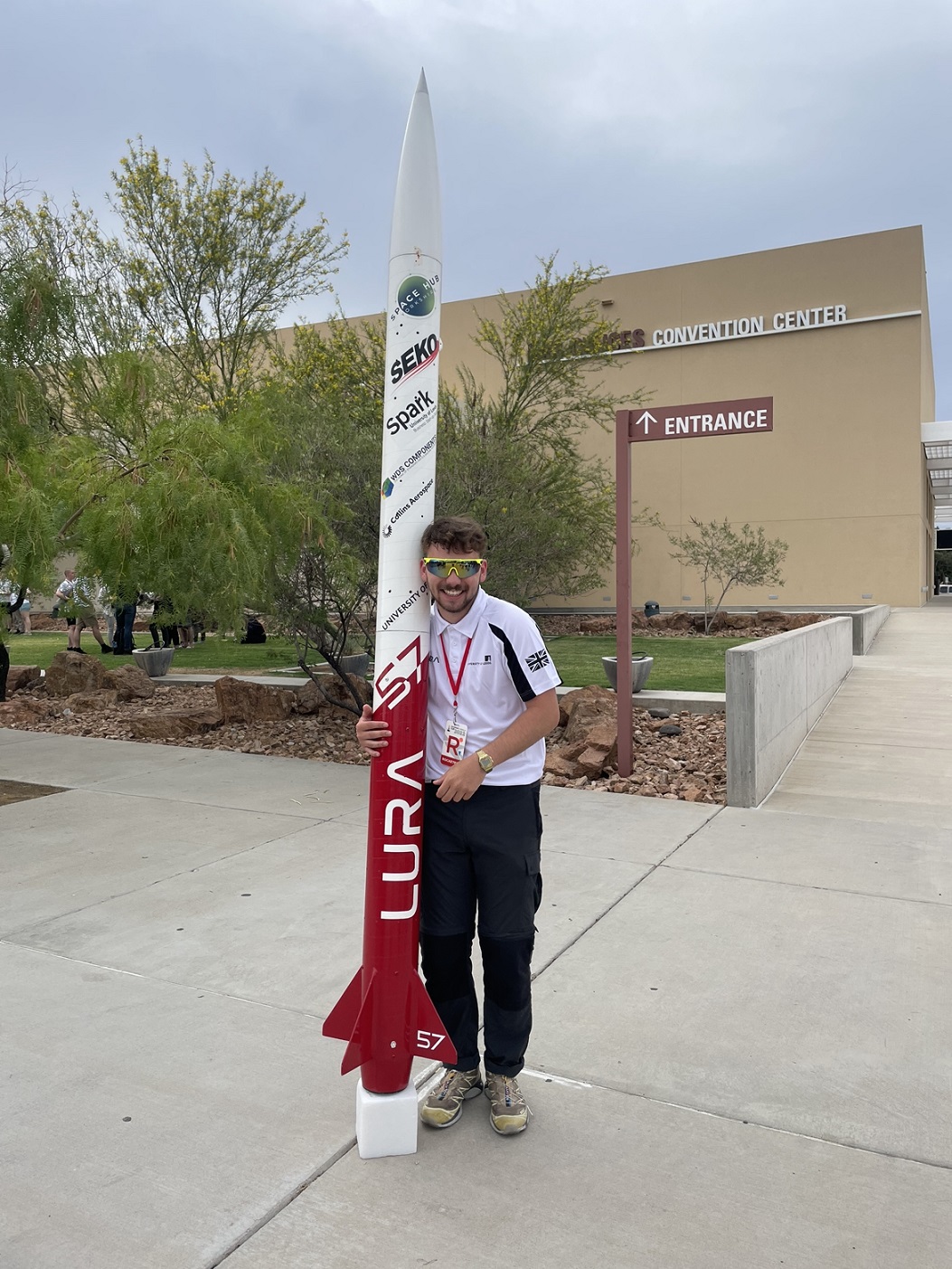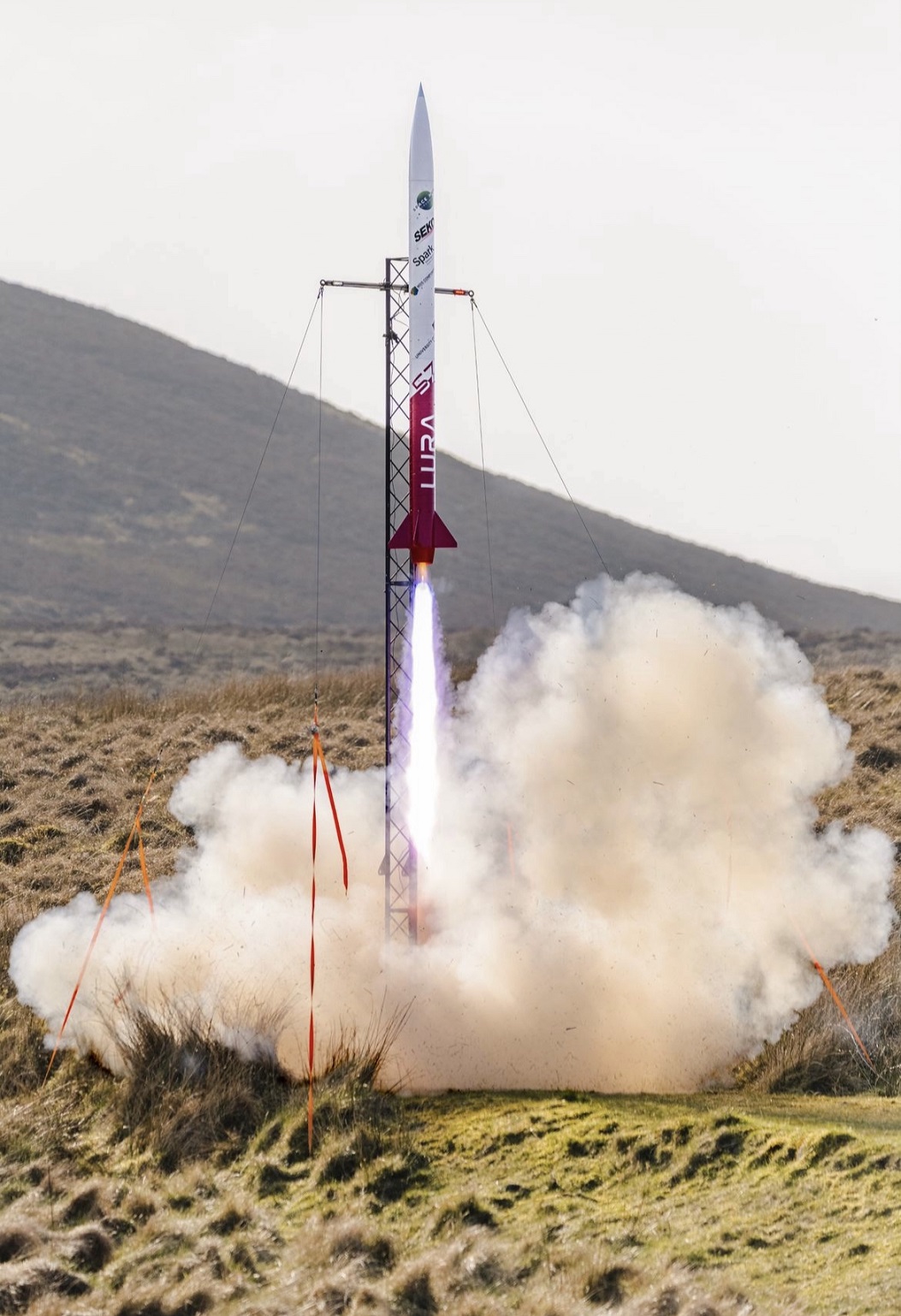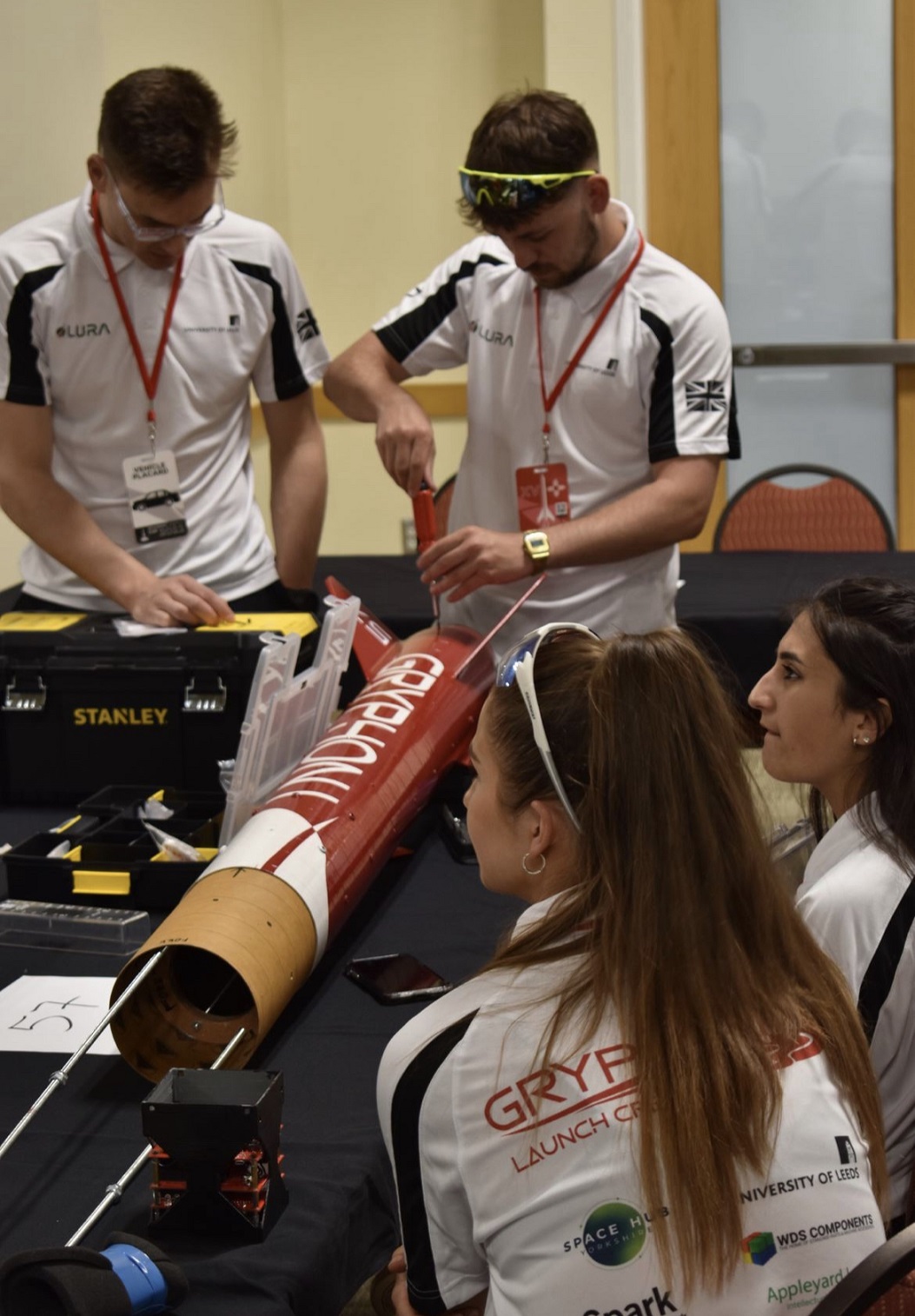 Join us
Want to know more about student life at Leeds? Chat to one of our current students to find out what it's like to be part of our welcoming community.