Ranjodh Bains
Course: Computer Science (Digital & Technology Solutions) BSc
Ranjodh Bains is a final year student, currently studying Computer Science (Digital & Technology Solutions) BSc at the School of Computing.
Choosing Computer Science at Leeds
I knew from an early age that I wanted to attend a prestigious Russell Group university, and one with a reputable ranking in the field of Computer Science.
Ranjodh had known from a young age that he would like to study Computer Science. He also had learnt about PwC and realised that perhaps one day he would like to pursue a career there.
"When I heard that I could complete a BSc Computer Science degree from the University of Leeds, and complete two summer internships and a year in industry at PwC, with my tuition fees paid in full, whilst also receiving a salary on top, and without having to apply for work placements unlike other students, it made perfect sense to apply for this programme."
Winning the award for Higher or Degree Apprentice of the Year 2022
Due to the great work that Ranjodh did on his placements, his overall performance on the programme, at university and his leadership skills, Ranjodh was nominated for multiple awards.
At the National Apprenticeship Awards regional ceremony, Ranjodh was the winner of Higher or Degree Apprentice of the Year 2022 for Yorkshire & the Humber, and at the national ceremony he was also a national finalist for this award.
The National Apprenticeship Awards are awarded by the UK Government's Department for Education, and to receive this national and cross-sector recognition for my work was a huge honour.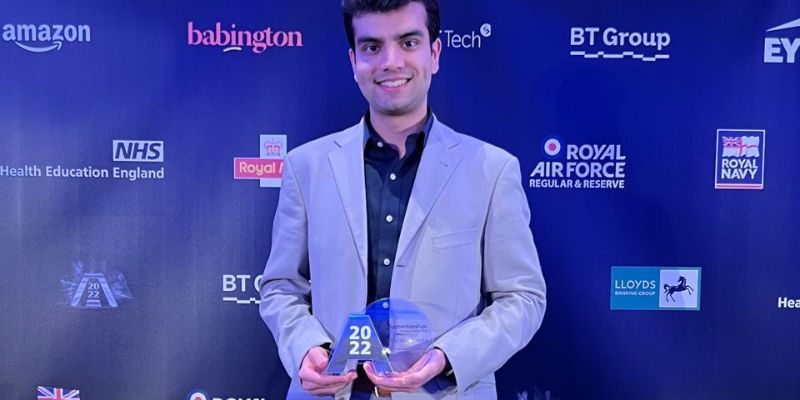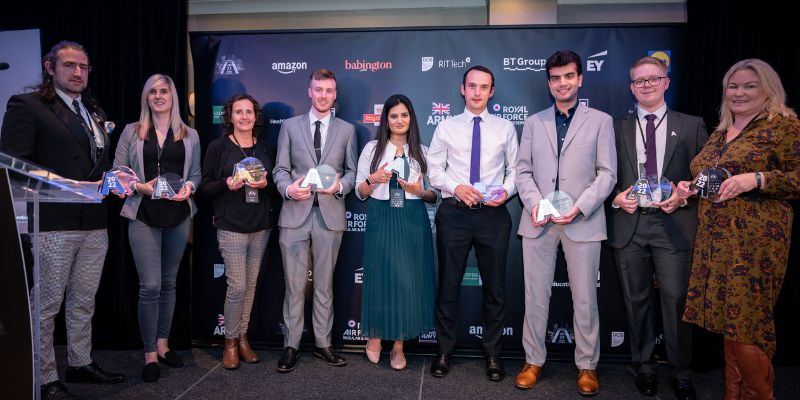 At the Multicultural Apprenticeship Awards, Ranjodh was also a national finalist for Digital & Technology Apprentice of the Year 2022.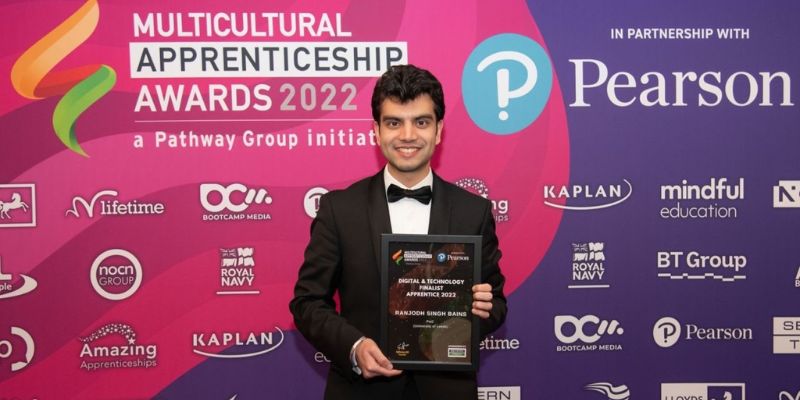 Exciting projects
The course has allowed Ranjodh to build on his computer science skills, learning from professors and doctors who are experts in their respective fields.
"Being able to then put those skills into practice for projects/coursework allows you to really understand and get a good grasp of important concepts, whilst feeling a real sense of gratification when you finish developing some software and it works!"
The course also includes two summer internships and a year in industry with PwC. Whilst Ranjodh was on these placements, he worked as a full stack software developer and project management specialist.
"On my placements I was very fortunate to have been a vital part of a team on multiple projects, delivering high quality solutions for high profile clients."
Receiving this amazing experience, where I could put my skills into practice in industry, was fantastic.
"I also got to meet the chairman of PwC UK, Kevin Ellis, which was great too!"
Future career
Ranjodh has always wanted to work in the world of technology, and has always been interested in full stack software development and project management.
"I was fortunate to have gained experience working in these areas on my placements. I know that I would like to continue down this path."
Advice for future students
"The University of Leeds is a prestigious Russell Group institution, and PwC is a remarkable and reputable firm. The fact that you study as a normal student and receive a BSc Computer Science degree, but with your university tuition fees paid for in full, alongside the other benefits of this programme – such as having two summer internships and a year in industry included, really helps to give you a head start in life compared to all other Computer Science graduates."
It's a great course and it's a genuine privilege to be on it – if you end up on the programme, you'll be very fortunate as you'll gain so much.
Join us
Want to know more about student life at Leeds? Chat to one of our current students to find out what it's like to be part of our welcoming community.