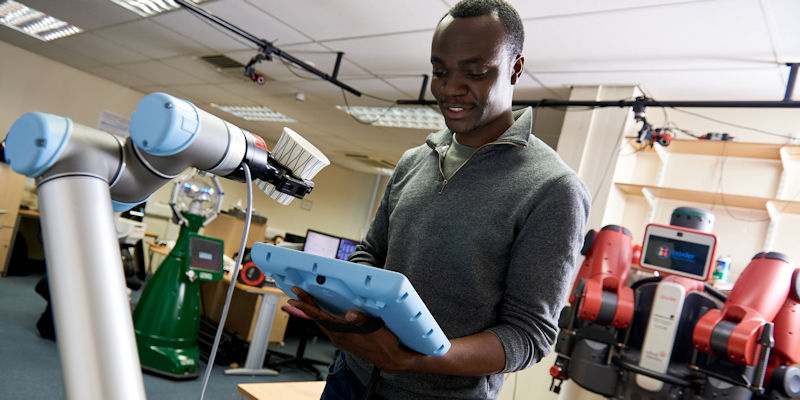 Research worldwide on the creation of intelligent machines is evolving rapidly. We are contributing to this development through exploring the integration of advances in deep learning, symbolic reasoning, vision, language and robotics. This includes work on systems that combine data from different sources, including video, text, images, sounds, and remotely-sensed data. It also includes research on approaches that require little or no supervision in learning from raw data, for example, in giving meaning to words and text through learning from textual descriptions of video clips.
Underpinning this integrative research, we undertake fundamental theoretical work on qualitative spatial reasoning, building on our pioneering work on the Region Connection Calculus (RCC); algorithm development for human pose estimation; automatic textual alignment and segmentation; user modelling and personalisation; corpus-based language analysis; and robotics, particularly in the areas of manipulation and planning.
Collaborations and partnerships
Our research has greater impact through working in multi-disciplinary teams, spanning engineering, science and health disciplines, large and small companies and the public-sector. In this way, we are helping to transform construction, transportation, engineering design, security, human health, and the maintenance of city infrastructure.
In the health domain, we lead the UKRI Centre for Doctoral Training in Artificial Intelligence for Medical Diagnosis and Care, partnering with the Leeds Teaching Hospitals Trust and several other key industry and public-sector organisations. We are also part of the Northern Pathology Imaging Co-Operative.
Researchers in our Theme are core members in The Alan Turing Institute, the Leeds Institute for Data Analytics, Robotics at Leeds, and the Centre for Immersive Technologies.
We collaborate extensively with other universities and companies across the world. Recent collaborators have included US and UK universities, working on activity analysis and engineering design; SMEs and universities across Europe, working on transforming the construction, management and maintenance of tunnels; and UK utilities companies, working on the management of buried assets.
Research areas
Natural language processing
Research spotlights
Further information
View all members of our research group and publications.
View the Artificial Intelligence website.
PhD projects
We have opportunities for prospective postgraduate researchers. Find out more.
We also have 10 places each year in the UKRI Centre for Doctoral Training in Artificial Intelligence for Medical Diagnosis and Care (CDT).
Unless you are applying for a funded project or the CDT, you should start out by finding a supervisor in Artificial Intelligence.
Contact us
If you are interested in collaborating with us or joining our research team, please contact Professor David Hogg.