Data Science and Analytics for Health MRes
Develop both the technical and applied skills required for addressing challenges in the healthcare sector
Find out more
Find out more
Scroll down
Masters courses
Masters courses
An active research environment enables us to offer you a range of exciting degree courses taught by experts who are leaders in their fields. You'll be directly engaged in research through substantial individual and team-based project work giving you access to our specialist facilities.
Start your course in September 2020
Start your course in September 2020 or January 2021
Start your course in September 2021
Our close relationships with industry help ensure our courses are up-to-date with the modern practices and techniques that will enable you to succeed in industry. We have long-established links with industry in the UK and overseas, which is one of the many reasons why our graduates are highly sought after by employers such as Apple, Dell, Ernst & Young, HSBC, IBM, NHS and TomTom.
Exceptional student experience
You'll join a friendly, supportive and diverse postgraduate community of over 1,000 engineering and computing students who come from all around the world. A personal tutor, and our student support teams, will provide advice and support throughout your degree.
Find out more about our diverse student community from example profiles of our current students and alumni.
Find out what our students say about their experience studying at the University of Leeds.
More

on 5f6b72dfae8db
"The lecturers are very understanding and agreed to extra classes, revision and personal tutorship. The combination of both the personal and professional touch made the difference for me. Now I am in my second semester and I have a better understanding of the basic concepts required hence, my studies are generally going on seamlessly.
"An MSc generally requires proper time management and you can be able to add extra-curricular activities to your schedule without adversely affecting the studies. Cloud Computing is a very practical course and I have been exposed to a cloud testbed that exists in the school where I have learnt quite a lot from."
"I specifically chose to do the MSc in Advanced Computer Science because it offers taught modules that will be important for me in order to secure a good job in the IT-industry.
"I had already completed an undergraduate degree in Computer Science in the UK and as I knew I needed a postgraduate degree in order to get a job as Software Developer in Denmark, it was the natural next step for me to complete my studies with an MSc in the UK.
"Advanced Computer Science at the University of Leeds is not just another generic IT course; it involves theoretical computer science, mathematics and a number of very industry-relevant modules, so prepare to work hard! But you will definitely benefit from the effort later in your career."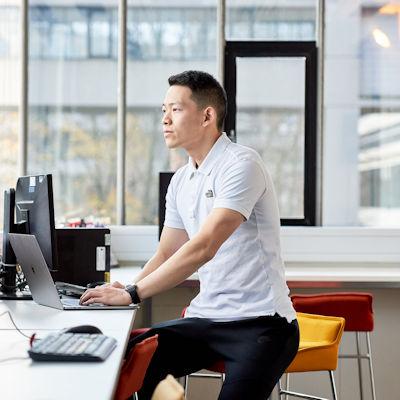 "The University of Leeds had a range of dynamic master's programmes for me to choose from, and based on my personal interests, I decided to study at the University of Leeds because it had Advanced Computer Science which focuses on Intelligent Systems, the programme that I am particularly interested in.
"The structure of modules is very rigorous and professional, it's more concentrated on specific fields of computer science, which gives me more chance to learn relevant knowledge."
More

on Weihao Feng, Computer Science (Artificial Intelligence) MSc