Olivia Appleby
Course: Computer Science (Digital & Technology Solutions) BSc
Olivia Appleby is a fourth year student studying Computer Science (Digital & Technology Solutions) BSc, with a summer placement and a year in industry, at the School of Computing.
After attending different open days to discover which university was the right fit, Olivia almost immediately knew Leeds was the place for her.
The open day provided a welcoming nature and allowed an opportunity to imagine what an average day as student would appear like. The proximity of the faculty buildings made the navigation around campus easy and provided a familiarity, which were important qualities for me.
"When I visited the student union, I was reassured further that Leeds was going to be my first choice. The variety of social activities and events taking place, showed I would never be lost for things to do."
Choosing Computer Science
Olivia chose to study computer science after speaking with the School of Computing during the open day.
"The enthusiasm from staff talking about the range of modules from cyber security to computer graphics opened my eyes to the exciting world of careers a degree in computer science could take me."
"The opportunity to be a full-time student during term time with a fully-funded degree as well as guaranteed placement is a very rare circumstance."
Best aspect of the course
For Olivia, one of the best things to come from the degree is the additional support network of the other students on the course.
The cohort is made of close friendships that were formed in the very early weeks of university and continued throughout my studies. My friendships with the other degree apprentices have kept me grounded through challenging times while studying and made me feel included.
Year in industry
Olivia spent a year at PwC, an international professional services network who provide solutions to their clients in a range of areas from Consulting to Tax, as a Technology Degree Apprentice.
During her year in industry and summer placement, Olivia was assigned to technology consulting.
"This allowed me to take responsibility in a client-facing role and perform jobs that ranged from project management office tasks to the production of data analytic dashboards."
Each project required me to learn new skills or improve existing ones, therefore I believe my confidence and professionalism with presentations have advanced from having to present technology solutions to clients in large meeting groups.
"I have also taken on feedback from senior team members that have helped and support me during my time and feel like a valued member of the firm."
One of the most important things Olivia learnt during the year was the ability to network and reach out to people in the workplace for feedback and advice.
"Connecting with colleagues and learning from their experiences helped with my career development, as I was able to learn of the possible challenges but also ways to overcome these."
Performing on the West End
An amazing and unique opportunity Olivia had during her year in industry was the chance to perform on the West End in PwC Panto.
I was a part of the 36 cast members, created from PwC employees and alumni, for Alice in Wonderland that was debuted in January 2022 at the Peacock theatre in London for 8 shows.
"All the shows were provided for free to introduce children to the theatre and give them a magical day-out of school. The evening shows had tickets sold with all money made donated to the wonderful charity KidsOut."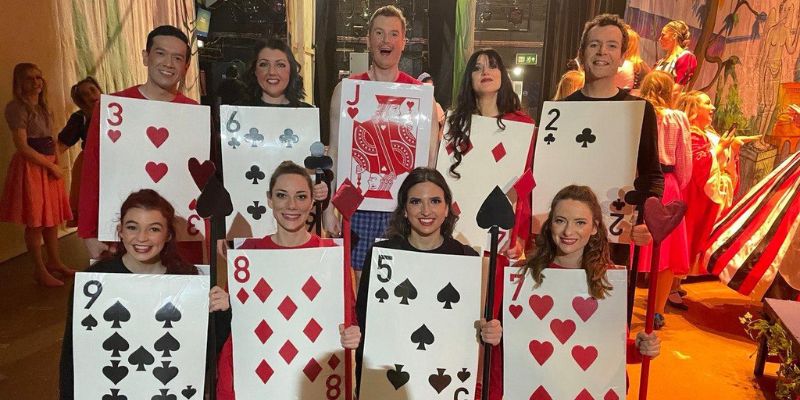 Advice
"For future cohorts, I would advise those to come with an open-mind and embrace opportunities provided to them while both at university and during placements."
"Whatever, the outcome from taking the opportunity you'll have learnt from it, and each will help you decide with you future career or hobbies."
Join us
Want to know more about student life at Leeds? Chat to one of our current students to find out what it's like to be part of our welcoming community.