Chloe Hopper
Course: Medicinal Chemistry MChem
Chloe Hopper is studying Medicinal Chemistry MChem at the University of Leeds, and recently completed an internship at the Royce Institute.
During her GCSE and A-level studies, Chloe gravitated towards Chemistry. She was interested in the design of new therapeutics and drug discovery and so she knew that studying medicinal chemistry at degree level was the right path for her.
"Even though studying at Leeds was closer to home than I initially planned, when I first visited the campus on the open-day I instantly knew that Leeds was going to be my first choice based on the exciting research and facilities that the school had to offer."
Upon arrival everybody was just so warm and welcoming too.
Specialist laboratories
The highlight of Chloe's course so far has been working on new experiments in the teaching laboratories alongside her course friends. At the beginning, it was a great way to meet new people outside the lecture theatre and build supportive relationships while learning how to use new laboratory equipment.
The chemistry teaching laboratories are a great place to be and are full of interesting equipment and machines.
"For example, I particularly enjoyed synthesising small drug molecules in the lab and found it very rewarding being able to apply the chemistry I had learned in my theory modules in order to better understand the fundamentals of an experiment – it was these moments that made all the challenges along the way feel worthwhile!"
Chloe most enjoyed learning about antibacterial and antiviral drug discovery on her Medicinal Chemistry theory module and all the different parameters that are central to developing a successful drug candidate.
"It was particularly interesting to learn more about antiviral drug discovery in the context of developing treatments for SARS-CoV-2 (Covid-19) in my third year of studies."
Supportive lecturers
The lecture content was regularly updated so that the material felt relevant and engaging at the time of learning. In her second year, Chloe enjoyed the interactive computational project where she learned techniques such as screening and docking potential drug inhibitors of a known target site, which really allowed her to appreciate the hit-to-lead discovery process in action.
Everybody is so supportive at Leeds, and lecturers often dedicate a lot of out of hours' time to ensure that we feel confident in our studies and have sufficient resources.
A vibrant city
Leeds is such a vibrant and easy place to live as a student so you will never be short of something to do.
"What I particularly love about Leeds is that you can be in the heart of the Yorkshire dales within an hour when driving from the city centre – I've found it a great way to get out on long countryside walks on the weekends during term time."
There is a great music scene and the city itself is very compact and within walking distance of uni campus.
Future career plans
Following graduation, Chloe is particularly interested in entering a field of research that focuses on the design and development of new antibiotics.
"The ongoing crisis surrounding antimicrobial resistance and the void in discovering new antibiotics is what motivates me into wanting to devote my time into researching this area further in the future."
Internship opportunities
Chloe gained a place on the Royce Institute Summer Internship programme, which gave her the opportunity to work within an academic research group on a project titled 'Water N-alkylation Reactions in Flow, Investigating Surface Interactions', an area of green chemistry involving micellar catalysis.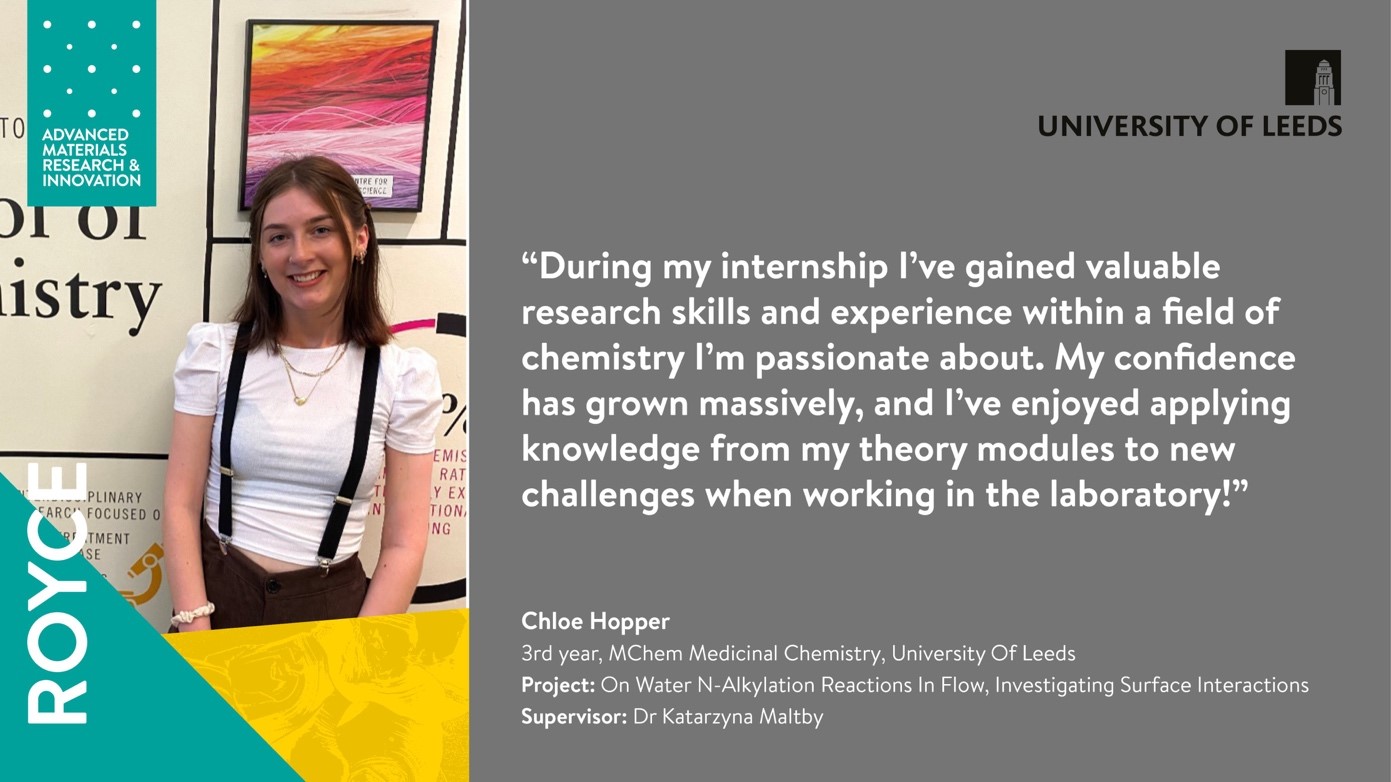 Being able to apply her lab skills and theory into a new setting of on-going research has really helped build Chloe's confidence as a chemist and ability to delegate her time wisely. The internship also had particular emphasis on developing a range of softer skills too such as being confident presenters and networking with each other. Therefore, each week she had the opportunity to present her projects and findings to the other interns and encourage interactive Q&A's with the audience.
"The Royce Institute Summer Internship programme was an amazing experience that has helped me develop so many skills in preparation for my final year master's project. Doing an internship with the Royce Institute as an undergraduate is something I would definitely recommend if you have any uncertainty about doing a master's in chemistry."
It truly was a great learning experience and has made me optimistic that fourth year is going to be the most fun and interesting year of my degree!
Find out more about studying Medicinal Chemistry at Leeds.