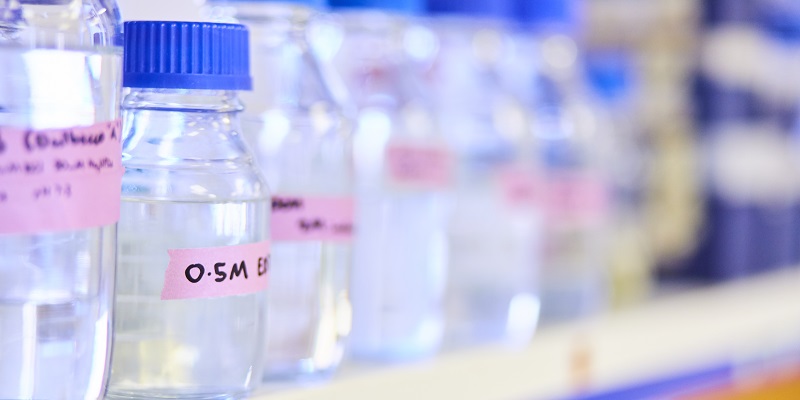 We're a major UK chemistry department conducting a wide spectrum of fundamental and applied research. 99% of the research ouputs submitted were ranked either "world-leading" or "internationally excellent" by the Research Excellence Framework (REF) 2021. We have:
Delivered impactful research
Developed a next-generation, lower-cost and more effective catalytic converter to manufacture a synthetic compound with the potential to reduce toxic emissions from diesel engine exhaust.
Developed new technology that can monitor nanoparticles in real-time, which could accelerate the production of advanced consumer products, including drugs that are key to improving the health of a growing population.
Collaborated with start-up DeepMatter to develop a new 'FitBit for Chemistry' that could make chemistry experiments safer and more accurately reproducible.
Developed an integrated computational and experimental approach to investigate the way proteins and peptides self-assemble.
Formed the spin out company, C-Capture, which was awarded Government funding to extend its pioneering work in carbon capture technology. C-Capture partnered in Europe's first bioenergy carbon capture storage project with Drax Group plc.
Led a Biotechnology Biological Sciences Research Council (BBSRC)-funded collaborative research project to find high-value colorants from food waste, anthocyanins, which are natural pigments that could replace synthetic dyes.
For the first time, developed in an effective new hair dyeing technology using natural dyes extracted from blackcurrant waste, created during Ribena manufacture.
Working with colleagues in the Astbury Centre, calculated the solubility diagram of amyloid β (16-22) peptide, which is a peptide fragment related to the onset of Alzheimer's disease, for the first time.
Alongside colleagues in Chemical and Process Engineering, established a £2m partnership with AstraZeneca to develop science-led solutions to common problems in pharmaceutical manufacture.
Grown our interdisciplinary research
Markedly grown our research community, recruiting high-flying researchers at all academic levels, receiving major research awards and prizes, including 10 major fellowships.
Contributed to combatting antibiotic resistance through rapid infection diagnostics, using techniques such as nanoparticle membrane interaction, medical chemistry, drug design, and molecular modelling.
Featured international co-authors on 49% of our published papers.
Filed 11 patents and established 7 spin-out companies with commercial applications of our research. Spin-out company C-Capture partnered in Europe's first bioenergy carbon capture storage project to reduce CO2 emissions.
Been awarded major grants from the European Union, Engineering and Physical Sciences Research Council (EPSRC), European Research Council (ERC) and Biotechnology and Biological Sciences Research Council (BBSRC).
Secured a £5.4M grant to identify new techniques for investigating and manipulating the chemical building blocks of life: proteins.
Received a £5.4M EPSRC grant to develop real-world applications of crystallisation, and a £1.4M EPSRC grant to develop new strategies for controlling crystallisation.
Received a £1.2M EPSRC grant to house new a new UK facility for the analysis of crystallisation in flow systems, building on our crystallisation expertise.
Established the Rosalind Franklin Institute Next Generation Chemistry theme.
Supported Doctoral Training Centres, such as the EPSRC Centre for Doctoral Training in Molecules to Product and EPSRC Centre for Doctoral Training in Fluid Dynamics programmes led by the University of Leeds.
Provided access to a suite of electron microscopes through a major investment in the £17m Astbury Biostructure Lab.
Contact us
If you have an enquiry, please contact Dr Charlotte Willans, Director of Research and Innovation.