Recruit our students
On-campus activity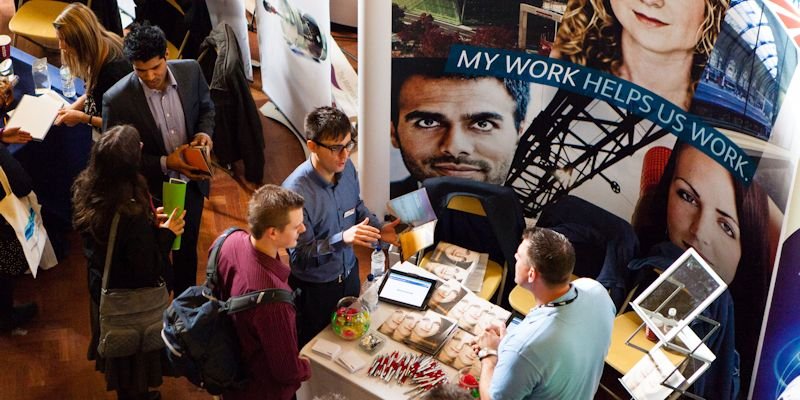 Our students have a wealth of knowledge that spans many sectors. We find that employers like you often wish to come onto campus to meet with our students. With that in mind, we support a number of on-campus initiatives and activities.
Careers fairs
Every year we run two very popular events enabling you to engage with talented students and to promote your organisation's opportunities:
STEM fair
Spring fair
Autumn fair
Typically all events are usually oversubscribed with employer interest. To register your interest for any of these events visit our Careers fairs webpage. We don't operate on a first come, first served basis. Instead we review each employer's offering and make an informed decision on appropriateness for each booking.
Work Placement Programme lectures and workshops
We run a second year Work Placement Programme comprising lectures and workshops embedded in the students' academic timetable. The aim of the lectures and workshops is to prepare our students looking for industrial work placements and internships by providing them with guidance, advice and support as they progress with their placement search. We would welcome your input. Lectures would give you the opportunity to reach between 100 and 200 students.
Weekly employability email
Every week our schools receive our Employability Newsletter featuring the latest internships, graduate roles, events and news stories. We'd love for you to make an appearance in one or more of the weekly emails. If you're interested please email us:
details of which of the schools you're targeting:

Civil Engineering
Chemical Engineering
Computing
Electronic and Electrical Engineering.
Mechanical Engineering
Physics and Astronomy
Chemistry
Mathematics

a link to your online vacancy– you can upload this on MyCareer
a link to your event
The deadline for our weekly newsletter is Monday to feature on the Wednesday of the same week.
Guest technical lectures
Guest technical lectures embedded in our academic curriculum can be an effective way for you to meet our students. If you feel that you can offer some expertise in a particular area then please select a programme from the programme catalogue and this will lead you to the taught modules for each degree. Please select a module and we'll put you in contact with our lead academic for that area to arrange a session.
Contact us