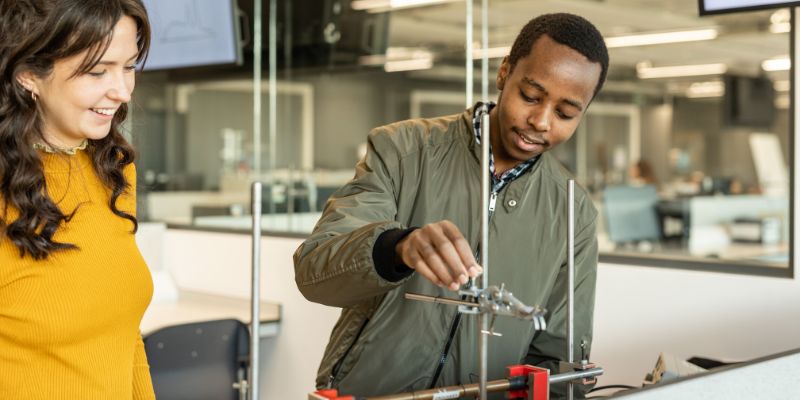 What is an integrated Masters degree?
An integrated Masters is a four-year degree that extends your three-year undergraduate studies to include a Masters qualification. Many students choose to do this due to the greater breadth and depth of study that comes with enhancing their degree.
Benefits of an integrated Masters
Studying for an accredited MPhys degree meets the educational requirements for Chartered Physicist status.

You'll have the opportunity to take part in a wider range of project work, including exciting individual and team-based projects, typically with industrial involvement.

You'll develop practical transferable skills such as teamwork, decision-making, delegating, identifying and solving problems, and communication, all of which are attractive to employers.

In a demanding graduate employment market, an integrated Masters degree can enhance your employability by advancing your knowledge beyond the standard bachelor's course and equipping you with sought after professional skills that'll give you the edge over the competition.
Below are some examples of frequently asked questions.
What happens if I decide during my studies that I no longer wish to undertake the fourth year?
If you decide during your degree that you no longer wish to undertake the fourth year, that isn't a problem. You have until the middle of the third year to decide whether you wish to graduate after three years with a BSc degree.
We usually recommend that international students initially apply for a three-year BSc as there might be visa implications if you decide to switch to a three-year course. You can apply to extend your visa to either an integrated Masters or separate Masters from within the UK.
Is it possible to apply directly for a three-year undergraduate course?
If you're sure from the start that you only want to study for three years you can apply directly for a BSc degree course.
Does the BSc have lower entry requirements than the MPhys?
No, the MPhys, BSc and BSc courses have the same entry requirements.
Is student finance available for integrated Masters programmes?
The government offers integrated masters funding in the form of standard student finance. Rather than applying for a postgraduate loan, candidates should apply through the undergraduate student finance platform.