Research impact: Reducing the environmental impact of cellulose films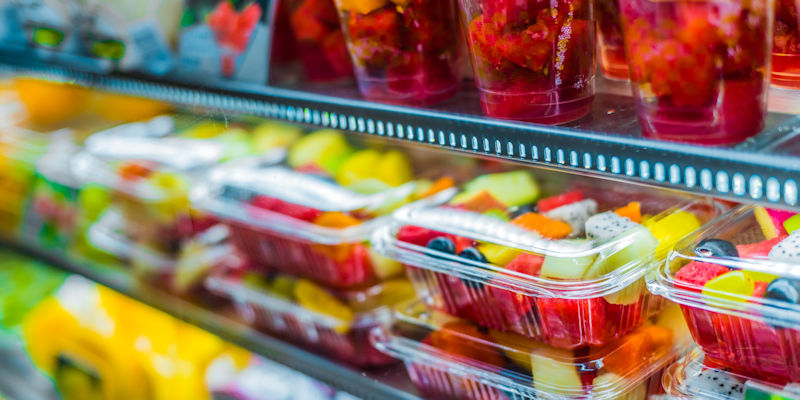 Films made of cellulose offer a compostable, greener alternative to plastic food packaging. Research by the School of Physics and Astronomy is helping one of the world's largest producers of these films reduce its environmental footprint.
Since 2013 Professor Mike Ries has been collaborating with the UK arm of the Japanese manufacturing company Futamura. Futamura produces 65% of the world's cellulosic films, including its sustainable food packaging product, NatureFlex™. Ironically, to date the production of these films, from naturally occurring cellulose, has been a chemically intensive process involving large quantities of chemicals such as caustic soda, sulphuric acid and carbon disulphide.
The company is committed to driving this process to be as efficient and environmentally friendly as possible. Working with the Futamura research group, to see if he could make the process more efficient, Professor Ries analysed one part of it – the 'steeping stage', which uses caustic soda (sodium hydroxide). Using nuclear magnetic resonance spectroscopy, he and his team were able to track the chemical reactions that were taking place, and to experiment with changing the quantities of the chemicals involved. He says: "We were ultimately able to fine-tune the process, so smaller quantities of the chemicals were needed." This change to the process has led to significant improvements in the overall process efficiency (measured by the percentage conversion of wood pulp to film) and has also allowed for a significant reduction in the consumption of the 3 major chemicals used within the process. This has led to a substantial improvement of the company's Life Cycle Assessment, or environmental impact, at both the UK and USA divisions.
Optimising the chemical balance has also had a positive financial impact for Futamura, enabling it to stay competitive. Since cellulosic films are more expensive to produce than petroleum-based plastics, keeping costs down is key.
Futamura has also been supporting postgraduate researchers at the university for several years, and when recent PhD research found that blending cellulose with another type of biopolymer, hemicellulose, could affect the mechanical properties of the blended material, the finding proved to be of direct benefit. Futamura had observed certain films had been breaking more readily than others, involving costly production stops while machines were reset. Professor Ries and his team found that those films were all made using a different type of wood pulp, with a different hemicellulose-cellulose balance. He explains: "We drew on the PhD's findings to experiment with different blends of wood pulp to strengthen the properties of the resulting mix, and this solved their production problems."
Futamura's NatureFlex films are used by household names such as Galaxy Vegan Chocolate, Teapigs and Stoats oat bars. Allowing food producers to demonstrate their green credentials has proved to be a significant customer draw.
Contact us
if you would like to discuss this area of research in more detail, please contact Professor Mike Ries.