Communication networks and systems
Overview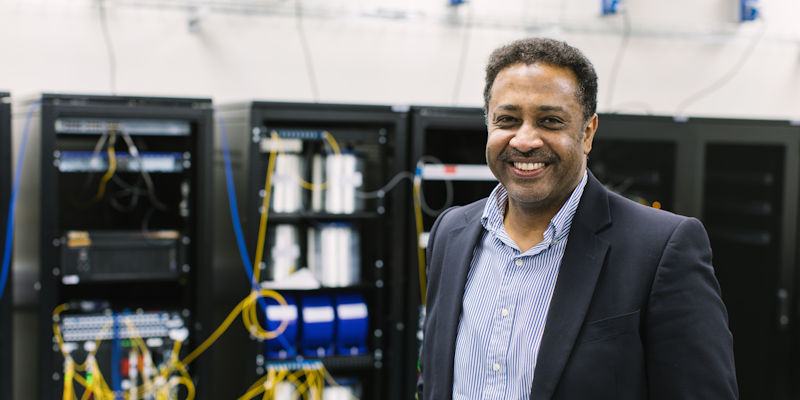 Our research
Energy-efficient communication systems and networks – our research s supported by a £5.9m EPSRC programme grant. Our work has been taken up by a number of industrial partners, most notably the GreenTouch consortium. It covers the following areas:

Improving energy efficiency in core IP over WDM networks considering core networks with data centres, elastic optical networks, video content caching networks, peer-to-peer and cloud networks, virtualised, software-defined and information-centric networks, next-generation routing protocols, and network carbon footprint reduction through optimum use of renewable energy.
Energy-efficient IoT networks using cloud technology and resource virtualization.
Energy-efficient Cloud networks providing intelligent cloud networks for different cloud services.
Energy-efficient data centre networks: providing novel optical interconnectivity inside data centres using state of the art optical components.

Optical wireless (OW) systems – focusing on visible light communications (VLC) based on white light-emitting diodes (LEDs), multi-beam optical systems, beam steering and adaptation.
Wireless and cellular systems and networks: specialising in 'Internet of Things' and 'Drive through the Internet' with a particular emphasis on energy-efficient vehicular cloud, vehicular infotainment and smart cities, cloud-assisted driving for autonomous cars, route and time-optimisation of electric vehicles.
High-performance networking including architecture, design and analysis of high-performance switches and Internet routers.
Next-Generation Networks and networks for data centres, with an emphasis on hardware-software co-design and Software-Defined Networking (SDN).
Research highlights
Leading the Wired Core & Access Networks (WCAN) working group in GreenTouch, a consortium of 55 leading Information and Communications Technology (ICT) industry, academic and non-governmental research experts. The work led by Professor Jaafar Elmirghani has won the GreenTouch 1000x award 2015 "for pioneering research contributions to the field of energy efficiency in telecommunications"
Professor Jaafar Elmirghani together with six colleagues from GreenTouch has received the prestigious 2016 Edison Award under the Collective Disruption category.
Development of a network simulation and optimisation software referred to as CORNETO: CORe NETwork Optimization. The software is based on the renewable energy, cloud services, P2P content distribution and virtual network embedding optimization models developed by the group.
Collaborations and partnerships
The group constant innovation is backed by sharing expertise with leading companies in the field: BT, Ericsson, Telecom New Zealand, Cisco and BBC playing a key role in supporting the development of the network architectures, providing experimental support and traffic traces, and aiding standards development. Solarflare, Broadcom, Cisco and the BBC supporting our protocol and intelligent traffic solutions. Avago, Broadcom and Oclaro in the hardware development, with the support of a £5.9m funding from the EPSRC.
Research team
If you are interested in collaborating with us or joining our research team, please get in touch. Our members are:
Dr Samya Bhattacharya
Mr Mohamed Musa
Mr Leonard Nonde
PhD projects
We have opportunities for prospective postgraduate researchers. Find out more.
Contact us
If you would like to discuss an area of research in more detail, please contact a relevant member of the research team.