Natalie Brown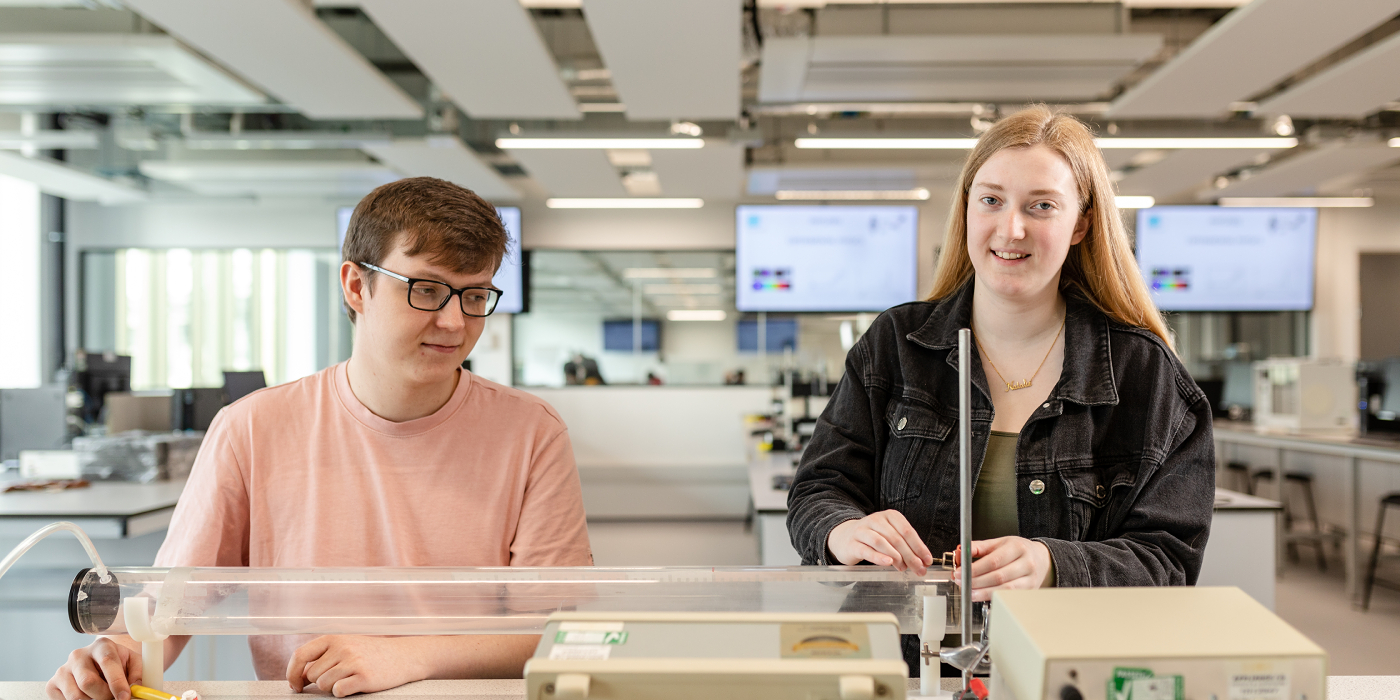 When Natalie first visited Leeds, everyone she spoke to was really welcoming and enthusiastic about the university which was a great start. She also really liked the fact that Leeds is one of the few UK campus universities which is also right in the city centre. She's really enjoyed being in the heart of the city and being able to walk into the centre from campus.
"I don't have a bad thing to say about physics at Leeds. Studying here was the best decision I ever made and to anyone who plans to come, get involved in as much as you can and make the most of the opportunities that you get offered."
Plenty of choice
Choosing which course to do can be one of the most difficult decisions for prospective students to make. One factor that helped Natalie decide was visiting the department on an open day and talking to current students and staff. The course at Leeds is highly acclaimed and has one of the highest proportions of female students and staff members, one factor that made the transition to university seem much less daunting for Natalie.
The amount of module choice you get within the course is a real advantage for many students as it means there is an opportunity to explore new things and then focus on your interests as the course progresses.
"I have really enjoyed the collaboration with other students through workshops, study sessions and labs. It's actually a very social course as you get to spend a lot of time working with other students and quickly made good friends. There are lots of opportunities to do some very unique things at Leeds as part of your course, such as teaching physics in local schools, using top-of-the-range quantum computers and the chance to study abroad."
Be a part of important research
Natalie's current masters project is looking at how nanoparticles could be used for drug delivery in cancer treatment. As she says: "It's really exciting to be part of the amazing research at the university and using high-quality equipment in the brand new labs. I also particularly enjoyed learning how to solder and weld in second-year labs."
Get the most out of university life
Leeds has an amazing range of things to offer – from nightclubs and bars, to theatres and international sports arenas. Many exciting events happen throughout the year such as Leeds light night and the Christmas markets. There is so much to do in and around the city, including lots of free and low-cost days out. There are plenty of beautiful parks in Leeds as well and the city is very close to the Yorkshire dales.
"I have been a part of committees for some of the societies at the university, including being the physics netball captain (yes, physics netball and football is a thing here). I have also been a student ambassador for three years, which has improved my confidence as well as my leadership and organisation skills."
Like many other students, Natalie has found that studying physics at Leads also teaches you countless transferable skills that employers look for. She now hopes to work for the NHS as a medical physicist once I graduate. "I didn't even know this was something I could do when I first started my degree, but after doing some optional medical physics modules it soon became my main area of interest."