Abbie Cannon
Course: Theoretical Physics BSc
Making a degree choice was the first challenge facing Abbie as her two strongest subjects were Physics and English Literature. Although these may seem like polar opposites, Abbie believes both similar imagination, creativity and outside-the-box thinking. As she points out, the analytical skills required to deduce the hidden meaning in a novel or poem apply equally to the world of physics and mathematics – it took an extraordinary leap of imagination for Einstein to think up relativity.
Abbie was leaning towards Physics but admittedly didn't always enjoy the practical side – setting up spectrometers or Geiger counters was never a strong point. So when exploring the course options available at Leeds, Abbie was excited by the theoretical physics option which focuses more on maths and the theory side of physics rather than practical skills. With plenty of physics but minimal lab work – it was her dream degree.
"Theoretical physics is a beautiful subject. You get to marvel at the heights of human ingenuity and learn on a fundamental level how the universe we live in works. You'll have your brain twisted into knots when you delve into the complexities of quantum mechanics, and have rewarding moments of satisfaction when you solve that differential equation that's been bugging you for the past week."
<iframe width="560" height="315" src="https://www.youtube.com/embed/-orU1v7YJNA" title="YouTube video player" frameborder="0" allow="accelerometer; autoplay; clipboard-write; encrypted-media; gyroscope; picture-in-picture" allowfullscreen></iframe>
Freedom to choose
There are lots of optional modules available during the course, which gave Abbie the freedom to choose topics she was most excited about learning and personalise her degree even further. At Leeds, that also includes options outside of your core subject area, so Abbie has also taken an Italian module, an education module and two astrophysics modules on top of her theoretical physics modules so far. Variety is good.
Last year, for her experimental physics module, Abbie was part of a team that created a video explaining an experiment conducted during the semester. As the first year was somewhat impeded by Covid, she found that this was a great way to make friends with people on the course as well as being an exciting film project.
Other notable aspects of the course so far have been relativity, quantum mechanics and vector calculus; another highlight was electromagnetism. There have been other highlights too, as Abbie explains: "I've also had a couple of opportunities to read up on topics outside of my core modules. I recently wrote a short paper on Bell's inequalities for credits in my communicating physics module. We were encouraged to choose a topic we were interested in but that hadn't been covered in our classes, which was a lot of fun."
Leeds is a great city for students
Leeds is a hub for arts and culture. There are a number of museums, art galleries, music venues and Trinity shopping centre for a bit of retail therapy. Best of all is the nightlife – there's pretty much every kind of bar, pub, restaurant and club you can think of. Abbie has certainly enjoyed living in Leeds, not least because the people are so friendly. It's a vibrant, lively city with lots happening, but it's small enough to be homely.
"Since moving to Leeds and starting my studies I've grown as a person in a way that I otherwise wouldn't have. I've learnt the importance of independence and individuality – it doesn't matter what everyone else is doing, it only matters that what I'm doing works for me. Belief in myself and my own decisions is important in any environment, professional or personal."
What next?
Abbie hasn't yet decided on her next steps after graduating – on purpose – as she "loves not knowing what the future holds because things are more exciting that way!"
Her time at Leeds has also helped her in other ways: "I've learnt the importance of not being afraid to ask questions. Perhaps this sounds trivial, but it can be difficult asking for help when everyone around you seems to understand. In my experience, people appreciate my desire to learn rather than judging my lack of knowledge, and the real upside is that I get to understand something new. A thirst for knowledge is what drives a career."
Abbie has some final words of wisdom for new theoretical physics students.
"It's going to be a challenge. As in any academic pursuit time management, tenacity and hard work are key. But the most important piece of advice I can give is don't forget why you started. When things get tough, remember you're learning about physics because you love it. Enjoy the fact that you get to understand the way the universe works, because that's pretty cool."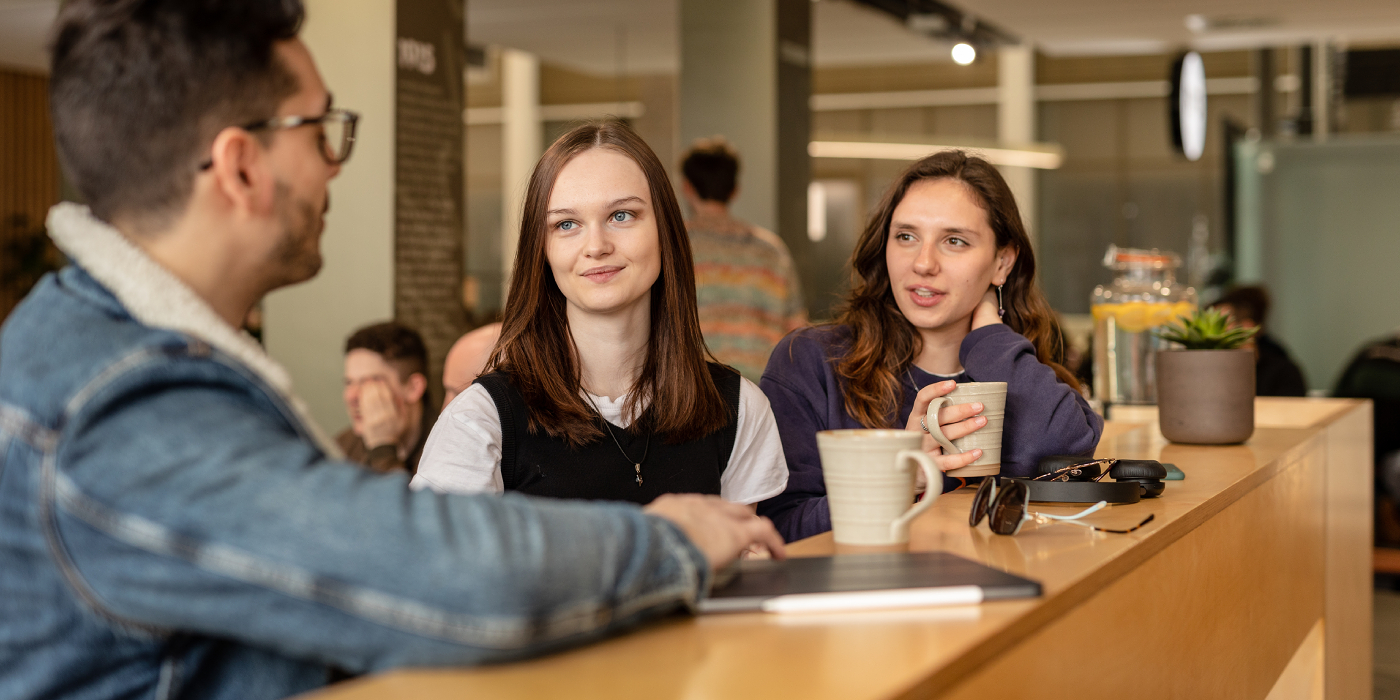 Join us
Want to know more about student life at Leeds? Chat to one of our current students to find out what it's like to be part of our welcoming community.