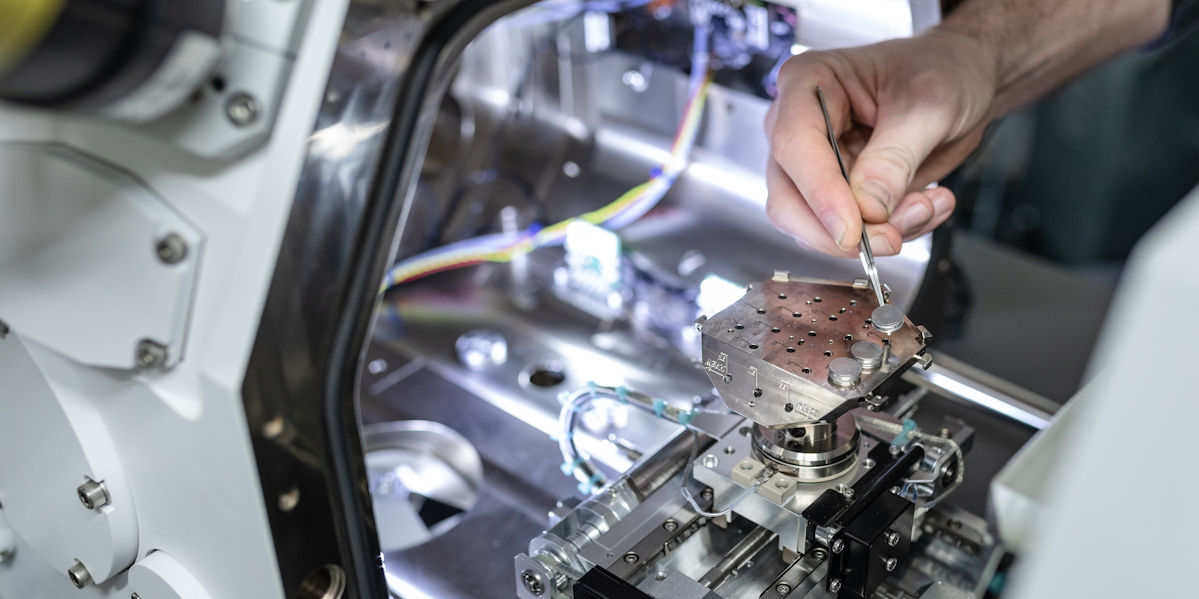 Our academics and postgraduate researchers have access to the following specialist facilities and laboratories that support their research. Our undergraduate and Masters students may benefit from these facilities during their project work.
Leeds Electron Microscopy and Spectroscopy Centre: A leading research centre in microscopic and spectroscopic materials characterisation techniques.
Leeds Nanoscience and Nanotechnology Facility: This facility is for the characterisation analysis of soft matter systems such as hybrid organic/inorganic system.
X-ray diffraction facility houses x-ray diffractometers as well as a suite of analysis tools to structurally characterise powders, thin films and coating, solid materials and single crystals.
Specialist facilities for materials testing and characterisation including equipment for use in microscopy, spectroscopy, thermal methods, surface characterisation, materials modelling, mechanical testing, electrical property characterisation, particle and pore structure and characterisation.
Particle and materials characterisation: Analytical facilities for characterisation of particles, powders, slurries, suspensions, emulsions and solutions.
The energy building, which contains a suite of advanced laboratories including a laser diagnostics laboratory, an engine testing fuel evaluation and transport emissions suite, and pilot scale wave power, fuel cell, gas turbine power station, wind, and solar laboratories and rigs.
Excellent computational facilities with a 64 node Beowulf Parallel computing cluster and high performance graphic workstations for molecular modelling studies.
Nuclear research facilities including a laser lab to study fluid flows via the illumination of particles suspended in the flow, a new pipe flow laboratory to investigate the near-wall flow behaviour in multiphase flows, new uranics laboratories with wet and dry process engineering facilities and a rig hall (scheduled to open mid-2016), and our sorby laboratory, which allow complex turbulent flow fields to be quantified in three dimensions.
Pilot scale combustion systems
Advanced energy systems including fusion cells and a combustion CAP suite.
We also make use of University facilities, including:
Institute for Process Research and Development: A collaborative venture bringing together chemists and chemical process engineers with industry to improve manufacturing processes of fine chemicals, pharmaceuticals and new materials
Royce facilities: The Sir Henry Royce Institute for Advanced Materials is funding two new state-of-the-art facilities, which provide unique capability for the UK: a multifunctional materials growth facility, and a versatile X-ray spectroscopy facility for materials characterisation in controlled environments.
Bragg facilities: The Bragg Centre for Materials Research provides Leeds-Diamond small angle X-ray spectroscopy (SAXS) facilities, such as an open access high-resolution X-ray scattering facility for nanostructural fine-analysis of complex soft matter, polymers, bio-materials and advanced solid materials.
Working with business
We are committed to sharing our facilities and associated expertise with external academic and industrial collaborators. Contact our Research and Innovation team for more information.