Industrial biotechnology and bio-waste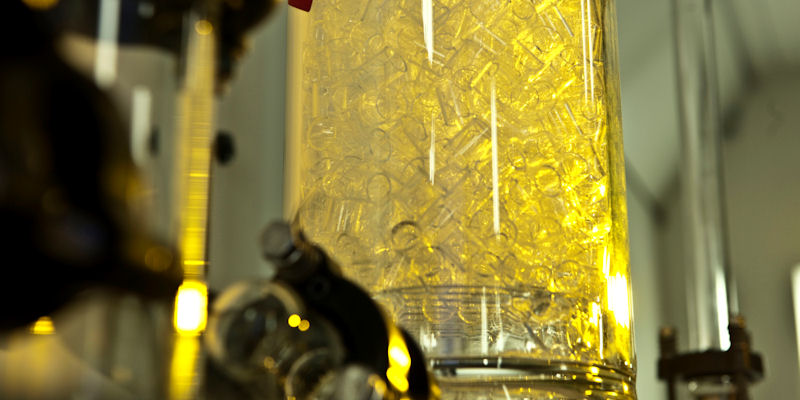 Industrial biotechnology is a rapidly growing sector that requires engineers and scientists with multi-disciplinary skills. New research and development is required to support the companies with disruptive and more efficient technologies. The research group has academics with interests that cover:
Biocatalysis and biotransformations
Biopharmaceuticals
Chemicals from biorenewables
Biowaste treatment
Bioenergy and biorefining.
The group has strong links and collaborations with industry and other academic institutions and is informed by their needs alongside. Members of the group are expert in modelling and simulation in multi-phase computational fluid dynamics.
The Industrial Biotechnology group has strengths that were recognised with the award of an EPSRC Centre for Doctoral Training in Bioenergy. This has a cohort of around 10 postgraduate students per year and enjoys an active research and training program informed by collaboration of the academic and industry groups.
The group has collaborations with industry, academic and other institutions that include: AstraZeneca, GSK, Pfizer, Biome, Fiberight, Prozomix, Covance, Fujifilm-Diosynth, Biorenewables Development Centre and Biovale in York, CoEBio3 in Manchester, CPI and Catapult.
Research highlights
Innovate UK project £1.7m "Driving down the cost of waste derived sugar" This project will build on UK expertise in recycling of household waste to recover a clean cellulose.
Innovate UK project £3.2m "Bioplastic polymers based on aromatic dicarboxylic acids derived from lignin" Bacterial degradation can be used to produce organic chemicals from lignin that are suitable for bioplastic manufacture.
Investigations on algae cultivated under both autotrophic and heterotrophic conditions utilising a range of waste derived nutrient streams and the development of photo-bioreactors for intensive biomass production.
Sustainable energy from biomass. Current areas include: matching fuels to conversion processes; energy densification through; fuel additives or fuel blending to mitigate ash problems; assessing the self-heating properties during biomass storage.
ACS Green Chemistry Roundtable Award "Process Development of Continuous Flow Oxidative Biotransformations."
Facilities
The group has laboratory research and development and scale-up facilities, including:
microbiology, chemistry, mechanical and chemical engineering labatories
2*15L and 100L fermentation
3*5L parallel bioreactors
20 and 50L ATEX-registered batch equipment
a wide variety of lab and meso-scale continuous flow equipment.
Further information
View all members of our research group and publications.
PhD projects
We have opportunities for prospective postgraduate researchers. Find out more.
Contact us
If you are interested in collaborating with us or joining our research team, please contact Professor John Blacker.