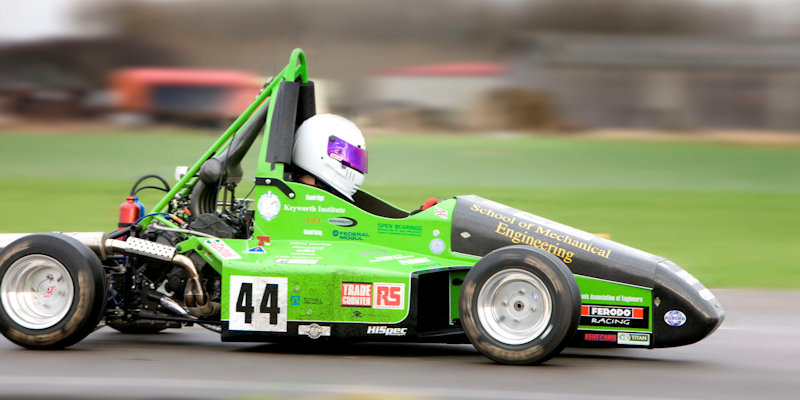 From your first year at Leeds, you'll have the opportunity to join the Leeds Gryphon Racing team, where you'll help to design and build a single seat racing car and use this to compete in various international events.
As well as encountering many of the real-life challenges of working as a professional engineer, you'll be responsible for raising sponsorship, marketing the project and racing the car at competitions. It's also a great opportunity to demonstrate your abilities to future employers - more than 10 students from the School of Mechanical Engineering have been recruited to F1 teams as a result of their involvement with Leeds Gryphon Racing. Students may also be able to choose to work on the race car as part of their final year project.
At the end of each year, the Leeds Gryphon Racing team takes part in the Institute of Mechanical Engineers (IMechE) Formula Student Competition at Silverstone, competing against more than 100 other universities from around the world. Formula Student (FS) is Europe's most established educational motorsport competition, challenging the innovation of students internationally.
For more information visit the Leeds Gryphon Racing team website, or get the latest updates by following Leeds Gryphon Racing team on Instagram, Twitter or Facebook.
<iframe width="750" height="422" src="https://www.youtube.com/embed/0veH7T9jMoU" frameborder="0" allow="accelerometer; autoplay; encrypted-media; gyroscope; picture-in-picture" allowfullscreen></iframe>