Ruqaiya Al Balushi
Course: Product Design BSc
Choosing Leeds
Ruqaiya Al Balushi is currently studying Product Design BSc at the University of Leeds. She chose Leeds as "The University's vibrant and diverse student culture stood out to me, coupled with the university's academic excellence and ranking. Additionally, the variety of opportunities offered by the university compared to others was appealing. Also, the city campus was important to me as everything is a short walk away, regardless the campus is beautiful and the facilities are welcoming."
Product Design at Leeds
Accreditation played a key part in Ruqaiya's decision where to study and the variety of modules, she said: "I realized how the modules were very different to other universities as they cover a variety of engaging subjects such as Electronics, Materials Engineering, Economics and above all, Design studio."
Ruqaiya cohort has less than 30 students, which makes it very student-focused. She said "I really appreciate how we constantly receive 1-1 feedback in person with our professors. The professors play a major role in our work as we constantly get the support and help we need, they are always ready to sit down with us and have a chat which creates a special dynamic."
She carried on "What excites me is the variation of assignments we have, each is distinctly different which intrigues me and keeps me motivated. Furthermore, exploring the interaction of engineering science and technology in product design is an essential aspect of modern-day innovation and offers me a wide range of benefits and skill-building opportunities.
We recently had a group project where we built a robot using motors and electrical components, although it was challenging at times, I was up for the challenge. Finally, after many tries, once it worked, the feeling of seeing our hard work come to play was amazing. I also enjoy how we are constantly tackling real-life briefs set by companies in some of our projects, from Lego to Marks and Spencer to PnG and many more. I believe it gives us an insight of working in the industry later on.
What was very interesting and unexpected to me is that the design process is as important as the final design. Designing can be very stereotypical in terms of defining what a good design is, however, in the Product Design course, there is no such thing as a bad design, iterating and developing a design is very vital as it leads to a greater outcome. Finally, above all, I learned that anything is possible!"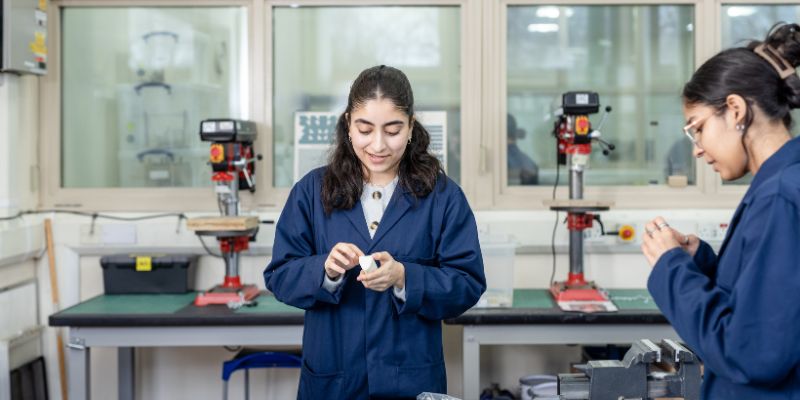 Overcoming fears
Starting university for anyone is daunting, for Ruqaiya, she also had to contend with moving to a new country. She described "Although I love being in Oman and being surrounded by family, studying abroad was very important to me because I knew I would be out of my comfort zone, and I was willing to try new experiences. However, moving to the UK was overwhelming at the beginning as I was not used to living alone, however, with time I was able to settle in and gain independence which I am grateful for. I have also seen my confidence, communication and adaptability skills develop in the past two years as I've grown into an adult, and I think my university experience played a profound role towards these personal developments."
Life outside the classroom
Outside the classroom, Ruqaiya joined the Product Design society where they offer fun activities such as bowling and golf. She said "I believe it is very important to balance work with leisure activities. Additionally, such activities allow the whole course to come together and get our minds off university work, ensuring a work-life balance."
Living in Leeds
Ruqaiya lived in student accommodation during her first year, she described "I think it helped me whilst I was still settling in as everyone around me was settling in as well, and we were all going through similar experiences. It was an opportunity to make friendships and socialize with new people from different countries which created a friendly community."
The University of Leeds campus is just a 10-minute walk from the city centre, which offers a wide range of places to visit, eat and shop, but is also compact and easy to get around with regular public transport services. Ruqaiya commented "Leeds is a lively student city, so there is always something going on, whether it is university events or outside, there is always some sort of entertainment and excitement in this city. There are many Omani students in Leeds, so getting together brings back a part of my home, which is something I always look forward to."
Looking to the future
In the short term, Ruqaiya said she is applying for summer internships to gain valuable hands-on- experience, which is essential in developing her future career, networking, and gaining insight into the industry.
She recalled "I think the employability team in the School of Mechanical Engineering helped in thinking of my future and aspirations. By constantly receiving CV and portfolio feedback I was able to build and develop my CV. My course has also widened my scope in finding a master's degree that suits my interests, which is hopefully what I would like to do after completing my bachelor's."
Sage advice
For anyone thinking of coming to Leeds, Ruqaiya enthused "Studying Product Design at the University of Leeds was the best decision I ever made! It might seem intimidating at first but it is fun, new, and unique!"
Join us
Want to know more about student life at Leeds? Chat to one of our current students to find out what it's like to be part of our welcoming community.