Shoe sensors and robotics will help people with foot conditions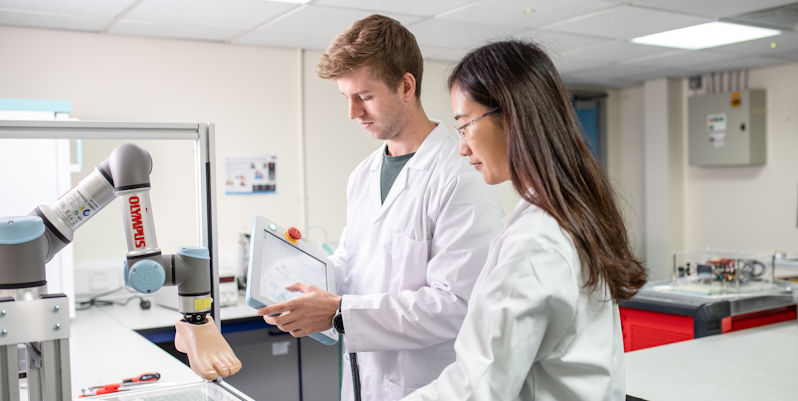 Researchers have developed in-shoe sensor technology, and a load-sensing platform, to help patients with chronic foot conditions linked to diabetes and arthritis. Dr Peter Culmer and his team in the Surgical Technologies research group are leading the projects, which bring together a multidisciplinary team of researchers and hospital clinicians.
"In all that we do, expertise includes multidisciplinary research communities at the University, together with clinical and surgical disciplines and industry professionals who come together to drive innovation," explained Dr Culmer. "Our research doesn't only feed into what they do: it's a collaboration."
"We work with experts and healthcare professionals – such as podiatrists, consultants, surgeons and industry professionals – who have direct input from the very beginning of the projects. This approach allows us to capture each important point of view, from clinicians who implement and test the technology, as well as the end users."
We work with experts and healthcare professionals... who have direct input from the very beginning of the projects.
Sensory insoles to prevent diabetic foot ulcers
The researchers have developed a sensory shoe insole to be worn by people who have been identified as 'at risk' of developing a diabetic foot ulcer.
A Diabetic Foot Ulcer (DFU) is a debilitating condition that affects quality of life, mobility and independence. Current treatment has limitations, and costs the NHS around £650m per year.
Currently, more 2.9m of the UK's population are diagnosed with diabetes, and it is estimated that this figure will increase to 5m by 2025. Foot complications are common in diabetic patients, due to the way the condition affects soft tissue in the foot. It is now predicted that 10% of people who have diabetes will develop a foot ulcer during their lives.
To overcome this challenge, Dr Culmer, Dr Ali Alazmani are collaborating with clinicians Mr David Russell and Dr Heidi Siddle from Leeds Teaching Hospitals Trust. Together they have developed pressure-sensing technology for a 'next-generation' in-shoe assessment system. The technology has been designed to assess the condition of a patient's foot over time, to allow intervention by a clinician, who can then treat the condition before it turns into a foot ulcer.
The EPSRC-funded project has been designed to address the UK strategic research ambition to 'optimise diagnosis and treatment' of diabetic foot disease. Sensor technologies have been identified as a key part of the UK Government's strategy on Robotics and Autonomous Systems (UKRAS); they are outlined as one of Eight Great Technologies that will play a significant role in improving productivity and economic growth.
Sensing technologies
The sole is comprised of tactile sensors, made up of small electronic coil elements. These sensors can be printed onto flexible films, which form the basis of the shoe insole. This low-cost technology can be mass-manufactured, and so easily scaled up to meet patient demand.
Designed to monitor patients' movements with each step, these sensors can measure the forces at 64 locations across each foot. Its purpose is to detect abnormal regions in the foot, where the development of an ulcer may present. Using this data, the clinician is then able to provide off-loading treatment that will prevent the condition from worsening and turning into a DFU.
The technology can enable clinicians to treat people who have other medical conditions that affect mobility, such as obesity.
Load-sensing platform
Patients with foot pain from osteoporosis, arthritis and other chronic conditions, have been helped by the development of a load sensing platform. The project is the result of ongoing collaboration, over more than four years between Dr Culmer, Dr Ali Alazmani at the university and clinicians Dr Helliwell, Dr Siddle and Dr Chapman at Chapel Allerton Hospital, Leeds.
Funded by the Group for Research and Assessment of Psoriasis and Psoriatic Arthritis (GRAPPA), the platform has been designed to enable foot pain patients to better manage their condition.
The device takes the form of a load sensing platform over which the patient is asked to walk. More advanced than current technology, it can measure the load across a person's foot in multiple directions – accommodating shear axes (e.g. back-and-forth, or side-to-side), and vertical load. As a result, clinicians can build a more complete picture of how different medical conditions can affect a person's foot over longer timeframes. Ultimately, the device will enable the clinicians to provide the right type of support, such as orthotic insoles and specialised modifications to the shoe.
It is through working together this closely that innovation and relevance to clinical practice is possible.
Dr Culmer added: "The clinicians tell us what they need and we work with them to engineer solutions. Our team work closely with the hospital to improve the technologies – it is through working together this closely that innovation and relevance to clinical practice is possible."
Contact us
If you would like to discuss this area of research in more detail, please contact Dr Pete Culmer or Dr Ali Alazmani.