Research project
Exploring novel binding pockets in DNA gyrase and DNA topoisomerase IV to address antibiotic resistance
Start date: 1 August 2021
End date: 31 July 2024
Value: £1,200,000
Partners and collaborators: John Innes Centre
Primary investigator: Professor Colin Fishwick
Co-investigators: Dr Martin McPhillie
External co-investigators: Professor Tony Maxwell, John Innes Centre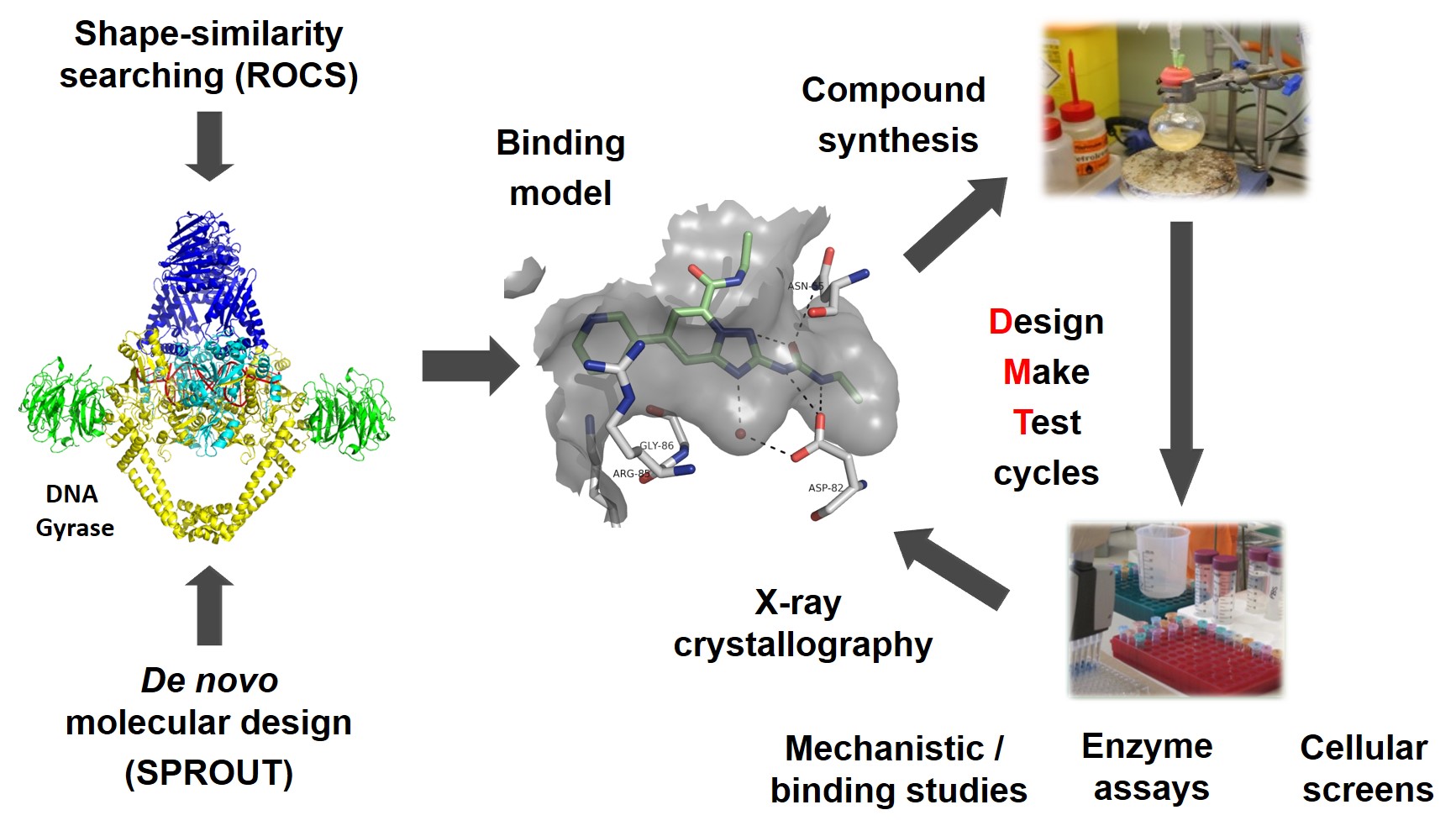 Antimicrobial resistance (AMR) is probably the biggest current threat to human health. Recent estimates (O'Neill Report, 2016) suggest that 10 million people a year could die as a result of AMR by 2050. In addition, the economic cost has been estimated to be between 60 and 100 trillion USD worth of economic output, if antimicrobial drug resistance is not tackled.
This AMR problem is compounded by the lack of new antibacterial agents coming onto the market, caused by the loss of profitability of such drugs. Amongst the most successful groups of antibiotics of modern times are the fluoroquinolones (FQs), such as ciprofloxacin. However, these too are subject to increasing AMR and alternatives need to be found. FQs act by targeting DNA gyrase and/or DNA topoisomerase IV, enzymes that are essential in bacteria but absent from human cells.
We are working with compounds that also target gyrase but that act in a different way such that cross resistance with FQs can be avoided. Currently these compounds are not suitable as human antibiotics due to issues such as toxicity. Using computational methods, synthetic chemistry, biochemical/biophysical studies, microbiological and toxicology evaluation, and structural work, this project aims to develop new, drug-like compounds (i.e. with favourable properties in terms of solubility, potency and size) that retain their antibacterial efficacy but which also have other properties required for drug leads, including low toxicity.
At the end of this project, we aim to have identified a new series of antibacterial drug leads that will hold considerable promise for subsequent development.
Impact
At a basic science level, the project aims to provide new fundamental knowledge in targeting bacterial gyrases with small molecule inhibitors, and overcome the associated resistance mechanisms. It will also support the development of novel antimicrobials, and therefore promises to deliver a high-level of impact to public health and antibiotic awareness.