Pharmaceutical Medical Gas Testing - FULLY BOOKED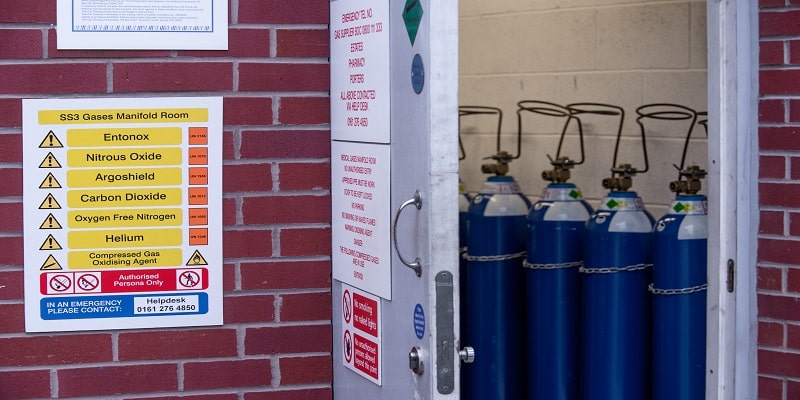 Start date: 26 February 2024
End date: 1 March 2024
Duration: Five days
Fees: £1585 VAT exempt - excluding accommodation
Venue: Midland Medical Services, Tipton, DY4 7TR
---
enquire
About the course
NOTE: The February 2024 course is now full booked, however if we receive sufficient further demand we may potentially run the course again later in 2024. Please get in touch with us so we are aware of your interest and to be added to the course waiting list. We will keep you informed if the course will run again in 2024 or advise the 2025 course dates if we don't reach sufficient demand.
The Pharmaceutical Medical Gas Testing course has been developed by NHS TSET (the Technical Specialist Education and Training group) and is facilitated by the University of Leeds.
For more information about TSET, visit their website.
What will I learn?
This is a five-day CPD course which will be delivered with presentations, group discussions and practical sessions illustrating the principles of pharmaceutical medical gas testing. There will be an assessment at the end of the course.
How will I benefit?
You'll benefit from:
practical testing with a range of different equipment

being able to troubleshoot and assess defective systems

experienced tutors offering active assistance
On completion of this course, you will be able to:
demonstrate a knowledge of relevant HTM 02 and Permit to Work relating to medical gases

demonstrate a knowledge of health and safety relating to medical gases

demonstrate a knowledge of medical gases production and properties, and the application of GMP to medical gas production

demonstrate a knowledge of uses and clinical risks associated with medical gases

make critical assessment on health and safety issues such as OES, MEL and STEL

identify and resolve problems associated with medical gas systems

interpret test results of medical gas systems and take appropriate actions

identify and resolve any problems associated with testing equipment document relevant activities and interventions
A short written assessment is undertaken at the end of the course. There will also be a work based practice report to be completed.
Reassessment course
There will be a two day refresher and reassessment course taking place in November 2024 which is specifically designed for those who require the formal assessment of competency under HTM 02-01.
Who should attend?
This course will be suitable for pharmacists and other healthcare professionals with experience and responsibilities for, or an interest in, medical gas testing. It is essential for those who wish to register as QC (MGPS) under the HTM 02-01.
Please note, if you are enquiring/registering specifically to follow through to registration as a medical gas tester you will also need to satisfy the criteria laid out in the HTM i.e. be a graduate who is eligible for membership of the Royal Pharmaceutical Society (RPS), the Royal Society of Chemistry (RSC) or the Royal Society of Biology (RSB).
Reassessment course
There will be a two day refresher and reassessment course taking place in November 2024 which is specifically designed for those who require the formal assessment of competency under HTM 02-01.
Programme
Day one
Introduction to medical gases and their uses

Introduction to HTM 02-01 (2006) – key principles and its application in practice

Key MGPS features; oxygen VIE and PCC; medical and surgical air plant; vacuum and AGSS plant, manifolds

MGPS features continued; valves, LVAs and AVSUs; central and local alarms; pendants and beams, terminal units and NISTs

On-site practical sessions; VIE and manufacture of medical gases and the role of the QP; Medical air compressor and manifolds
Day two
The basic tool kit (and demonstration)

Aspects of MGPS engineering (part 1): Configuration

Aspects of MGPS engineering (part 2): Installation

Aspects of MGPS engineering (part 3): Tests

Gas safety in relation to MGPS

Role of QC MGPS in relation to HTM 02-01 (including workshop on where and what to test)

Installation requirements of the distribution pipeline, monitoring systems and terminal unit provision

Workshop sessions; terminal units function, identity and operational problems; AVSUs, LVA's and alarms operation and faults; Demonstration of pipe jointing
Day three
Introduction to 'permit to work' system and B forms

Workshop 'permit to work' system

Introduction to pharmaceutical testing of gases

How medical gases are tested and how instrumentation does its job

Workshop sessions; Oxygen, identity and purity methods; Nitrous oxide / Entonox, identity and purity methods; Medical, surgical and dental air, identity and purity methods including moisture, particulates and oil; cylinder management, ID and storage, connections (including surgical CO2, Heliox and specialist gases – uses and ID)
Day four
Moisture in medical gas systems

Instrument calibration and calibration gases

Calibration of Instruments – demonstration/workshop

Common problems that occur with equipment

Problem solving workshops; testing manifolds; testing a compressor; pendant testing; mock-up bedhead tests; terminal unit identity
Day five
Oxygen conservation

Novice QC (MGPS) – pressures of the job

MGPS line pressure; why is it useful for the QC to know, examples of problems identified

Written assessment
Speakers
Course Director
Theresa Hughes, QC (MGPS), MGTS Limited
Speakers
Keith Butler, Alpha Moisture Systems
Alistair Ellis-Jones, QC (MGPS) North East Wales NHS Trust
Philip Harman, East Suffolk and North Essex NHS Foundation Trust
Paul Jones, QC (MGPS) and Consultant (Medical Gases), MGTS Limited
Richard Maycock, Medical Engineering Systems Limited
Chris Marks, North Bristol NHS Trust
Tim Sizer, Director of NHS TSET Healthcare CPD
Richard Skidmore, Head of Quality, Barts Health NHS Trust
Andrew Sully, Cardiff & Vale University Health Board
Richard Sutherland, QC (MGPS), MGTS Limited
Fee information
Course fee: £1,585
Fees include:
cost of tuition

electronic course materials

lunches

light refreshments

course dinner on Tuesday evening
View our terms and conditions
Venue details
The course will be held at Midland Medical Services Ltd, Unit 8, Cleton Street Business Park, Cleton Street, Tipton, West Midlands, DY4 7TR. Directions to the venue will be included within the delegate joining instructions.
Please note, there are metal steps up to the training room at this venue (no lift access). Please let us know if you have any access requirements you would like us to be aware of.
Delegates are responsible for making their own way to the course venue each day and for booking their own accommodation if required. See the accommodation tab to request a list of nearby hotels.
Accommodation
We can provide a list of hotels close to the course venue for delegates to book their own accommodation. We do recommend that our delegates book their accommodation as soon as possible to ensure the nearby hotels can provide accommodation for the nights required.
What our delegates say
"An excellent course ran by the experts in this field who through presentations and practical workshops provide a solid foundation for the start of the journey to becoming a QC MGPS!"
Matthew Upward, NCIC Cumberland Infirmary
"A comprehensive introduction to the world of medical gases, how they are installed and how they are tested to ensure the safety patients."
Emily Fong, Nottingham University Hospitals
"This engaging course provides an excellent balance of classroom-based and practical learning. It has provided me with the framework required to confidently start my journey towards registration as a QC (MGPS)."
Olivia Boustead, Bradford Teaching Hospitals NHS Foundation Trust
Contact us
Harriet Wills – Course Coordinator
CPD Conference and Events Unit
Faculty of Engineering and Physical Sciences
University of Leeds,
Leeds
LS2 9JT
T: +44 (0)113 343 2494
Stay up to date with the latest course news and developments by following the CPD, Conference and Events unit on LinkedIn and Twitter.