Crystal creations, marvellous microbes, and more: EPS at Be Curious 2023
The Faculty of Engineering and Physical Sciences is excited to showcase 11 activities at Be Curious, the University of Leeds' annual family open day, on 13 May.
Be Curious will play host to many of our Faculty's professors, doctors and academics, who look forward to sharing their expertise with people of all ages through a whole host of fun programmes in the Michael Sadler Building and Parkinson Court.
Whether you and your family have a real passion for engineering, maths, computing, chemistry or physics, you're looking for something to spark your next big hobby, or you simply have an inquisitive mind, we've got plenty to show you – just drop by to explore the activities on show!
Here's what we have in store for everyone on Saturday 13 May, 10am to 4pm:
Michael Sadler Building
Wearable Technology: How Can We Measure Changes in the Body?
When you run, your heart rate goes up; when you're cold, your skin temperature goes down. One patch can measure all of this at the same time! Come and see how wearable technology can visualise your body's response to changes in your environment.
With Aron Syversen
Recommended ages: 6-9 years
---
Real Robotics Lab
Give robotics a try at the Real Robotics Lab. You can experience the thrill and excitement of learning about robotics, and you'll even get a chance to control a robotic arm!
With Professor Christopher Peers
Recommended ages: All ages
---
Nanoparticles in Medicine: Therapy for the Future!
Nanoparticles have the potential to deliver medicine to diseased organs in the body. Come join us and learn how medicine-loaded nanoparticles can be made!
With Dr Zhan Yuin Ong
Recommended ages: 6+
---
Can AI Help Doctors Understand Ultrasound Images?
Discover how doctors use soundwaves to look inside your body and see exciting AI research in action. Learn to use an ultrasound scanner, and see how AI can recognise veins, arteries, and organs!
With Lewis Howell
Recommended ages: 6+
---
What Can Computers Learn From Your Voice?
What information is hidden in your voice? See if our computer can guess your age - and if you can beat the computer at guessing the age of people - from the sound of their voice!
With Mary Paterson
Recommended ages: 6+
---
Parkinson Building
Marvellous Microbes
Explore the hidden world of micro-organisms. Look through the microscope, explore hands-on models, and get creative with a wide range of activities to suit all ages!
With Dr Briony Thomas
Recommended ages: All ages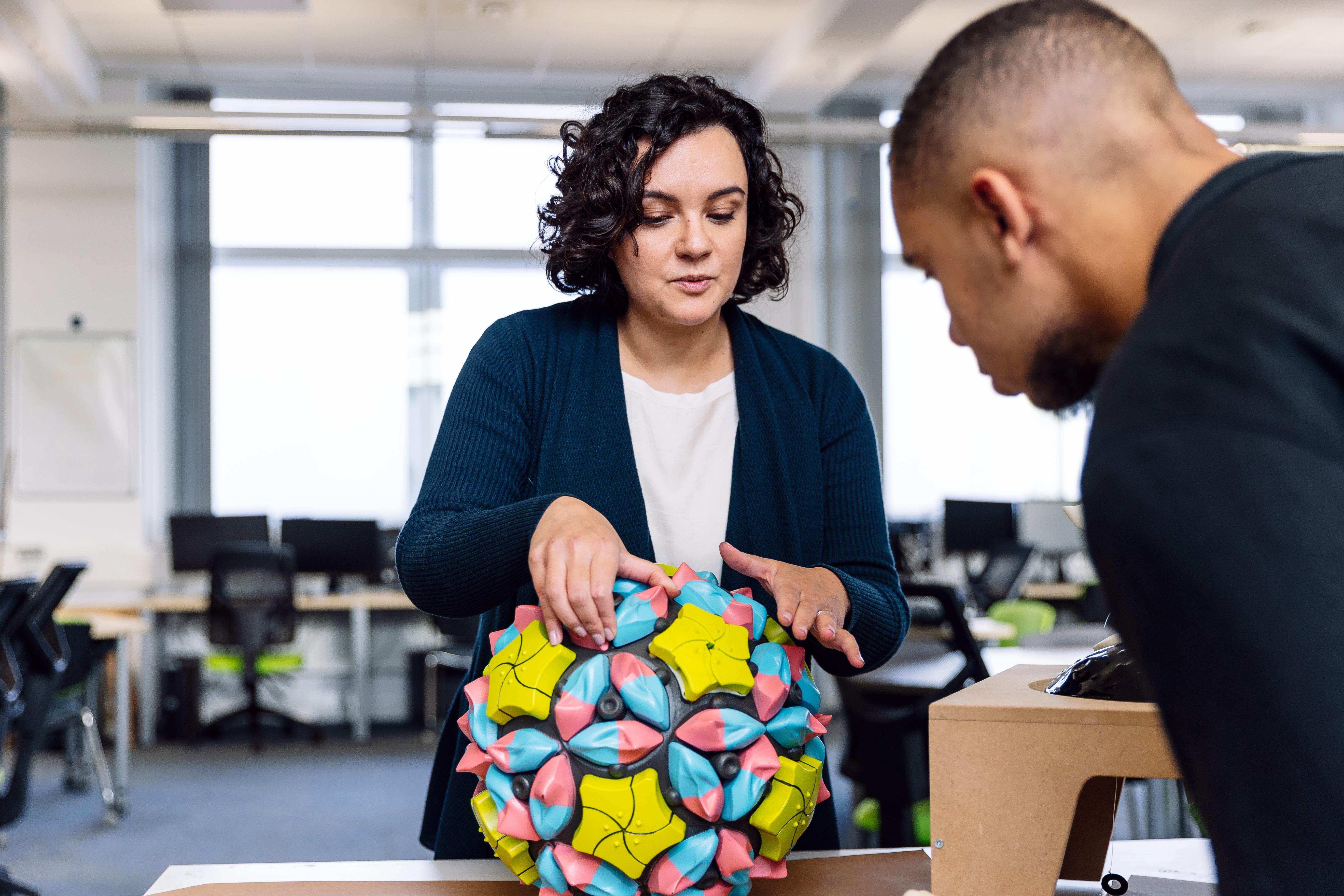 Dr Briony Thomas will be presenting "Marvellous Microbes" in the Parkinson Building (credit: Simon & Simon)
Crystal Creations
Professor William Bragg was so good at science, he won a Nobel Prize! But did you know he taught here at the University of Leeds? We even named a building after him! Come and experience Bragg's Law in action and learn about all the materials that make up the world around us.
With Dr Philippa Sheple
Recommended ages: 6+
---
The Pythagorean Corner
Triangles are a super-shape. They can help us build skyscrapers, work out how to make the strongest materials, and even help us solve really hard maths problems! Join us as we explore the power of triangles in this visual proof of the Pythagorean Theorem.
With Dr Vahagn Aslanyan, Sebastian Eterovic and Dr Vincenzo Mantova
Recommended ages: 6+
---
Seeing is Believing
Can you tell what it is yet? Use a microscope to look really closely at objects you'd find around the house. We'll share with you the wonders of electron microscopes and everything they can do!
With Dr Zabeada Aslam
Recommended ages: 0-9 years
---
Friction: The Tribology Enigma
Did you know friction plays an important part in engineering? Explore friction through hands-on activities throughout the day. You can even take the science home with your own mini hovercraft kit!
With Josh Armitage
Recommended ages: 6+
---
Fighting Floods with Fluid Dynamics
Can you stop the flood? Step into the shoes of environmental engineers as you embark upon an experiment of your own with our hand operated wave tank. Select your flood defences carefully and see if you can prevent the flood!
With Yatin Darbar and Emily Butler
Recommended ages: 6+
---
Of course, it's not just our Faculty that's involved at Be Curious – this year's programme is split across several areas of the University:
What's more, Be Curious is delighted to be a Child Friendly Leeds Ambassador. There's no need to book - all activities are free. For a full line-up of events, head over to the Be Curious website.