Architecture Showcase
Year 3 student work, pt2
Year three Architecture MEng, BEng
Students were asked to design a scheme for a workplace in the developing Holbeck are of Leeds, on the edge of the growing central city. Each proposal had to embody students' own interpretation of a client's needs, investigating alternative workplace models and forms in response to the physical and cultural context of the site.
Cameron McGregor-Ogden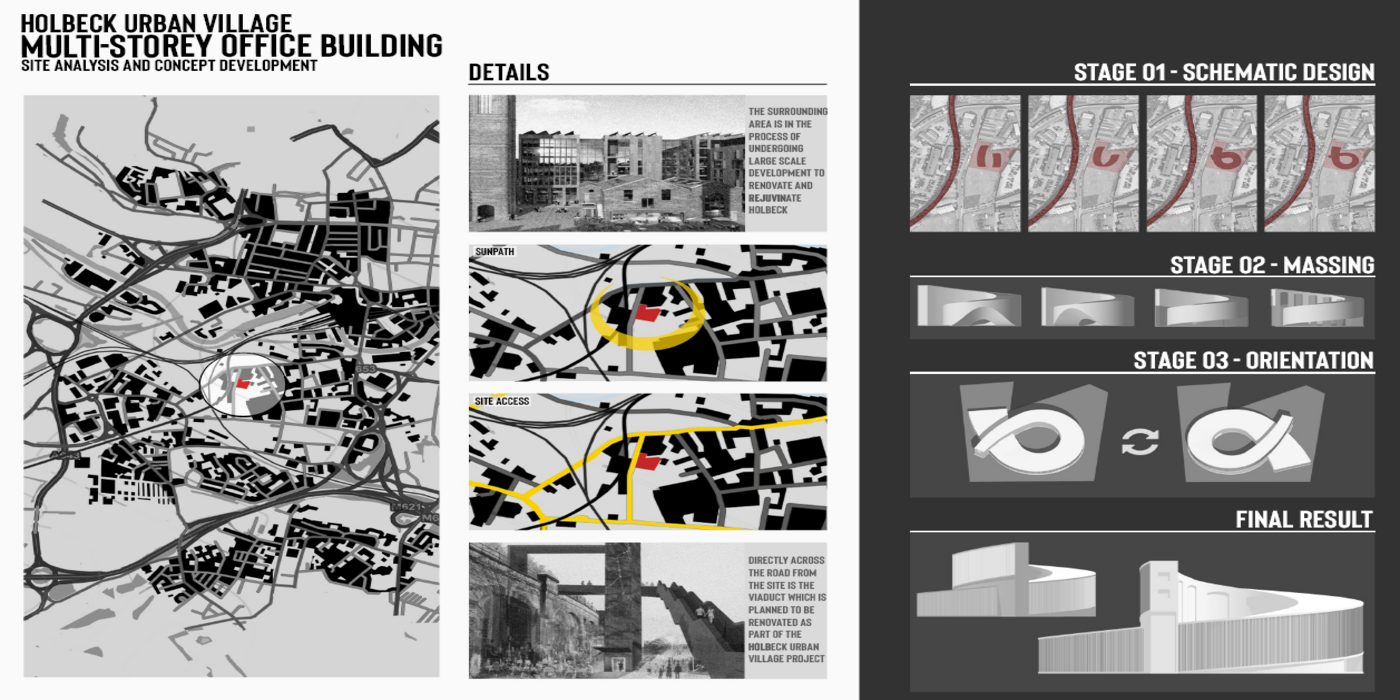 The surrounding area is in the process of undergoing large scale development to renovate and rejuvinate Holbeck. Directly across the road from the site is the viaduct which is planned to be renovated as part of the Holbeck Urban Village Project.
Elizabeth Jackson
Concept development l to r: 1. Leaving north corner for access, filled usable site with mass 2. Created south opening for courtyard, all sides 15m depp for light and ventilation 3. Varied roof height – provides access, more lights and views 4. Added slopes and softened corners, more continuous form
Main image (perspective section): The solid shape of the staircase cuts through the space both visually and physically linking the whole office. Encourages occupants to interact whilst promoting physical health through some movement. Timber is a strong theme throughout the project, creating a cosy space and creative atmosphere for the design company client. The extensive glazing floods the office with natural light whilst timber batterns limit excessive solar gain. The shallow building depth allows for effective natural cross ventilation.
Philip Elloway
This multi-storey office building proposal, located in Holbeck, Leeds, sits on a site of rich, industrial architecture. This proposal responds to this setting and to the brief, aiming to draw inspiration from the architecture of teh industrial revolution and uses it to create a modern space which can adapt to the changing needs of the future. The design makes full use of natural ventilation and lightying, and aims to create a bright, well-ventilated office space, which can adapt to change.
Will Unett