Architecture Showcase
Year 3 student work
Year three Architecture MEng, BEng
The design project was based in Naples and involved an urban study of a part of this historic and vibrant city, collaborating with the City's School of Architecture. Students then designed an urban scheme including residential and external space elements.
Elizabeth Jackson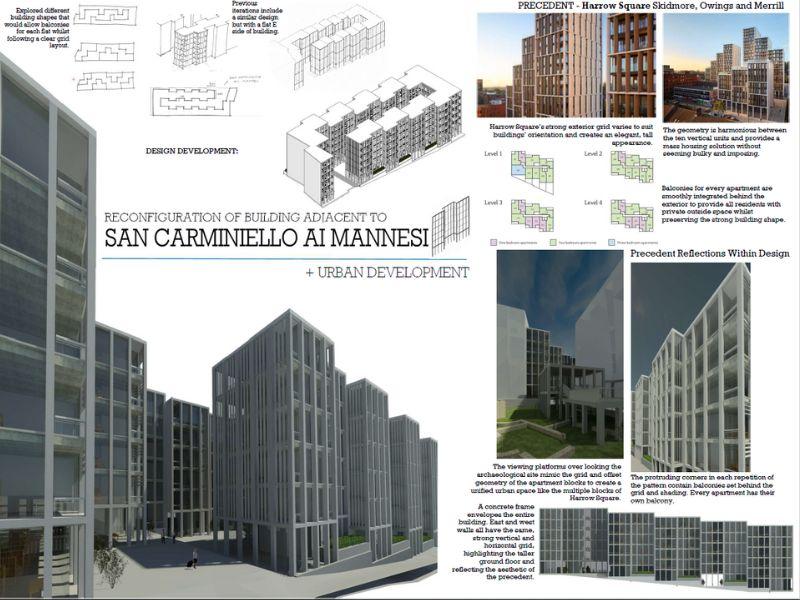 Balconies for every apartment are smoothly integrated behind the exterior to provide all residents with private outside space whilst preserving the strong building shape.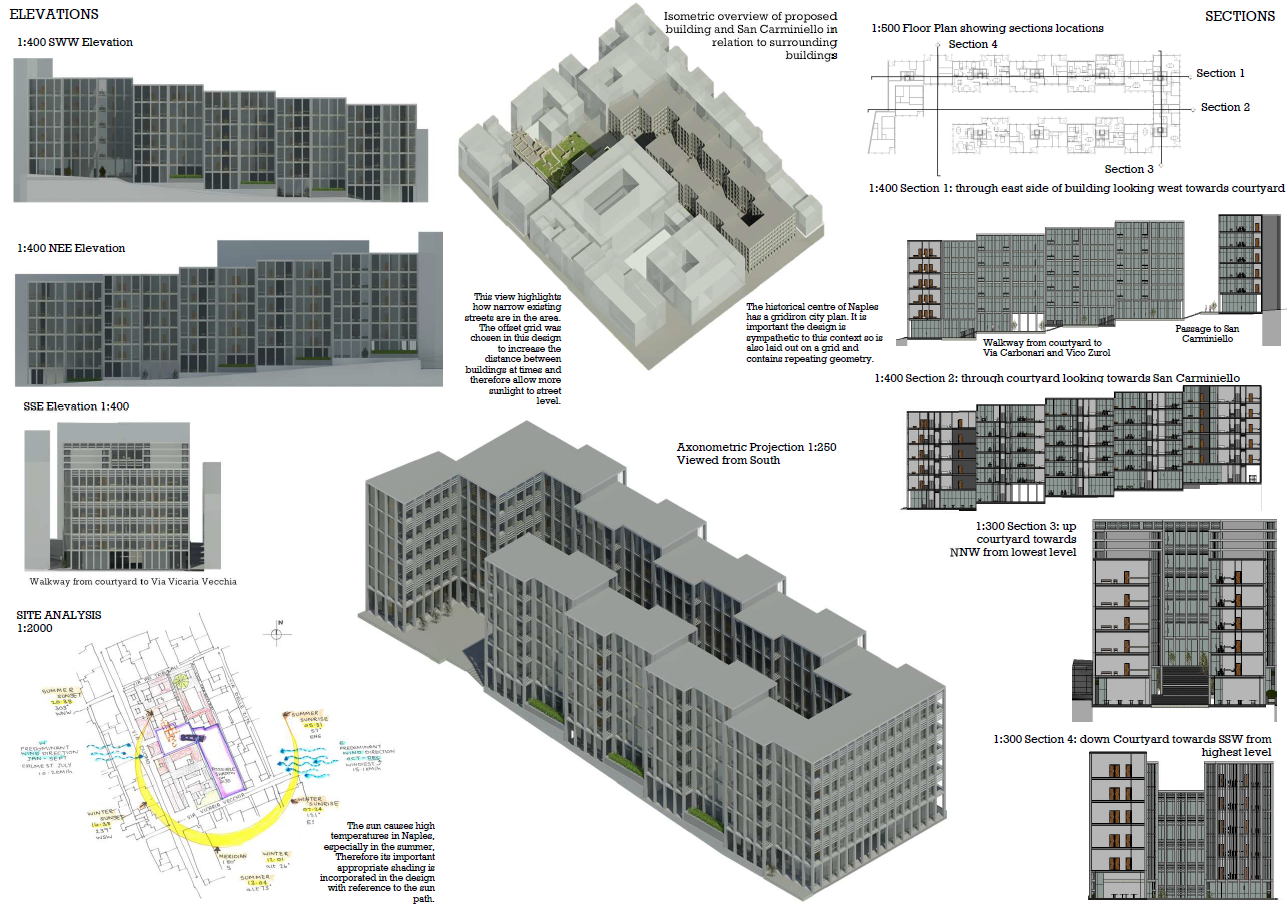 Elevations and Sections: The sun causes high temperatures in Naples, especially in the summer. Therefore, it's important that appropriate shading is incorporated in the design with reference to the sun path. The historical centre of Naples has a gridiron city plan. It is important that the design is sympathetic to this context so is also laid out on a grid and contains repeating geometry.
Ellie Barker
To develop a scheme which respects the vernacular of Naples whilst achieving modern building standards to create a space which facilitates a comfortable, inviting space for its users – after exploring different volumetric arrangements, the selected scheme was chosen as it opened up the site to improved lighting, ventilation and privacy.
Philip Elloway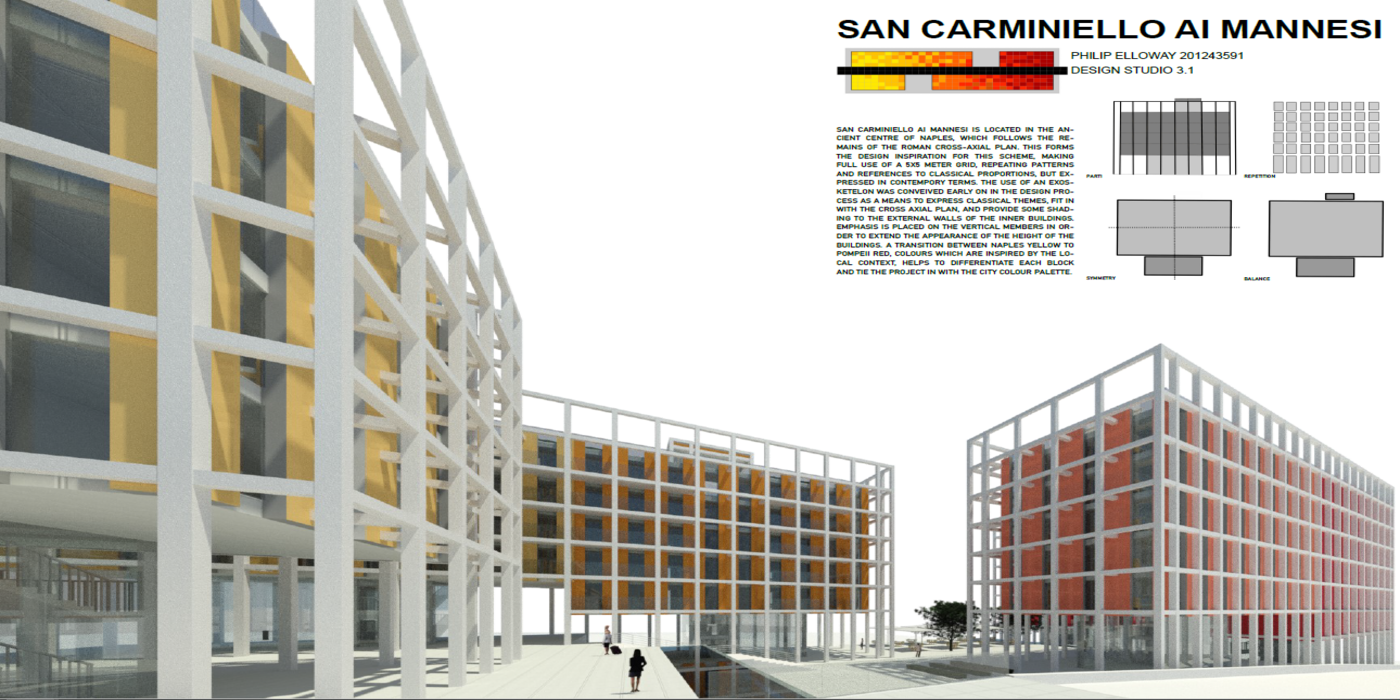 San Carminiello Al Mannesi is located in the ancient centre of Naples, which follows the remains of the Roman cross-axial plan. This forms the design inspiration for this scheme, making full use of a 5x5m grid, repeating patterns and references to classical proportions, but expressed in contemporary terms. The use of an exoskeleton was conceived early on in the design process as a means to express classical themes, fit in with the cross-axial plan and provide some shadowing to the external walls of the inner buildings.
Sections, Elevations and Plans: This scheme feature two building types. The smaller of these types houses 3 bed duplex apartments, with 3 duplexes spread over 2 floors. The second, larger type has a plan for 2, 1 bed and 2, 2/3 bed apartments over a single floor. Every apartment has access to a balcony, a shared roof space and access to a communal ground floor lobby area.
Ruby Riley
Inspiration taken from the strong repeating pattern of columns and windows. San Carminiello features a warmer colour scheme, and the addition of balconies in keeping with Italian vernacular.