Postgraduate researcher wins award for IoT-powered wearable textile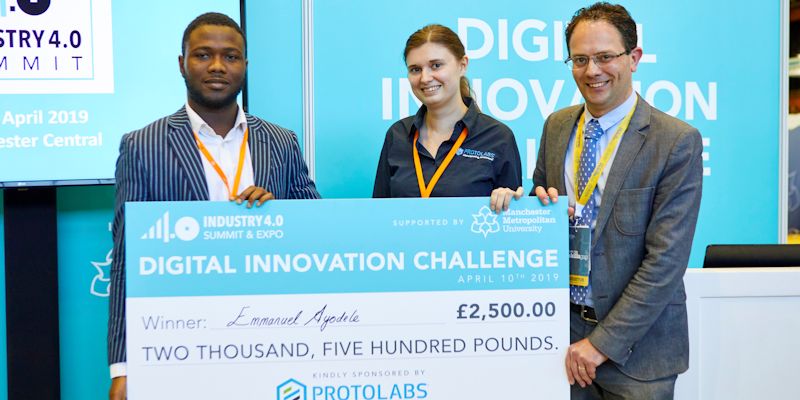 Emmanuel Ayodele won the 2019 Digital Innovation Challenge for designing a wearable textile with the capability of using the Internet of Things (IoT) and motion capture to assist rehabilitation.
A future version of his device could assist GPs and medical professionals who are working with patients to rehabilitate physical movement, for patients such as stroke survivors.
The technology, at the moment, is a prototype in the form of a knitted glove with textile sensors capable of conducting electricity. These sensors alongside traditional electronics allow the glove to communicate with WiFi and radio frequency (RF) signals.
Emmanuel's prototype uses motion capture to record movements made by a person wearing the device to collect information in a database that a GP is able to access remotely.
The wearable smart glove, which is a textile comprised of stainless steel and polyester, is designed to be worn by the person undergoing treatment. When the person's joint moves, it extends the textile sensor, reducing the sensor's resistance which is then mapped to calibrated joint angles.
This technology is user-friendly, affordable, and reusable, in contrast to current bulky, inefficient wearable products on the market.
Monitoring patient data efficiently
Emmanuel, who is supervised by Dr Syed Zaidi, Dr Jane Scott, Dr Zhiqiang Zhang and Dr Des McLernon was rewarded with £2500 for his design at the 2019 Digital Innovation Challenge Expo. Bosch, Dell, Siemens, and KUKA were among the key companies and industry 4.0 investors who gathered to demonstrate and discuss new inventions.
His prototype detects and logs the user's movements into an online database which is accessed remotely by communicating with the WiFi signal. This eliminates the need for a patient to travel to a physical appointment which could be stressful due to injury or impairment. It also reduces the time taken for GPs to monitor users' progress.
At the moment, Emmanuel and his colleagues are using augmented reality to test how the technology works in different environments. They will also be investigating how to support the user's arm during physical activity using 3D-printed visuals.
Their aim is to reduce the size of electronics embedded into the textile and ultimately design a wearable device powered exclusively by mobile data and WiFi when available. IoT technology will allow the seamless detecting of movement in joints by the user wearing the un-obtrusive textile.
Future rehabilitation could be seamless
Emmanuel's next step is to design a prototype which is in the form of a glove with sensing patches, free from electronic sensors. He aims to design wearable technology that is completely seamless to use for physiotherapy and rehabilitation purposes.
Once established, this technology could be used for other wearables, such as socks or clothes that also use sensing modalities. Monitoring the movement of patients with bed sores in hospitals or care homes, for example, could benefit from a smart textile with this capability.
Emmanuel said:
"Our next steps are to design a textile antenna that would eliminate current communication electronics to ensure that the glove is wholly textile.
This would reduce power consumption and make it less conspicuous for a patient to feel comfortable wearing.
"By implementing backscatter energy harvesting, we can power the glove from existing WiFi signals as well as radio frequency signals from mobile devices thereby removing the need of a battery."
It is a sustainable and efficient way of monitoring rehabilitation which is less intrusive when compared to other motion capture alternatives.