Specialised Ventilation in Healthcare Premises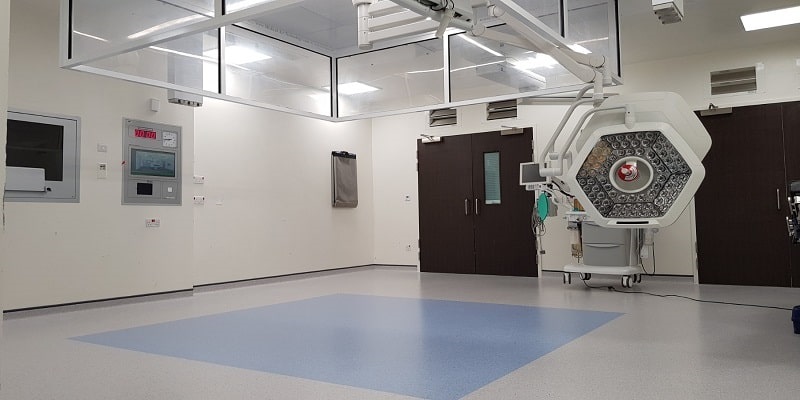 Start date: 17 May 2022
End date: 20 May 2022
Duration: Four days
Fees: £TBC
Venue: Weetwood Hall Estate
---
enquire
About the course
The Specialised Ventilation in Healthcare Premises course has been developed by NHS TSET (the Technical Specialist Education and Training group) and is facilitated by the University of Leeds.
For more information about TSET visit https://www.tset.org.uk
What will I learn?
On this course you'll examine the specific requirements for the provision of ventilation in healthcare premises and will discover the thinking behind current standards.
How will I benefit?
You'll gain an excellent overview of specialised ventilation in healthcare within the evolving evidence base taught by national experts.
Who should attend?
Anyone with an interest in the provision of ventilation for the healthcare sector will find this course of benefit, as it will inform you of your clients' specific needs.
This course will take a holistic look at the need for ventilation in healthcare premises and how it can best be provided. It will, therefore, be of particular interest to you if you're:
infection control personnel or team leader

an estates and facilities manager or other healthcare professional involved with the provision, performance or operation of specialised ventilation systems

wishing to become Authorising Engineers (Ventilation) AE(V) / Authorised Persons (Ventilation - AP(V)

an operating department manager

a capital project manager

a consulting engineer

a trust risk assessment manager

a project management group

an equipment manufacturer

a test and validation specialist.
Programme
Please note, the below programme is for the November 2021 course. A programme for May 2022 will be available shortly, however we don't expect any major changes to the below.
The course is delivered by a mix of presentations and group workshops. There will be a multiple choice quiz at the end of the course to provide proof of knowledge gained.
The course director will provide guidance on the appointment of Authorising Engineers (Ventilation) and the duties of Authorised and Competent persons. The role of outside contractors who provide annual inspection and verification services will also be examined.
The basis of guidance on specialised ventilation for healthcare premises is HTM03-01 (2007) which replaced HTM2025. The course will clarify how to apply current guidance in new builds and facilities built to previous guidance.
Day one
Registration: 08:45 – 09:15
Healthcare ventilation – key issues
Airborne infection – some history and concepts
Specialised ventilation concepts
Anaesthesia v Sedation – Applications, benefits and hazards
HTM 03-01-2021; Part A; Design – the ventilation of an operating department – the revised standard
Workshop – operating theatres
Operating on Infectious patients
Day two
Air filtration – current standards
Zero Carbon agenda and Energy standards
Air handling units – minimum standards and new developments
Fire strategy and air distribution systems
Assessment of operating theatre air quality
Workshop – equipment circus
A History of Epidemics, or, "The Black Death (and other inconveniences)"
Day three
Minimally invasive procedures and minor operations
Local exhaust ventilation
The Ventilation Safety Group/Audit reports – AE(V) and AP(V) roles
Installation standards. Commissioning and Validation
HTM 03-01-2021; Part B – Operational Management – Revised standard
HTM 03-01-2021; Part B – Annual verification and minimum standards
Clean rooms in pharmacy and sterile services departments
Lessons learned from Covid
Covid response and creation of emergency isolation facilities, considerations for future
Day four
Isolation Facilities – Concepts, research and application
Reflections from SAGE
Hot topics and course summary
Course Finish Time: 13:00
Speakers
Course Director:
Andy Poplett – An independent healthcare estates consultant and AE for ventilation and water. Member of IHEEM and SVHSoc, Associate Member of CIBSE, and Affiliate Member of IFE.
Speakers:
Margaret Barrows, Calderdale and Huddersfield NHS Foundation Trust
James Dagnall, Camfill
Simon Dale, Chesterfield Royal Hospital
Colin Gaffney, Consulting Validation Engineer
Alan Gilbert, BSRIA
David Jobes, Stockton Quality QC Laboratory
Chris Knights, BSRIA
Craig Mackintosh, Clinical scientist (Retired)
John McEwan, Hulley & Kirkwood Consulting Engineers Ltd
Robert Porter, RD&E
Karren Staniforth, Nottingham University Hospital
Malcolm Thomas, Main author HTM 03-01 (2020)
Rob Townsend, Sheffield
Sigrid Volkmann, STS Consulting & Training Services
Andy Worsick, EMS Particle Solutions UK Ltd
Fee information
Registration will be open around three months prior to the course date.
The Specialised Ventilation in Healthcare Premises course is residential and the course fee includes refreshments, lunches, bed and breakfast accommodation and evening meals at Weetwood Hall Hotel on Tuesday 17 May to the close of the course on Friday 20 May.
The following course fees also include cost of tuition and comprehensive course notes: £TBC
Fees are VAT exempt
For local delegates who do not require accommodation, please contact us for a non-residential rate.
Additional options
We can also book bed and breakfast accommodation for Monday evening for an additional charge of £TBC if required.
View our terms and conditions
Venue details
The course will take place at Weetwood Hall Estate, which is situated to the north of Leeds at the junction of the A660 Leeds - Skipton road and the A6120 Outer Ring Road.​​
Weetwood Hall Estate
Otley Road
Leeds
West Yorkshire
LS16 5PS
UK
What our delegates say
Some comments from our 2019 delegates:
"A great course, which makes good headway to help close the gap between infection control and healthcare colleagues managing ventilation systems"
"Very well structured, covering key areas across ventilation. Useful to hear from various expert speakers, to understand their experiences, including issues encountered"
"A great mix of information, great subject matter experts, delivered in a fantastic location. Any healthcare establishment should ensure they send staff on this course. Thank you, this has been excellent"
"Excellent run through the complex world of infection control and the role of ventilation"
Contact us
Katie Warner – Course Coordinator
CPD Conference and Events Unit
Faculty of Engineering and Physical Sciences
University of Leeds,
Leeds
LS2 9JT
T: +44 (0)113 343 8104