Chasjeevan Ladhar
Course: Computer Science BSc
Chas is a third year student, currently studying Computer Science BSc at the School of Computing.
Chas chose to study at the University of Leeds "due to the variety of modules they offered for the computing course as well as the many societies and events constantly happening on a beautiful campus".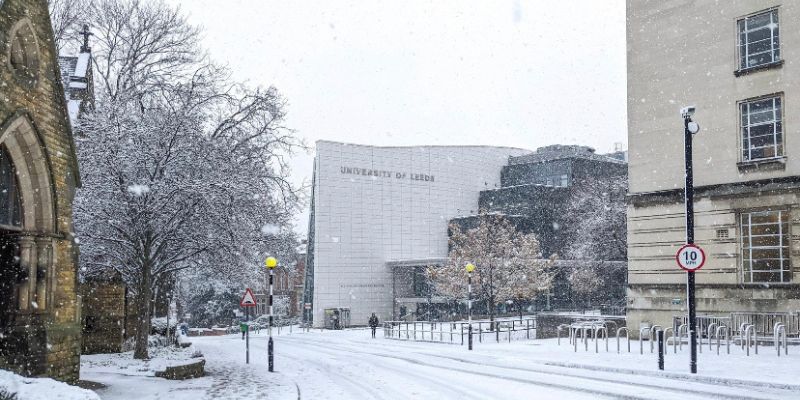 Choosing his course
Chas chose this course because of the variety between theory and application.
Having never done computer science prior to university, they made it very easy to transition into the course and have a range of topics across the field.
"Aspects of computer science can be seen in nearly every job and I think the modules you learn here are very applicable for any future career."
So far, one of the most exciting projects Chas has completed on his course has been making his own HACK computer by just starting from a NAND gate.
"We ended up making a full computer from scratch using HDL and assembly which we could test and perform operations on."
A year in industry
Chas is working for Bluesmith during his placement.
"Bluesmith's specialities are agile data warehouse design and build, and bespoke high-volume, high-performance transactional systems - especially in retail."
His role within the company is a 'placement technical specialist'.
"Bluesmith provide an amazing training module path with practically 1:1 teaching throughout the year. They ensure you learn the key skills to become a solid software developer and follow industry leading standards."
Chas wanted to undertake a year in industry so that he could apply the concepts learnt at University to the real world.
It provides a nice break from uni-learning and it allows you to return for your final year with better understanding of how the modules you will learn will be utilised in life outside of uni.
"The most important thing I have learned during the year is time management. There is no linear way of working. You will be blocked on certain tasks and projects and you have to be able to utilise the time you have to do the best work you can."
"This placement year has allowed me to work on a variety of tasks which helps me make an informed decision on what career I want to go into."
Contributing to everyday life
"Computer science is commonly used to automate daily tasks. This can often be seen with robots and machines in industry. Computer science is also used to create applications which can be quickly accessed on devices commonly used in daily activities e.g. banking, shopping, work."
"Throughout the course we are always reminded throughout every module about future applications of what we learn and how it can help automate and help revolutionise industries across the world. This can range from better healthcare, to safer transport, construction etc."
Computers are powerful, and as a computer scientist this inspires me as we have the ability to harness these machines to improve people's day to day lives.
Future ambitions
Chas hopes to take what he learns from his placement and degree to enter the field of software development.
"I enjoy learning about different technologies and tools and working collaboratively to reach an end goal and deliver a project."
"Living with others in Leeds and experiencing a new city has allowed me to be more independent and meet new people from across the world – broadening my horizons.
I've learned how to better communicate, become a better listener and build relationships to last a lifetime."
Join us
Want to know more about student life at Leeds? Chat to one of our current students to find out what it's like to be part of our welcoming community.