Holly Dimmick
Course: Aviation Technology and Management (Ind)
Year of graduation: 2020
Job title: Business Insights Analyst
Company: Air Navigation Solutions Ltd
What company are you working for, what is your role and what does it involve?
I work for Air Navigation Solutions Ltd who provide air traffic control and air traffic engineering services at both Gatwick and Edinburgh airports. My role as a Business Insights Analyst means developing data-led insights by championing the use of thorough analysis, compelling visuals and high-level Power BI skills. I have exposure to multiple areas of the business and a wide range of projects; therefore, I am learning something new every day.
Would you recommend your course to others? Why?
I would definitely recommend my course. Aviation is a rapidly growing industry with thousands of different opportunities to get involved with, no matter your background or preference. There's always an aspect of aviation to fall in love with. I started the course not knowing exactly what I wanted to do post-uni, whereas some of my course-mates wanted to be pilots or controllers. The degree is a massive bonus if you want to do those things, but it also opens your mind to other prospects.
The course covers so much – such as pilot studies, engineering, meteorology, human factors, management, operations, safety and much more. There is so much to get involved with and endless ways to have a brilliant time.
Looking back, why did you choose to study at the University of Leeds?
I wanted to study Aviation but could not find the right course. Some were too heavily engineering-based, and some were too business-focused. I studied the three sciences and maths at A Level, hence taking the engineering route seemed the most logical, yet I found that the majority of it did not interest me. I wanted to approach the industry with a mix of backgrounds, including business, management and operations. However, I did not have any experience of studying these subjects in A-levels (such as economics or business studies) or even GCSEs, to be able to succeed in the business-based courses.
Finding the course at Leeds was a dream come true. It was a perfect, 50:50 mix of the scientific/engineering aspect, and the business or management focus. This way, I got to utilise my strongest skills from my previous education and yet still learn completely new topics that I had never covered before.
Finding the course at Leeds was a dream come true.
Leeds was the last university I visited, and I found the campus to be exactly what I needed. The campus is beautiful, with a mixture of old and new buildings, there are plenty of libraries and parks, and the student union is one of the best in the country. The city of Leeds itself is a great one with the famous Otley run, and numerous clubs and pubs for whatever vibe anyone is looking for. I thoroughly recommend living in a city to anyone at least once in their life, and the social buzz of university is the best place to do it.
What were the best aspects of studying on your course and why?
The course has a range of modules in many different areas, such as operations, safety, engineering and management. As someone who did not know what area they wanted to go into, learning about almost every aspect of the industry is a great way to help you make some of those important decisions.
The practical elements of the course gave great context to the learning. There were many different lab experiments, such as using full-size wind tunnels to ascertain the aerodynamic effects of a trip wire or a metallic engineering equipment to find the stress and strain of certain aircraft part materials.
There are also simulators to aid understanding: a full-sized static A320 cockpit, as well as computer simulators (X-Plane) with external cockpit controls. With this equipment, you can design any aircraft type and test your choices or test current aircraft designs to push the operating envelope to the limit.
Did you work on any interesting projects at university?
During my second year, I created an in-depth business plan for a new start-up airline. The plan covered all aspects of operation, including risk analysis, financial breakdown, competitive and market research, and return on potential investment. The information that I uncovered doing this project is still proving useful in my career today, such as the typical holiday spending habits of UK passengers. The extensive planning and research that it took to create this immense project allowed me to time manage and to think outside the box. These qualities are vital in my everyday role.
The information that I uncovered doing this project is still proving useful in my career today
My dissertation revealed newfound conclusions surrounding GPS jamming and the operational impact on civil aviation. I completed data analysis using two different data sources and was able to corelate real-life operational impacts to detailed research on aircraft and airport systems that relied heavily on GPS. After such an interest in the area, I am keen to be updated on this issue, and hope that the research into this troubling subject continues.
What's the most important thing you learned during your time at university?
It may sound very cliché, but seize the day! Make the most out of every opportunity that comes your way. I loved trying new societies, making new friends, going to new places and experiencing different club nights. I have found that this mindset to throw myself into as much as possible has led me to opportunities that I did not even know existed.
Make the most out of every opportunity that comes your way.
Also, being a student (and then a graduate) means you learn how to deal with rejection. I saw a quote once that said: "It is not rejection, it is redirection". I felt this, as there were a few jobs I really wanted and did not get, which was very disheartening. But I am so grateful of the position I am in now, and I love my job, so sometimes even when it seems rubbish, there is another plan for you that is waiting to be unearthed.
What experiences at Leeds have particularly helped with your career?
The act of moving away from home (180 miles away in my case) allowed me to develop my independence to a new level. It goes further than learning to cook for yourself or doing your laundry. You enable yourself to stand on your own two feet, live your own life for the first time and make important decisions that will directly impact your future. This life skill becomes second nature and has led me to not be afraid to take on large projects on my own in my career.
University helped me grow into the adult I am today and encouraged me to take responsibility of my future. Going out of your way to search and apply for placements or jobs, researching potential new houses, all need to be done by you for you to live the life you want. This experience has enabled me to confidently accept accountability at work, and thrive in challenging situations, with the ability to appreciate all kinds of constructive feedback.
Taking part in university demos, protests, and volunteering has also given me great awareness of the current political climate, and how anyone can get help, or provide a helping hand to those who need it.
Finally, making new friends in a new environment has instilled confidence in me and allowed me to feel comfortable in my own skin. I attribute university to the person I have become today and will continue to look back with fond memories.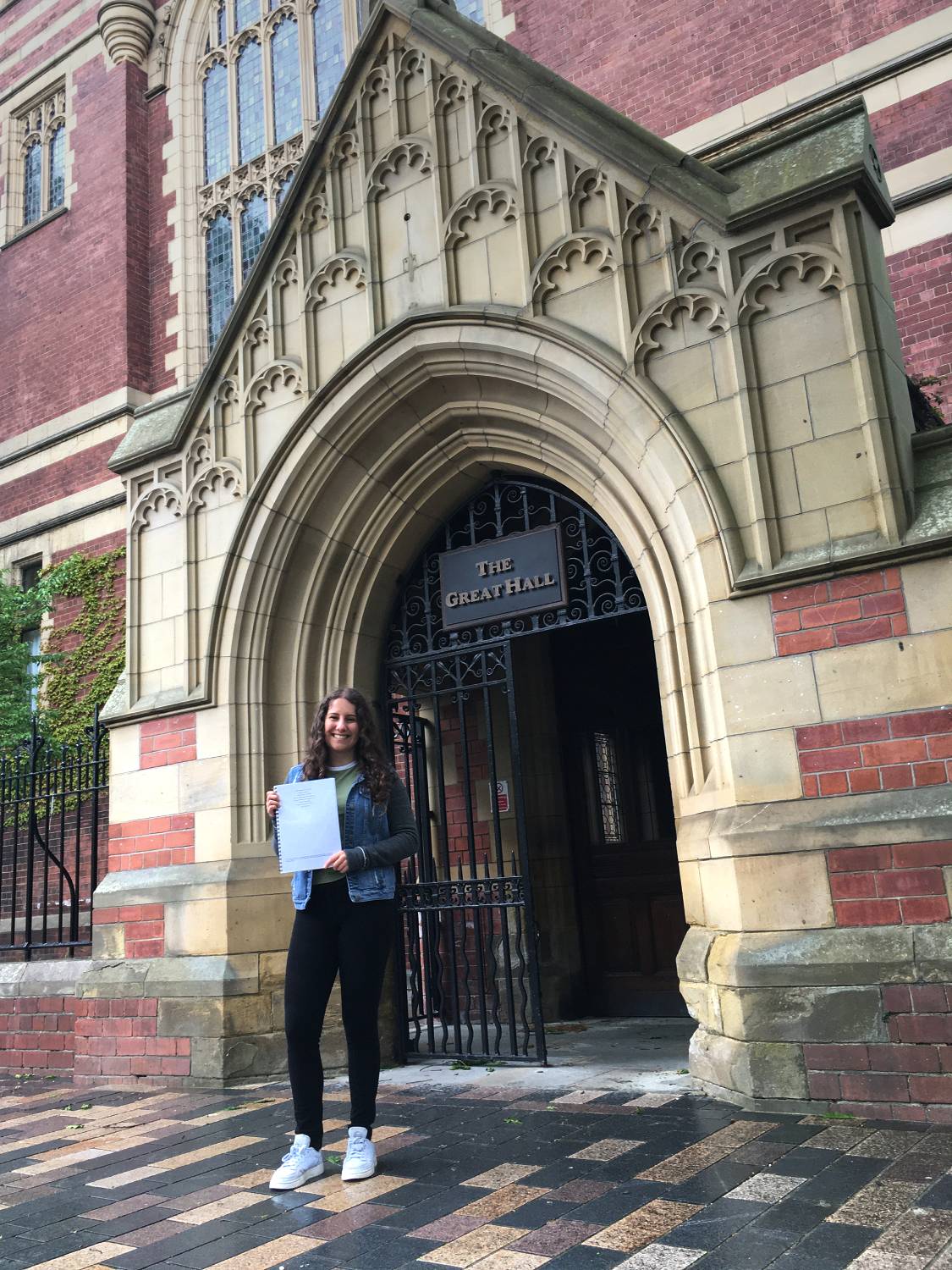 Is there anything else you'd like to share with new students?
University is an amazing experience, and everyone is in the same boat. Before I started, I found myself worrying about what I thought would be important, such as what halls I was going to get, how far away that would be from campus or whether I was 'cut out' for uni life. It turned out I didn't need to worry about any of that, as it all worked out for the best. Even for those who needed to make changes, someone was always there to help get you sorted. The university is truly run by students, and no matter what you are interested in, you will find your crowd.
I was placed in the furthest accommodation from Campus, and I wouldn't have had it any other way. When the typical British rain comes and drowns the entirety of Hyde Park when running to lectures, I was toasty and dry sitting on a bus, getting dropped off at the door of my building. Being in a leafy wood meant that we had picturesque surroundings and could play football or rounders on the surrounding fields in the summer. We revised, sunbathed, played games and had picnics laying on blankets on the green, and we even had a summer fayre. When I was applying to a city, I never could have imagined being in such a beautiful area.
Our accommodation was also one of the few to organise a ball, and they arranged day trips, such as to York, with other residents. Being further from the centre (20-30 mins) meant there was a real sense of community, and the calmness was a welcome release after a tiring day on campus. If you get the chance to live at Oxley, make sure to take it!