Kieran Grayshon
Kieran Grayshon is a first year student, currently studying Computer Science with Artificial Intelligence MEng, BSc at the School of Computing.
Choosing Computing at Leeds
Kieran chose to study based upon reputation. He also highlights that "the School of Computing has a specialism within the AI sector specifically when it comes to AI in medicine", which influenced his decision.
After programming for half his life, Kieran felt that "the University of Leeds can take my technical abilities to the next level through the different aspects of the curriculum."
Kieran has been a Leeds resident for eighteen years, so he is well-versed in what the city has to offer.
Even if you are not the typical student there is still something for you. For instance, there are plenty of shopping centres, but also if you do like night life there are plenty of bars and clubs. If you prefer something quieter you can get buses to the edge of the Yorkshire Dales.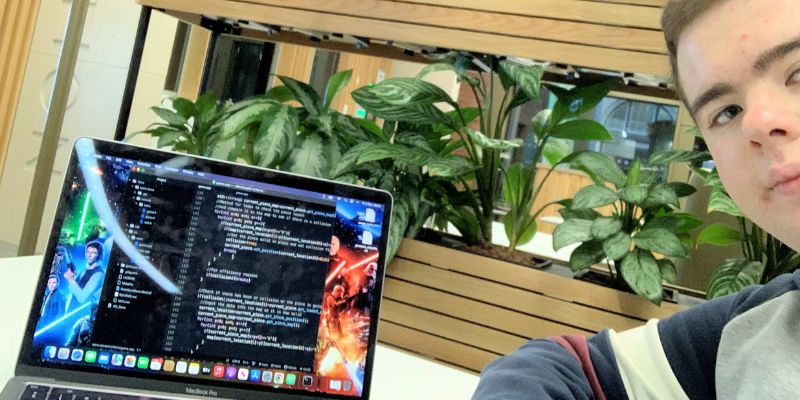 Contributing to a better future
Kieran highlights how, during the first year of studies, there is consideration of the environmental consequences of any software they produce.
He expects his Artificial Intelligence modules over the coming years to have a great impact because the University produces leading research, "an example is that the University has produced leading research this year on detecting characteristics of tumours using SWARM learning."
Inspiring aspects to the course
The part that inspires me the most is the lecturers due to the fact they are very enthusiastic about the content they are teaching. The passion they have for the subject reflects on students which therefore means that it is more engaging.
Future ambitions
At the end of his studies, Kieran hope to pursue a career in the AI sector within Computer Vision or Natural Language Processing, as these fields are defining the current future.
Kieran's studies will help him in his future as "the degree is accredited by BCS (British Computing Society) and Leeds is also a prestigious University so it will stand out on a CV."
"In the future skills acquired at Leeds will help regularly in the industry environment; for example group projects, as the way they are set up is to mirror a business environment. But also the technology used at Leeds is very similar to what is used in industry such as the machines in the computer lab which run Linux. I feel this reflects the real world and will set you up for a career in computer science."
Advice for future students
"When it comes to Computer Science at Leeds I would say have a good strong mathematical foundation, but also invest time in learning to program before coming here as having a basic understanding of programming concepts can put you in a comfortable position when it comes to coursework."
Joins us
Want to know more about student life at Leeds? Chat to one of our current students to find out what it's like to be part of our welcoming community.