SeeAI awarded further funding to develop AI-based X-ray technology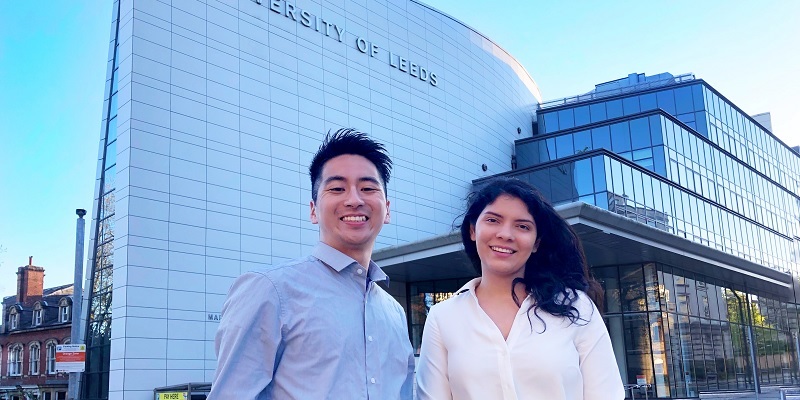 A healthcare AI company founded by two Masters students from the School of Computing has been selected to receive another round of funding.
SeeAI, founded by Advanced Computer Science MSc graduates Saile Villegas and Reo Ogusu, uses deep learning-based technology to make medical diagnoses of bone fractures from radiographs – a technology that has the potential to address the shortage of trained radiologists in UK hospitals, making analysis quicker and more cost-effective.
In 2019, the company was one of just five organisations from a pool of 40 to receive £20,00 in funding from Opportunity North East (ONE) and the Scottish government. The award was to help develop a feasibility study for their platform, working with NHS Grampian, the University of Aberdeen and Canon Medical Research Europe.
Now, SeeAI has become one of two organisations in the programme to be selected for a further round of funding worth £70,000. The additional funding will be used to build a working prototype of SeeAI's technology platform, in collaboration with NHS Scotland, which the company aims to have ready in early 2021.
"The problem we are trying to solve requires collaboration across many fields," explained Reo.
"Strong collaboration amongst academia, the health sector, and industry is required to make a project like this successful. We have been fortunate enough to work closely with doctors and radiologists and get their advice throughout the project."
The second phase of the project involved Saile and Reo visiting different hospitals in England and Scotland multiple times to see how and where radiologists work.
"We could experience it firsthand, with this, we gained a deeper understanding of the problems they face, and it allowed us to design a practical solution that addresses their needs," said Reo.
"Moreover, the advice and support that Dr. Andy Bulpitt, Prof. Eric Atwell, and Dr. Ali Gooya from the school of computing have provided us has been invaluable to the success of the project."
In a press release from Opportunity North East, Scottish Government Chief Scientist (Health and Social Care) Professor David Crossman added: "Artificial intelligence presents a real opportunity to the medical sector, especially when it comes to assisting clinicians with routine practises where it is safe to do so.
"I am pleased to see this landmark project move into the next phase of development and look forward to seeing their findings."
The SeeAI team is open to collaborations with individuals or organisations working on similar challenges, who are invited to contact Reo at reo@seeai.co.uk.