The Adam Neville Prize awarded for best PhD in cement and concrete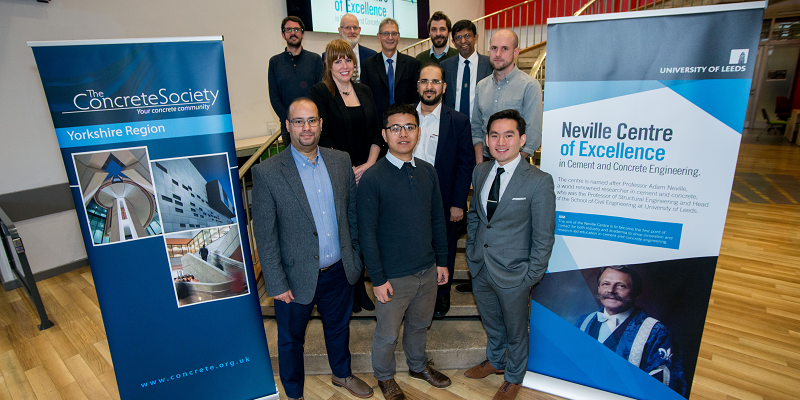 The University of Leeds and The Concrete Society have awarded The Adam Neville Prize for the best national PhD in the field of cement and concrete.
For the second year running, the School of Civil Engineering has successfully hosted the The Adam Neville Prize, awarded in conjunction with The Concrete Society.
The award, a £1,500 cash prize, has been donated by the Neville family, to honour the late Professor Adam Neville, former President of The Concrete Society (1974-1975) and the University of Leeds' Head of the Department of Civil Engineering (1968 – 1978).
Andri Setiawan from Imperial College London was awarded this year's prize, by Professor Adam Neville's son, Andrew Neville, for his talk titled "Efficient Strategy for Modelling Punching Failure of Flat Slabs".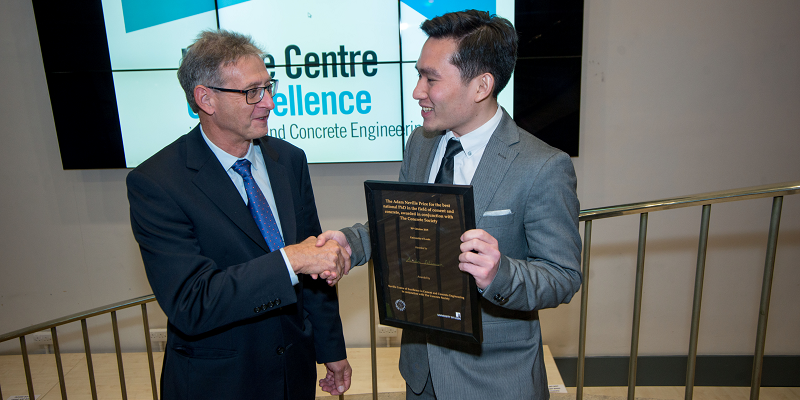 Andrew Neville awarding the prize to Andri Setiawan, the winner of The Adam Neville Prize.
Candidates were judged on:
(i) Originality of the work,
(ii) Scientific and Technical Rigour, and
(iii) Practical applications in cement and concrete industries.
The Adam Neville Prize was followed by The Neville Centre Symposium presentations and Q&A.
The aim of the Neville Centre, led by Professor John Forth, is to become the first point of contact for both industry and academia to drive innovation and research-led education in cement and concrete.
Further information
Neville Centre of Excellence in Cement and Concrete Engineering