NXP Cup Challenge 2017 hosted at Leeds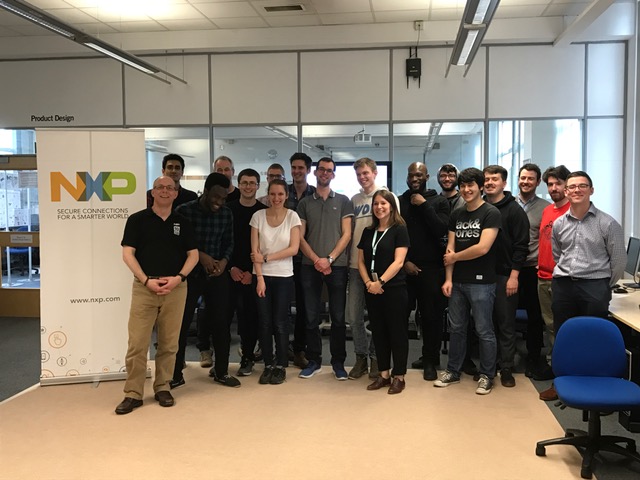 Following last year's NXP event in London, the University of Leeds was delighted to host the UK qualifying leg of the 2017 NXP Cup Challenge.
The sixth edition of The NXP Cup Challenge started following the successful 2016 season. It includes students from five universities.
The event, which took place in March 2017, involves programming microcontrollers to steer model racing cars around a race track autonomously in the quickest possible time. It was the third round out of a total six held around Europe, the Middle-East and Asia.
It was supervised by Marion Thierry, EMEA University Programs Manager at NXP, alongside Craig Evans, School of Electronic and Electrical Engineering, University of Leeds.
Pictured: Leeds MEng Mechatronics and Robotics students Nathan Churchill, Mario Quartey Papafio, Marty Laverick, William Cherry
For the event, undergraduate students wrote the software algorithms and designed 3D-printed parts to hold the camera and electronics. Craig Evans explained:
"The students must program the microcontroller so that the camera can detect the black lines alongside the edges of the track and steer the race car accordingly."
In total, cars designed by two teams managed to complete the track. The winner from this event will travel to Germany to take part in the final at the end of April.
Further information
The School of Electronic and Electrical Engineering recently formed a partnership with Semiconductor Manufacturing giant NXP, creating opportunities for students to develop their practical experience.
Follow Marion Thierry on twitter for more updates about the NXP Cup Challenge: @MarionIAE
For further information about the NXP Cup Challenge, visit the NXP website.