Forging powerful Chinese partnerships and celebrating alumni
Academics from the Faculty of Engineering and the University of Leeds are helping lead a high-level delegation to China this week, which will raise the profile of the city of Leeds.
The delegation will forge powerful partnerships and opportunities between Chinese provinces and the Leeds City Region, Council, universities and business. The aim is to boost the city of Leeds' profile through an intensive week of meetings and presentations with China's public and private sector leaders.
Joining the delegation is Professor Hai-Sui Yu, Pro-Vice-Chancellor: International, and Professor Sheng Xie, Chair in Robotics and Autonomous Systems at the School of Electronic and Electrical Engineering, as well as the following academics from the Faculty of Engineering:
The University also hosted its largest-ever alumni meeting, with more 250 taking part in the celebrations in Shanghai. In addition, an alumni celebration takes place in Hong Kong.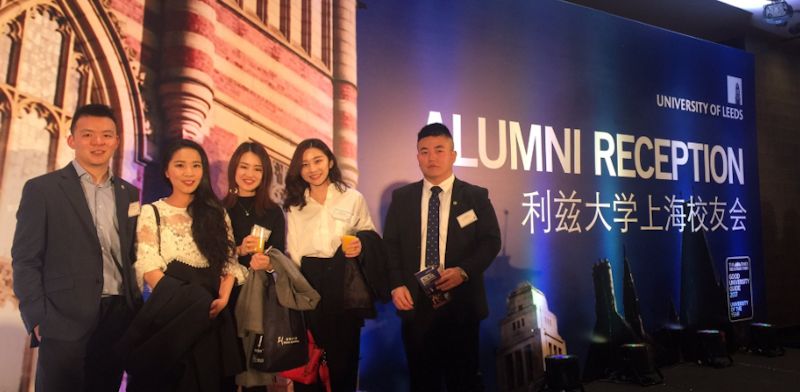 Pictured: Celebrating being University of the Year at the University of Leeds alumni event in Shanghai.
The events will mark Leeds' status as The Times and Sunday Times' University of the Year 2017, awarded for the University's approach to student education and outstanding student experience.
During the visit, Professor Yu is due to sign a formal memorandum of understanding with Zhejiang University, committing both organisations to closer working and collaboration on challenge-led research projects and global student experiences.
Discussions will also focus on how Leeds and universities in China can unlock potential and respond to calls from the UK's Government £1.5bn Global Challenges Research Fund (GCRF) and the £735m Newton Fund.
High-level collaborative meetings will also be held with representatives from Fudan University, Shanghai International Studies University (SISU), Nanjing University, and Shanghai Jiao Tong University, with which Leeds signed a memorandum of understanding last month.
Professor Yu said: "We will be promoting the University' ambitious plans to increase our global reach and impact, encouraging colleagues in China to collaborate in joint research and student education and teaching opportunities. Leeds is a truly global city and we offer access to some of the best and brightest minds in the world.
"The University has been consistently ranked among the top 100 research universities in the world and our £520m investment in our campus will make our cutting-edge technology and facilities a major attraction to talented international researchers and students.
"Combining that with our drive to recruit more world-leading professors and 250 of the brightest new university research fellows, we are determined to support Leeds as being an innovative, strong and successful investment alternative to London."
The wider delegation will also highlight Leeds' bid to become the European Capital of Culture 2023, drumming up support for the bid which could bring significant visitor numbers and investment to the City.
Recent projects likely to be showcased include the University's Anglo-Chinese theatrical programme, celebrating a 400 year legacy of William Shakespeare and Tang Xianzu.
Members of the delegation will also meet with private sector firms including technology company Alibaba, Huawei and Dahua in Shanghai and Hangzhou.
Roger Marsh OBE, Chair of the LEP, said: "The time is right for the City Region to be furthering its relations with China. Our world class institutions such as the University of Leeds and our strong business base offer an unrivalled access to innovation, particularly in the sectors of healthcare, life sciences, big data and technology; areas which are of interest to the fast growing Chinese market but also driving growth in both our regional and national economy."
Further information
In 2015, the University of Leeds and China's Southwest Jiaotong University (SWJTU) launched a joint school to deliver world-class teaching and research.