Engineering students awarded prestigious Dean's List honour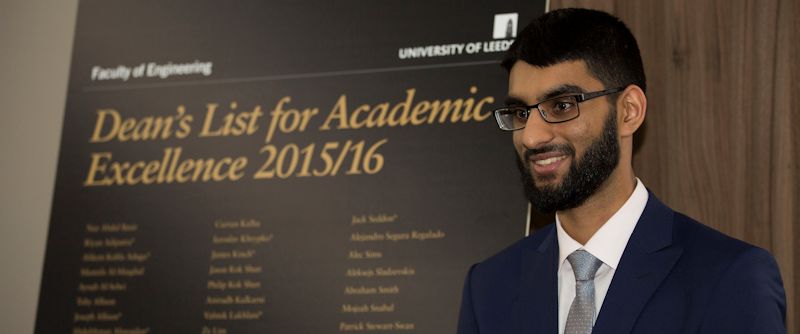 Top-performing students from the Faculty of Engineering have achieved a place on the 2016 Dean's List for academic excellence.
The Dean's List is a prestigious award received by the top 5% of first and second year undergraduate students. Students from the Faculty of Engineering were commended at this year's award ceremony, which took place in University House in November.
Professor Peter Jimack, Dean of the Faculty of Engineering at the University of Leeds, celebrated the students' achievements at the ceremony, held in honour of the students included for the 2016 academic year.
As an exceptional achievement, the following high-calibre students were awarded a place on the Dean's List for the second year running:
Riyan Adiputra
Alikem Kobla Adugu
Joseph Allison
Abdulrhman Alswaidan
Jianwei Chen
Emma Dziegiel
Daniel Hawe
Iaroslav Khrypko
James Kinch
Valmik Lakhlani
George David Loines
Loannis Matheos
Adam Metcalf
Elise Mushing
Daniel Nakhaee-Zadeh Gutierrez
Nicholas Pitsillos
Jack Seddon
Utsav Tandon
Jonathan Tidyman
Jack Wainwright
Joel Webb
Philip Graham Woods