Engineering powerhouses set up China-UK joint school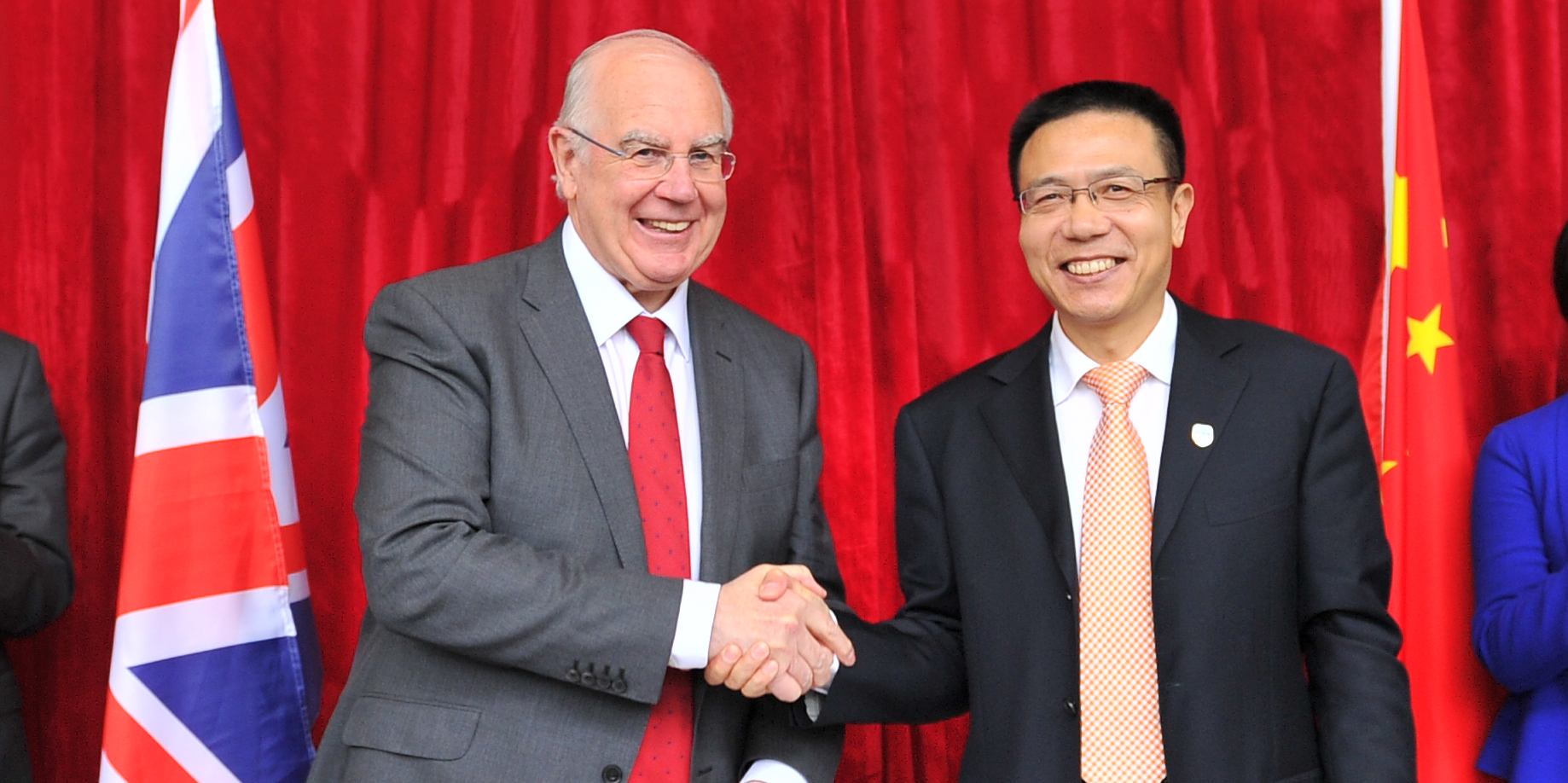 Two of the leading engineering education institutions in the UK and China—the University of Leeds and Southwest Jiaotong University (SWJTU)— today launch a joint school to deliver world-class teaching
The SWJTU-Leeds Joint School, based in Chengdu, China, will offer a unique UK-Chinese engineering curriculum and is the first overseas school to be set up by the University of Leeds.
Starting in September 2016, it will recruit 1,200 of the brightest high school students in China over four years and enable the University of Leeds to tap into a key market that could develop some of the academics and industry leaders of the future.
University of Leeds students based in the UK will also have the opportunity to attend the joint school in the coming years, and the universities plan to extend the partnership to include collaboration on postgraduate education and research.
Speaking ahead of the joint school's formal launch on 30 October in Chengdu, Sir Alan Langlands, Vice-Chancellor of The University of Leeds, said: "Leeds excels in engineering and we want to build our international reach and profile by working in powerful combination with SWJTU, which has particular strengths in transport-related engineering. This school enables us to do just that in a key market.
"It means the brightest students will benefit from the very best of Chinese and British higher education, giving them the distinctive edge to compete on the global stage and providing Leeds with links to some of the very best future engineering talent in China."
President Xu Fei, from SWJTU, said: "The SWJTU-Leeds Joint School is committed to nurturing innovative talents and future leaders, with international competitiveness and cross-cultural leadership."
Students of the school will earn dual degrees from both the University of Leeds and SWJTU. They will primarily follow the Leeds syllabus in the English language but also take additional SWJTU courses to earn the dual degree qualifications.
Professor Peter Jimack, Dean of Engineering at The University of Leeds, said: "Our students will have a thorough technical education but, in addition, will follow a curriculum designed to develop their independent problem solving skills, abilities to collaborate effectively in international teams, and present technical materialin written and spoken English. They will be uniquely prepared for the realities of working in international industry and research.
"Although the initial focus will be on our students based in China, the school will follow the same curricula that we have developed in Leeds, so we anticipate that UK-based students will also spend time studying in China to benefit from the joint-school's great strengths."
The joint school will initially offer four undergraduate degree programmes:
BEng Electronic and Electrical Engineering
BEng Mechanical Engineering
BSc Computer Science
BEng Civil Engineering with Transport
Although many students will spend the whole of their four-year courses in Chengdu, where they will be given intensive language education, some students will study for one or more years in Leeds. Teaching will be delivered by a combination of Leeds, SWJTU and newly recruited Joint School staff.
Professor Jimack added: "Both Leeds and SWJTU have outstanding reputations for engineering and computing education, research and its application. Not only is this an exciting opportunity for students, it opens doors for us as educators and researchers too.
"We plan to increase the number of dual degree programmes in the future, as well as introducing dual masters and PhD degrees, and we are very much looking forward to working with our talented colleagues in SWJTU to undertake world-class collaborative research."
The partnership brings together two engineering education and research powerhouses:
- The University of Leeds has one of the largest faculties of engineering in the UK and is investing over £125 million in the construction and redevelopment of its engineering and physical sciences buildings and infrastructure over the next four years. It offers an outstanding student experience. A recent league table in The Guardiannewspaper ranked Mechanical Engineering 1st in UK, Electronic & Electrical Engineering 5th and Civil Engineering 6th. The University's Computer Science and Aeronautical Engineering teaching are both ranked 1st among the research intensive Russell Group universities for Overall Student Satisfaction (NSS 2015). The School of Electronic and Electrical Engineering was among the top ten performing research departments in any subject in any UK university in the Higher Education Funding Council for England(HEFCE) Research Excellence Framework (REF) 2014, with the schools of Civil Engineering and Mechanical Engineering ranked 7th and 4th respectively in their units of assessment.
- SWJTU was formed from the Imperial Chinese Railway College, founded in 1896, and is one of the oldest universities in China. Based in the city of Chengdu in Sichuan province, it is primarily a technological university with particular strengths in engineering and transport. In student education, SWJTU has "Band 1" status in the Chinese university recruitment process and the Chinese Ministry of Education has approved 1,200 of this band 1 quota (i.e. the highest achieving high school applicants) to be allocated to the Joint School. In research, the University has a particular strength in high speed rail and is home to National Key Research Laboratories for Track Transportation and Traction Power.
Image information
President Xu Fei (right), of Southwest Jiaotong University, and Sir Alan Langlands, Vice-chancellor of The University of Leeds, shake hands at the launch of the The SWJTU-Leeds Joint School in Chengdu, China on 30 October, 2015.
Further information
Contact: Chris Bunting, Senior Press Officer, University of Leeds; phone: +44 113 343 2049 or email c.j.bunting@leeds.ac.uk
Related Articles
The Engineer - Leeds partners with Chinese university for new school