Product design students impress Marks & Spencer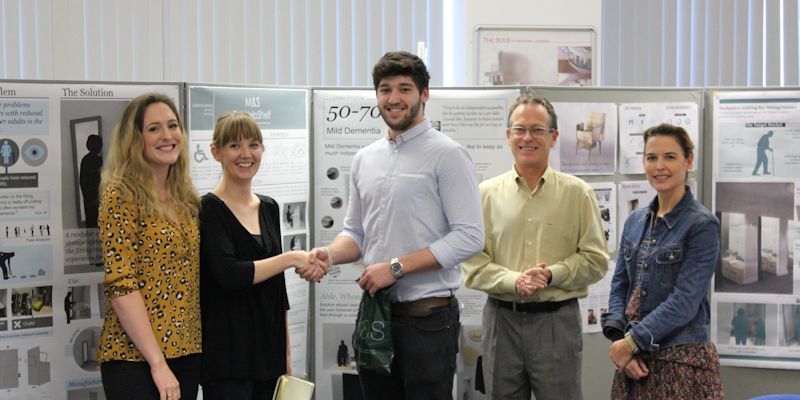 Product Design students in the School of Mechanical Engineering have presented their work to managers from Marks and Spencer in a design competition project set by the retail giants.
Project Leaders Megan Parsons, Relationship Manager from Mark & Spenser's and Dan Trowsdale Product Design Programme Manager from the University of Leeds, developed the project as part of the partnership between the University of Leeds and Marks & Spencer.
The project, involving participants from BSc Product Design, focussed on inclusive store design to further the M&S customer experience. The design had to conform to strict branding and Plan A constraints.
"The students really engaged with the challenge set by M&S", said, Dan Trowsdale, "it has really brought out the best in all our students".
One student said, "It's great to work on a real project and when it is a competition, everyone gets competitive and starts to up their game", with another commenting that the project "puts what we do in context at a more professional level".
Taking part in the judging panel from M&S were Lydia Hopton, Property Plan A Project Manager, Andrew Sherwood, M&S Property and Facilities Management, Rachel Mellows, Store Design Plan A Project Manager and Tamsin Slade, Partnership Officer.
Great thanks were extended to all the representatives from M&S who contributed their time and experience to support the project over several weeks.
The team provided amazing support to our students, firstly briefing the students from M&S Headquarters in London using skype, then guiding the students throughout the process by providing in depth advice over e-mail and also providing personal feedback sessions in Leeds.
Megan said: 'It was fantastic to have the chance to work with such innovative students on this project - we were really impressed with their ideas and the development. Thanks for a really rewarding project!'
The representatives from M&S visited The University of Leeds on the 18th November to view the final exhibition and select the winners.
Competition Results
All the entries were very well received by the judging panel who commended the students on their research, thorough understanding of customer needs and their ability to respond with new, creative and innovative solutions within tight constraints.
There were three prizes in total presented by M&S, in third place Josie Hains, second place was Kyveli Napoleontos and the winner of the "M&S Inclusivity Competition 2015" was Hardy Gillingham, pictured.