LIFD launch – watch the talks online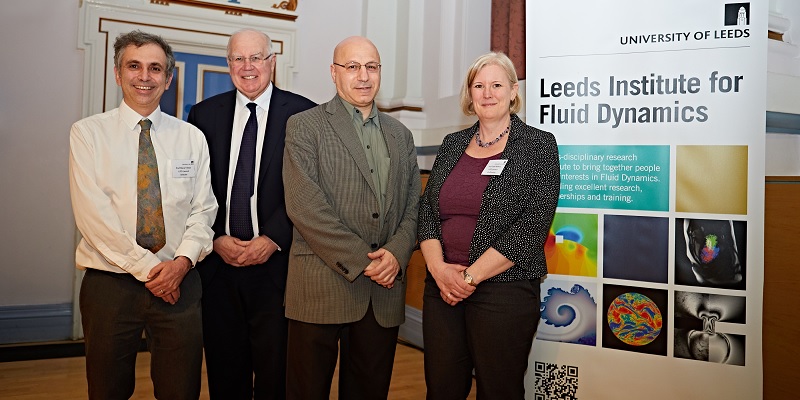 The Leeds Institute for Fluid Dynamics (LIFD) is celebrating a successful launch, culminating in a seminar delivered by one of the world's leading academics on the subject.
LIFD, which launched on January 30th 2019, represents a cross-disciplinary collaboration harnessing more than 50 years of experience at the University of Leeds. It aims to advance the study of the flow of liquids and gases, a field with applications in many different areas of science, technology and industry - from space exploration to medical engineering.
The launch event proved very popular, with some 200 people in attendance for a packed programme of talks and posters. LIFD was especially pleased to welcome Howard Stone, Professor of Mechanical and Aerospace Engineering at Princeton University and winner of numerous awards for his research and teaching, to deliver the keynote seminar on multiphase flow problems.
Both sessions, including Professor Stone's seminar, were recorded and can now be watched online:
Introducing the evening session, University of Leeds Vice-Chancellor Sir Alan Langlands said:
"This area crosses disciplines, it crosses institutions, it crosses continents, and it operates at the boundary between academia and industry.
"At Leeds, our work covers a lot of ground: it embraces civil engineering, computing, earth and environment, mathematics, civil engineering, chemical and process engineering and physics and astronomy.
"We're really proud in this area to have a vibrant PhD and postdoc community, and some exciting new university academic fellowships.
"The institute itself has a very clearly articulated education, research and industry vision and set of objectives, and all of that will build on a growing reputation in this area."
Further information:
Leeds Institute for Fluid Dynamics Launches in January
Leeds Institute for Fluid Dynamics (@FluidsLeeds)